Summer Veggie Ratatouille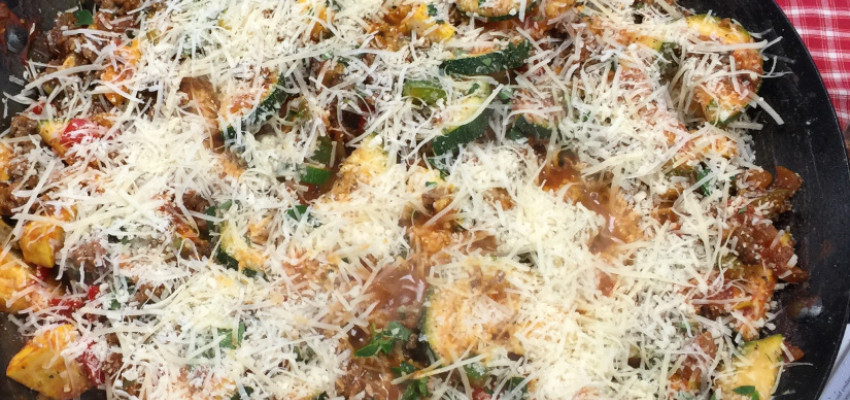 Ingredients
1 lb. Italian sausage
1 tsp. dried oregano
1 red onion, diced
2-3 cloves garlic, minced
6 oz. can tomato paste
2-3 cups vegetable stock, divided use
1 zucchini, skin-on, sliced
1 yellow squash, skin-on, sliced
1 each sweet red and green bell peppers, seeds and membranes removed, diced
1/4 cup minced fresh flat-leaf parsley
1/4 cup fresh chopped basil
kosher salt and freshly ground black pepper, to taste
1/2 cup shredded fresh Parmesan cheese
Instructions
In a large seasoned cast iron skillet over medium high heat, cook sausage, oregano, and onion. When sausage is fully cooked, use paper towels to remove most of the fats from the pan, then add garlic to the sausage mixture and cook 1-2 minutes longer; remove ingredients from pan and set aside.
Add tomato paste to drippings in skillet and cooking, stirring often over medium heat, until tomato paste is nicely browned, adding broth as needed to keep tomato paste from sticking to the bottom of the pan. Stir in vegetables and cook until hot throughout, adding more broth, if needed to incorporate tomato paste evenly.
Return reserved sausage mixture to the vegetables in the pan and simmer over medium heat for a couple of minutes. Top with parsley and basil, then sprinkle Parmesan over all and serve at once.
---