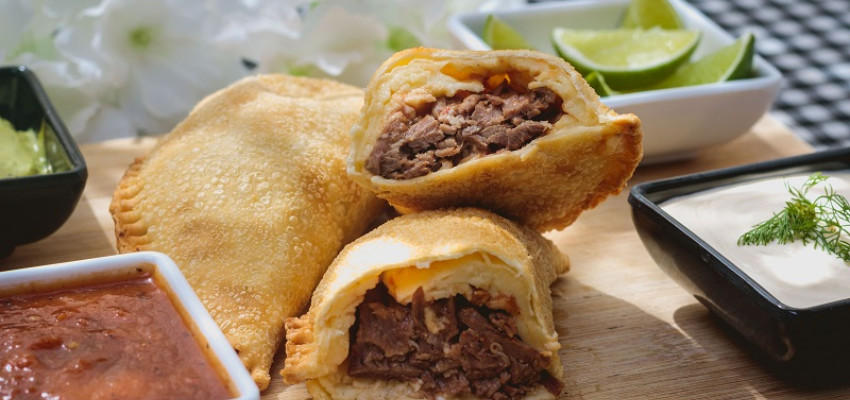 Ingredients
FILLING:
1 pound ground duck
1 small yellow onion, minced
1 carrot, peeled and shredded
2 cloves of garlic, minced
1 teaspoon fresh thyme
1 tablespoon lime juice, plus additional
1 tablespoon tomato paste
2 cups duck or chicken stock
1 cup cooked black beans
1/4 cup BBQ sauce
1 avocado
1 medium jicama, julienned
8 cilantro sprigs
Salt, pepper/clove/allspice/pepperoncino mix for taste
EMPANADA DOUGH:
1-pound all-purpose flour
5 ounces canola oil
1 teaspoon salt
4 ounces water
Instructions
We'll break down the method into two parts: filling and empanada dough.
For the Filling:
In a hot sauté pan, brown the ground duck meat, seasoning it with salt and pepper.
Add carrot, onion, tomato paste, and garlic. Cook this mixture for about 4 to 5 minutes. Proceed to add the stock, lime juice, fresh time, and more salt and pepper according to your taste.
Cover the pan with a lid, and lower the heat to let the mixture simmer for about 20 minutes.
In the meantime, heat a smoker. Transfer the duck to the smoker from the pan, and smoke for about 10 minutes. Adjust the seasoning and consistency as per taste.
Let it cool for about 10 minutes.
For the Empanada Dough:
Mix all the door ingredients in a bowl, kneading it carefully until the dough forms a smooth ball. Let it rest for 20 minutes.
Divide the dough into four pieces, and then roll it into thin sheets. Use a 3-inch ring cutter to create circles out of the dough.
Place a teaspoon of duck in every circle, and then fold it into a half-moon.
The canola oil to 350°F, and then start frying your empanadas until they get light brown in color.
Serve them with guacamole, jicama and cilantro slaw, barbeque sauce, and black beans.
---