Shredded Brussels Sprouts Salad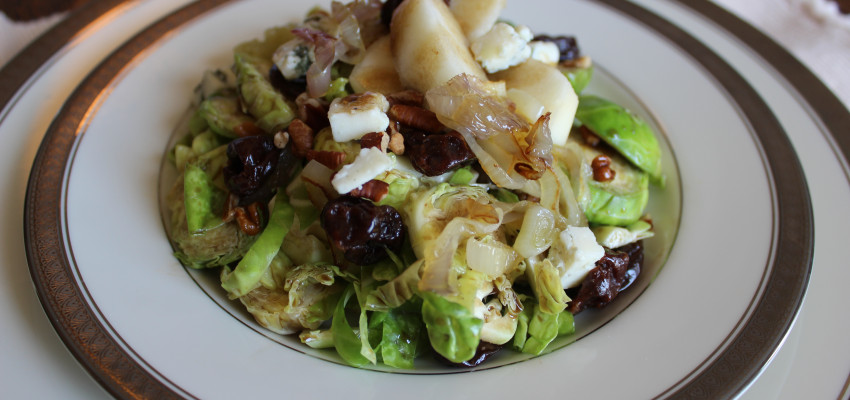 Ingredients
16 oz. bag of Brussels sprouts, trimmed and shredded or thinly sliced
1/3 cup dried cherries
1/3 cup chopped pecans
1/3 cup gorgonzola crumbles
1 pear or apple, peeled and chopped
2 large shallots, thinly sliced
2-3 Tbsp. good olive oil
Vinaigrette Dressing 
3 Tbsp. good olive oil
3 Tbsp. balsamic vinegar
2 Tbsp. pure maple syrup
2 tsp spicy brown mustard
Kosher salt and freshly ground black pepper, to taste
Instructions
Place shredded Brussels sprouts, dried cherries, pecans, gorgonzola cheese and chopped pear or apple in a large bowl; toss very gently to combing. 
In a skillet over medium heat, add a bit of olive oil; when oil is hot, add shallots and saute until a light golden-brown in color, two to three minutes.  Transfer shallots to a paper-towel-lined plate to drain; season with a bit of salt and let cool.  
Meanwhile, combine vinaigrette ingredients in a dressing cruet and shake well to combine.  
Add sauteed shallots to salad ingredients in bowl, then pour prepared vinaigrette over salad as desired, tossing all to coat.  Serve at once.  
---