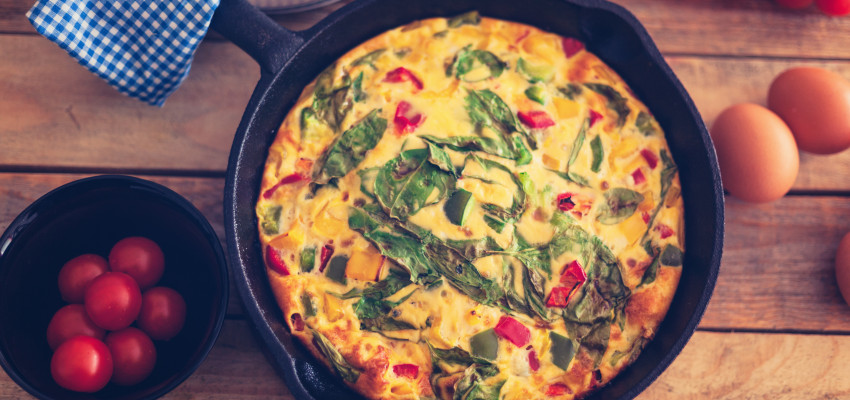 Ingredients
1 Tbs. olive oil
1 medium sweet red bell pepper, seeds and membranes removed, diced
1 small red onion, diced
½ tsp. dried oregano leaves
½ tsp. dried basil leaves
Kosher salt and freshly ground black pepper
2-3 Roma tomatoes, seeds removed, diced
1-2 small zucchini, skin-on, diced
3 cups baby spinach, chopped
8 large eggs, beaten
2-3 green onions, green parts only, chopped
¼ cup Feta crumbles
Instructions
Preheat the oven to 400 degrees F.
In a 12-inch heavy-bottom oven-safe skillet (such as cast iron), heat the olive oil over medium high heat.  When the oil is hot and shimmering, add the bell peppers, onions, oregano and basil; season to taste with salt and pepper.  Sauté the vegetables for 5-6 minutes or until softened and translucent.
Add the tomatoes, zucchini, and baby spinach, cooking for 1-2 additional minutes; remove the skillet from the heat. 
In a large mixing bowl, whisk the eggs and Parmesan cheese together; pour the prepared egg mixture into the skillet with the vegetables.  Give the mixture a gently stir, then top with the green onions and goat cheese. 
Place the skillet on the center rack of the preheated oven, baking, uncovered, for 7-8 minutes, or until the eggs are set. Using the broil setting on the oven, broil on high until the top of the frittata is nicely golden brown, 1-2 minutes, keeping a close eye so you don't burn the top of the frittata. Let the frittata cool a bit before slicing into wedges. 
---