Over-Easy Breakfast Pizza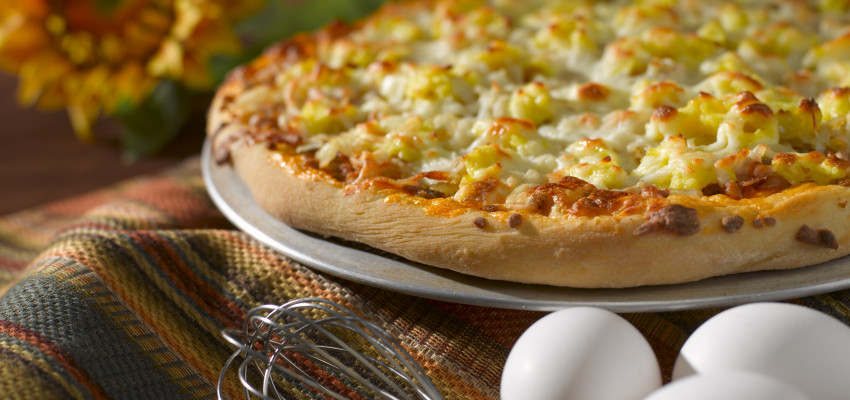 Ingredients
1 prepared whole wheat pizza crust
4 Tbs. fresh or jarred basil pesto
3-4 slices of bacon, cooked until browned and crispy, crumbled
1 ½ cups grape or cherry tomatoes, halved
1-2 cups sliced mushrooms
1 cup 4B Farms baby spinach, torn 
1 cup 4B Farms arugula, torn 
5 eggs, cracked into separate ramekins to keep the yolk whole on top
Kosher salt and pepper, to taste
olive oil spray
Instructions
Preheat oven to 425 degrees F.
Spread the pesto and evenly over the prepared crust.  
Top with the crumbled bacon, tomatoes and sliced mushrooms; spray these ingredients generously with olive oil spray.
Bake pizza for 10 minutes, on the center rack, or until the tomatoes are softened slightly. 
Place the greens on top of the pizza, then make 5 "wells" in the greens, adding an egg to each "well"; season to taste with salt and pepper.
Bake the pizza for 5-7 minutes longer, or until the eggs are cooked to your preferred doneness.  Serve warm. 
---