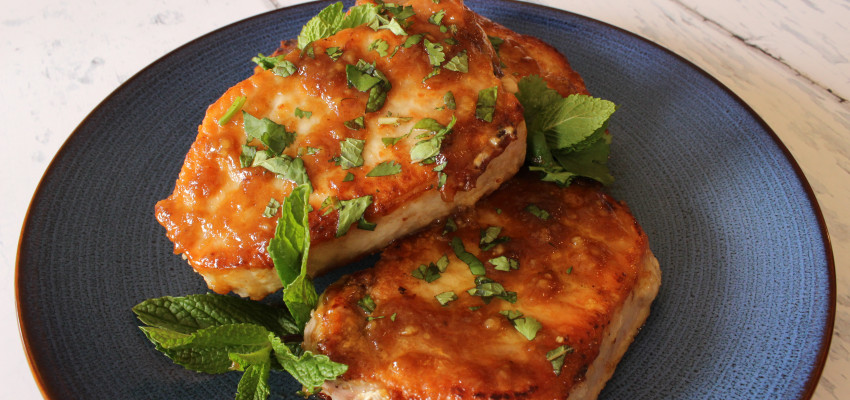 Ingredients
4 boneless center-cut pork chops, 1 – 1 ¼" thick
1/4 cup all-purpose flour
3/4 cup chicken broth
2 Tbs. dark rum
1 Tbs. pure maple syrup, preferably grade B
Kosher salt and freshly ground black pepper
2 Tbs. olive oil; more if needed
1 Tbs. minced fresh ginger
1 medium clove garlic, finely chopped
1-1/2 Tbs. unsalted butter
1 Tbs. finely chopped fresh cilantro
1/2 Tbs. finely chopped fresh mint 
Instructions
Combine the broth, rum and maple syrup in a small bowl; set aside. Rinse the pork chops and pat them dry; generously season on both sides with salt and pepper. Place flour into a large flat bowl or plate, then dredge seasoned chops on both sides in the flour, shaking off the excess.
Heat a large skillet over medium heat; add the olive oil. When oil is nicely hot, add the chops to the skillet. Cook chops until golden brown, two to three minutes, then turn the chops and cook until second side is golden brown as well, continuing to cook until chops register 145 degrees F. at the center when using an instant-read meat thermometer; transfer the chops to a plate and cover; keep warm while you make the sauce.
Add ginger and garlic to the drippings in the skillet over medium heat, whisking constantly. Immediately add the prepared maple-rum mixture to deglaze the pan; simmer until the sauce has reduced by about two-thirds and is nicely saucy, three to four minutes. Remove skillet from heat, whisk in the butter to let it melt and emulsify the sauce; season sauce with salt and pepper to taste. Spoon the sauce over the warm chops, then sprinkle with the cilantro and mint. Serve at once. 
---