Kansas City Style Pork Ribs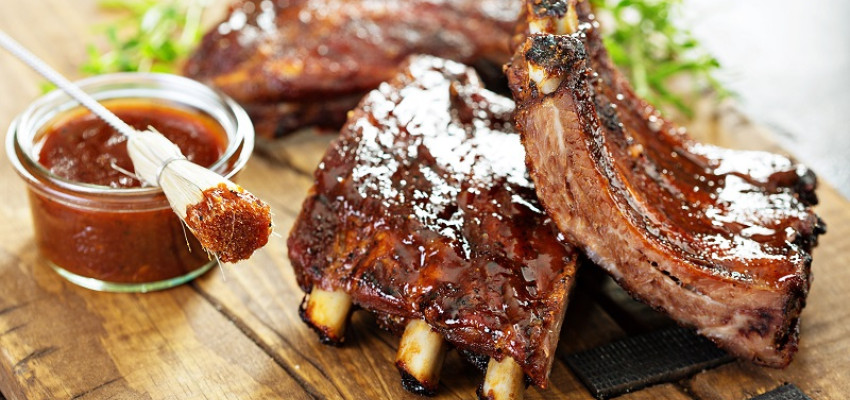 Ingredients
You may know Kansas as the Sunflower State or fast winds, but another thing that it's famous for is the city's incredibly delicious dishes.
Whether you like barbecue-styled food, prefer things spicy, or simply want to try something healthier, we've compiled some of the best Kansas recipes that you can cook from the comfort of your home.
12 bone-in, country-style, 7 pounds, pork ribs
2 teaspoons each garlic powder, onion powder, and smoked paprika
1 1/4 teaspoons each ground cumin, coarsely ground pepper, and cayenne pepper
1-1/3 cups packed brown sugar
SAUCE:
1 medium onion, finely chopped
1 teaspoon salt
1 teaspoon ground mustard
1/4 teaspoon smoked paprika
1/4 teaspoon cayenne pepper
1 tablespoon apple cider vinegar
2 tablespoons canola oil
2 teaspoons Worcestershire sauce
1 cup tomato sauce
1/3 cup dark brown sugar
1/4 cup ketchup
1/4 cup molasses
Instructions
Take a small bowl and mix the brown sugar and all the seasonings. Sprinkle it over the ribs, and refrigerate them for about an hour – covered.
For the sauce, place a large saucepan to heat oil over medium heat. Add onion, and stir it for about 5 to 6 minutes until it gets tender.
Add the remaining ingredients to the saucepan and bring the mixture to a boil, stirring occasionally. Remove from heat when done.
Wrap the pork ribs in a large piece of heavy-duty foil, taking care to seal the edges.
Grill the ribs – covered – over indirect medium heat until they get tender. This should take about 1-1/4 to 1-3/4 hours.
Remove the ribs from the foil carefully and place them over direct medium heat. We would also recommend basting the rooms with some of the sauce.
Grill the ribs again until browned or for 8 to 10 minutes. Keep turning and basting them with the remaining sauce occasionally.
---