Glazed Orange-Cranberry Bread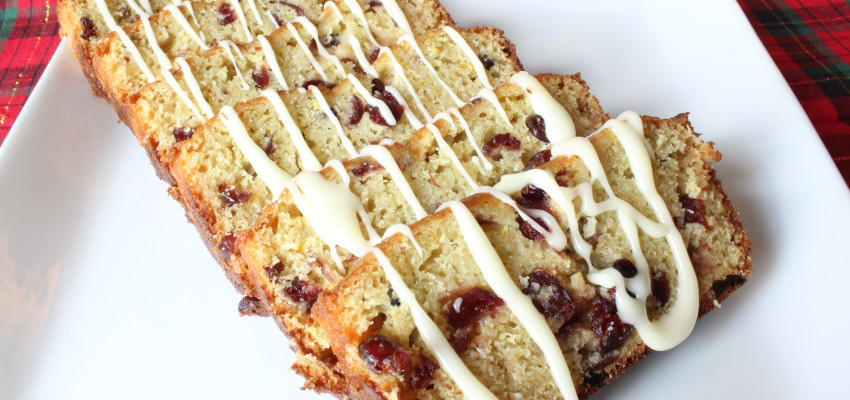 Ingredients
Makes one large loaf or three mini loaves.
Tip: Use a parchment sling when baking bread. Simply fold parchment paper to fit inside your loaf pan, then spray with nonstick spray; top with quick bread batter or dough and bake. To remove the loaf from the pan, loosen the loaf at each end of the pan, then use the parchment sling to lift it right out. No parchment paper? Use heavy-duty aluminum foil.
2 cups all-purpose flour
1 1/2 tsp. baking powder
1/2 tsp. baking soda
3/4 tsp. kosher salt
1 tsp. fresh orange zest
1 tsp. fresh lemon zest
2 cups fresh cranberries,
divided use
5 Tbsp. unsalted butter, softened
1 cup granulated sugar
2 eggs
3/4 cup + 3 Tbsp. orange juice,
divided use
1 tsp. orange extract
1 tsp. vanilla extract
1 cup confectioner's sugar
Instructions
Preheat oven to 350 degrees F. Spray a 9 x 5-inch loaf pan (or three mini loaf pans) with nonstick spray; place a folded strip of parchment paper into the loaf pan to act as a sling, spraying it with nonstick spray.
In a medium mixing bowl, combine flour, baking powder, baking soda, salt, zests and 1 1/2 cups of cranberries; set mixture aside.
In a large mixing bowl, beat butter and sugar together until light and fluffy, approximately four to five minutes; add eggs, one at a time, mixing just until combined. Add extracts, along with reserved flour mixture, folding them in with a spatula
until mixture is just moistened. Place batter evenly into prepared loaf pan, on top of greased parchment sling. Top batter with remaining 1/2 cup of cranberries.
Bake uncovered for 45-55 minutes (25-35 minutes for small loaves) or until bread springs back when lightly touched on the surface. Remove bread from oven and immediately cover with foil; let bread cool completely while covered with foil. When bread has cooled, use a knife to loosen bread from pan at each end, then use the parchment sling to gently lift the loaf out of the pan.
Combine powdered sugar with 3 Tbsp. orange juice to make glaze. Drizzle over bread, then slice to serve.
---