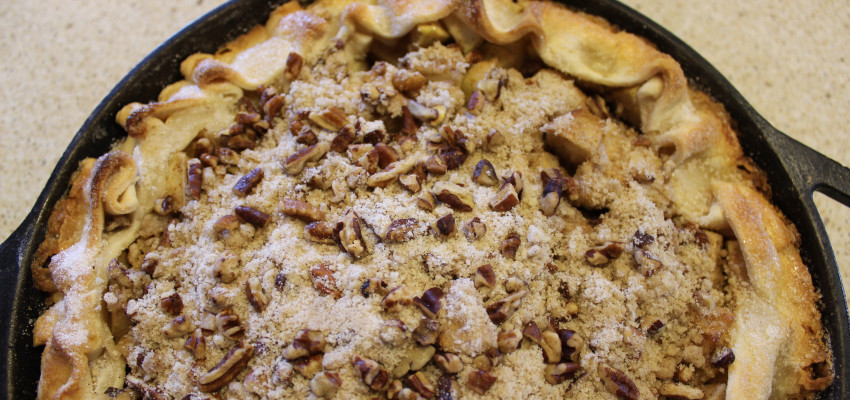 Ingredients
1 batch of your favorite pie crust dough (or use refrigerated pie dough from your grocer)
5-6 Granny Smith apples, peeled, cored and thingly sliced
1/4 tsp. grated orange zest
1/2 cup all-purpose flour
1/4 cup granulated sugar
1/4 tsp. kosher salt
1/4 tsp. ground cinnamon
1/8 tsp. ground allspice
1/8 tsp. ground nutmeg
4 Tbsp. unsalted butter, chunked
Instructions
Preheat oven to 450 degrees F.
Roll out dough to desired thickness and gently transfer to a 10" cast-iron skillet, letting dough overlap around the
edge, if needed.
In a mixing bowl, combine sliced apples with orange zest, then place apples into skillet on top of pie crust dough, gently spreading apples out evenly.  
In a small bowl, combine flour, sugar, salt and spices together; add butter and use a pastry blender to cut butter into dry ingredients until mixture is crumbly. Sprinkle mixture over apples, then fold pie crust edges over apples, pleating or crimping the edge of the dough, as desired.
Bake uncovered on center rack for 15-20 minutes. Reduce oven temperature to 350 degrees F. and continue to bake an additional 30-35 minutes, or until crust is golden brown and apples are tender when pierced with a fork. Serve warm with your favorite ice cream.
---