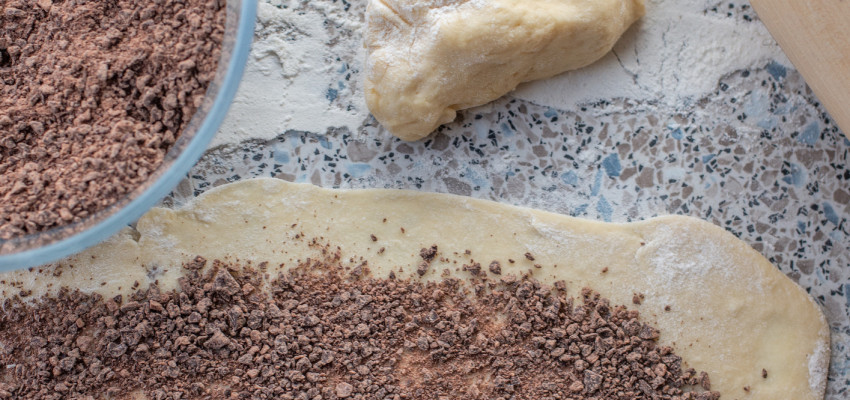 Ingredients
1 cup milk 
6 Tbs. unsalted butter 
2-1/2 tsp. active dry yeast (not rapid rise) 
2 large eggs 
2/3 cup granulated sugar, divided use 
3-1/2 cups Hudson Cream All-Purpose Flour 
1 tsp. kosher salt 
2 Tbs. cinnamon 
1 egg beaten with 2 Tbs. milk, for brushing 
softened butter 
Instructions
Makes two loaves.
In a small sauce pan over low heat, melt the butter with the milk; allow this mixture to cool until still a bit warm, but not hot. Sprinkle the yeast over the top, stir gently and allow to sit for 15 minutes.
In a bowl, combine the flour with the salt.
In the bowl of an electric mixer, mix 1/3 cup sugar and eggs with the whisk attachment until well combined; add the prepared milk/butter/yeast mixture and mix well. 
Switch to the dough hook, then add half of the flour mixture; beat on medium speed until combined; add the remaining half of the flour mixture and beat again. Scrape down the sides and center of the bowl with a spatula. 
Knead the dough on medium speed for 10 minutes. (If using a Bosch mixer, knead five minutes.) If the dough is overly sticky, add 1/4-1/2 cup of flour and beat again for five minutes. 
Heat a large glass mixing bowl so it's just warm to the touch, not hot. Drizzle in a little oil, then toss the prepared dough in the oil to coat. Cover the bowl with a light tea towel and set it in a warm, draft-free place for two hours. (I like to use my empty oven for raising bread dough.) 
Turn the dough out onto a lightly floured work surface; divide the dough in half. Roll one half of the dough into a neat rectangle no wider than the loaf pan you're going to use, and about 18 to 24 inches in length. 
Smear the rectangle of dough with 2-3 tablespoons softened butter. Mix the remaining 1/3 cup of sugar and cinnamon together, then sprinkle it evenly over the butter-smeared dough. Starting at one of the short ends, roll up the dough, keeping the filling contained, making a loaf. 
Place the loaf, seam-side-down into a well-greased loaf pan. Repeat with the remaining half of dough so that you have two loaves. 
Cover both loaf pans with a tea towel and let the dough raise for two hours. 
Preheat the oven to 350 degrees F. 
Gently brush the raised loaves with the milk/egg mixture. Bake for 35-40 minutes on the middle rack of the preheated oven, turning the loaf pans half way through the baking time. 
Remove from the pans from the oven and allow the loaves to cool. Slice each loaf, then toast the slices and serve buttered, drizzled with a powdered sugar icing. 
---