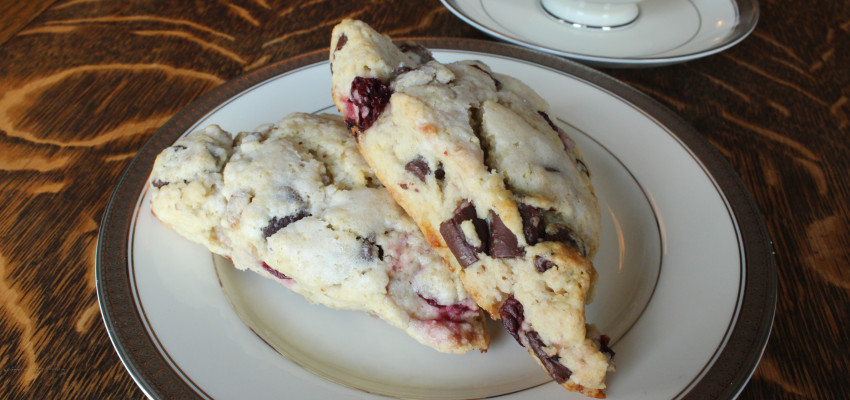 Ingredients
Makes eight plump scones
Tip: To ensure your scones are even in size, use a bench scraper or knife to cut the dough round in half. Next, cut each of both halves in half. Lastly, cut each of the four quarters in half, creating eight perfect wedges. Not only will these eight scones look pretty because they are even in size, they will bake proportionately as well.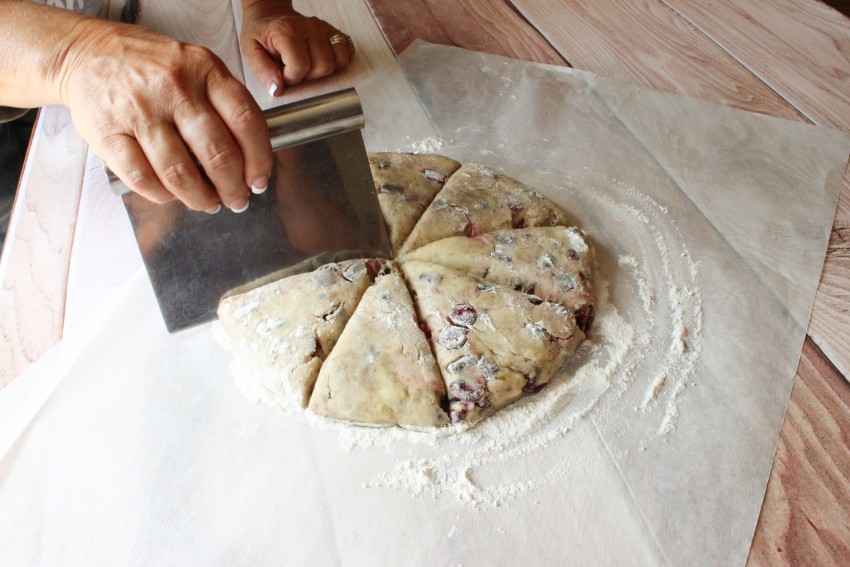 SCONES
3 cups all-purpose flour
1/3 cup granulated sugar
5 tsp. baking powder
1 tsp. kosher salt
1 cup chilled unsalted butter,
cut into chunks
1/2 cup chopped pecans
1 large egg
3/4 cup heavy cream
3/4 cup Nestlé® Toll House®
semisweet chunks
1 cup dried and rehydrated
cherries (rehydrate dried cherries by placing them in a small bowl and adding a bit of orange juice; microwave for 45 seconds, let cool, then drain)

GLAZE
2-3 Tbsp. milk
1/2 tsp. almond extract
1 cup confectioner's sugar
Pinch of kosher salt
Instructions
In a large mixing bowl, combine flour, sugar, baking powder and salt; cut butter into the flour mixture, using a pastry blender (or a fork and a knife), until mixture resembles crumbs. Fold in pecans, chocolate chunks and cherries.
Beat egg into cream, then add to flour mixture in mixing bowl, stirring just until mixture comes together. Don't over-mix or the gluten will release and that's not what we want for good scone texture.
Turn mixture out onto a cutting board or work surface; dough will be very crumbly. Push mixture together into a large ball, then use a rolling pin or your hands to very gently roll or press dough into a flattened 10" round, about 3/4" in thickness.
Cut the round into eight equal wedges; transfer to a greased baking sheet, then freeze scones on baking sheet for 30 minutes. This is an important step, don't skip it.
Preheat oven to 425 degrees F. Bake scones uncovered for five minutes, then reduce oven temperature to 375 degrees F. and bake for an additional 20-25 minutes or until golden brown.
For the icing, combine confectioner's sugar, salt and extract with milk in a small bowl; whisk until smooth. Cool scones fully before drizzling with icing to serve.
GIFTING
Once you cut the scones into eight wedges as the recipe directs, place the scones into a baking sheet and freeze solid. Package desired number of scones in a pretty container, along with the baking directions. This is fun for the recipients, as they can then pull the scones out of the freezer to bake at their convenience and enjoy warm from the oven.
---