Chicken Teriyaki Stir Fry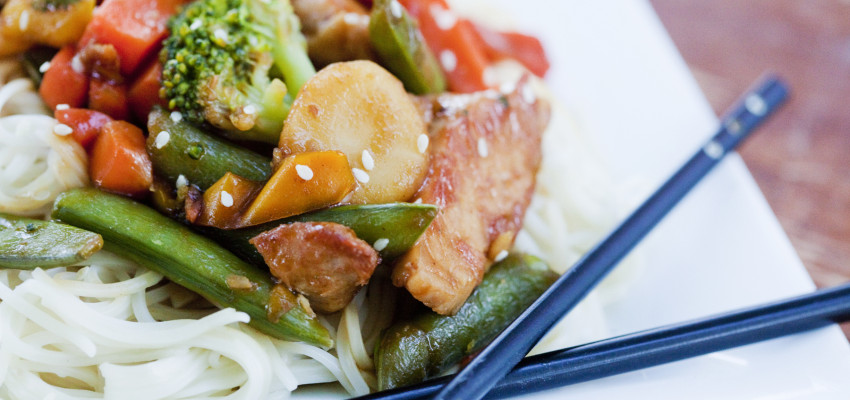 Ingredients
2 Tbs. canola or vegetable oil, divided use 
2 cloves garlic, crushed 
1 tsp. minced ginger root 
3 boneless, skinless breasts, cut into 1-inch pieces, seasoned with salt and pepper 
2 cups snap peas
1 cup small broccoli florets 
1 sweet red bell peppers, seeds and membranes removed, diced 
kosher salt and pepper, to taste
Ingredients for Sauce 
¼ cup low sodium soy sauce
½ cup water
3 Tbs. dark brown sugar
2 cloves garlic, crushed 
2 tsp. minced ginger root 
1 Tbs. honey
2 tsp. sesame oil
cornstarch slurry: 2 Tbs. water mixed with 1 Tbs. cornstarch
2 Tbs. sesame seeds, for garnish 
Instructions
Heat 1 Tbs. oil in a wok or large, deep stainless steel skillet over medium heat; add the garlic and ginger, cooking for 30 seconds. 
Increase the heat to medium-high or high; when the wok is very hot, add the snap peas, broccoli, and bell pepper, cooking until just slightly softened, 3 to 4 minutes, working in batches to keep your wok from being overcrowded. Season the veggies to taste with salt and pepper; remove to a plate as you work; cover and reserve. 
Add the remaining 1 Tbs. of oil to the wok over medium-high or high heat; when the oil is nicely hot and almost smoking, add the chicken and cook, tossing only occasionally, until the chicken is browned and cooked through, 4 to 5 minutes, per batch; season to taste with salt and pepper. 
Meanwhile, in a small saucepan over medium-high heat, combine the soy sauce, water, brown sugar, garlic, ginger, honey, and sesame oil. Stir until the brown sugar is dissolved, bringing the sauce to a boil; reduce heat and simmer for 2-3 minutes. Whisk in the cornstarch slurry and simmer an additional 1-2 minutes until the sauce is nicely thickened and smooth; keep warm.
Add the reserved vegetables back to the wok with the chicken. Slowly drizzle in the warm, prepared sauce, adding it only around the very outside of the wok or skillet, as close to the edge as possible, allowing the heat from the sides of the pan to get the sauce nice and hot. Sprinkle the stir fry with sesame seeds and serve at once!
---