Cheesy Bacon Pull-Apart Bread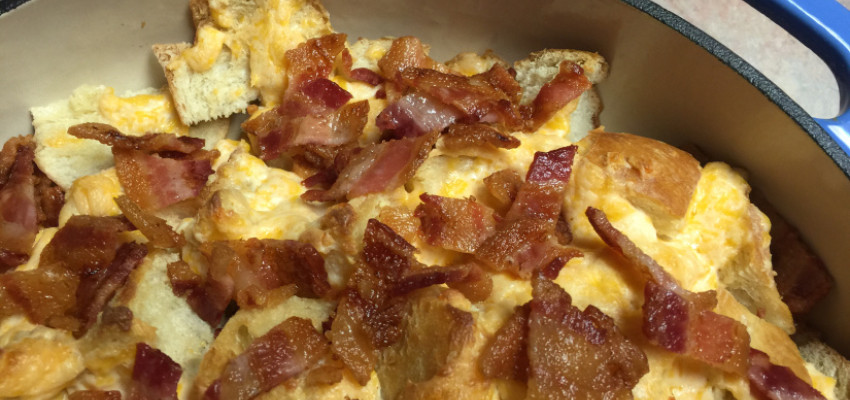 Ingredients
1 large loaf of French bread, 1 1/2 – 2 lbs.

1/2 cup unsalted butter, melted

8 ounces cream cheese, softened

1/3 cup mayonnaise

3 cloves garlic, minced

8 ounces sharp cheddar cheese, shredded

12 slices bacon, cooked until crisped,  crumbled
Instructions
Preheat oven to 350 degrees F.  
Place loaf of bread onto a cutting board; using a serrated knife, make diagonal incisions down through the top of the bread, leaving the bottom crust intact. Repeat across the entire surface of the bread, making the cuts approximately one inch apart. Turn the bread 90 degrees and make a set of perpendicular cuts. When you are finished, the surface of the bread should be cross-cut into several 1-inch squares.
Combine melted butter with minced garlic and drizzle down into the bread between all of the incisions over the loaf.
In a large bowl, combine cream cheese and mayo; add cheddar and all but 3 Tbs. of chopped bacon and mix well. Using your fingers, if needed, gently press cream cheese mixture down into the incisions of the loaf.
Lay a long piece of foil on the counter horizontally, and then lay a second long piece of foil on top of it vertically. Center the stuffed loaf of bread on the foil and wrap. Place loaf onto center rack of oven and bake 20-25 minutes, then open the foil and bake for another 10 minutes or until cheese is entirely melted; serve hot. (Loaf can also be baked on a cookie sheet or in a large cast iron skillet.)
---