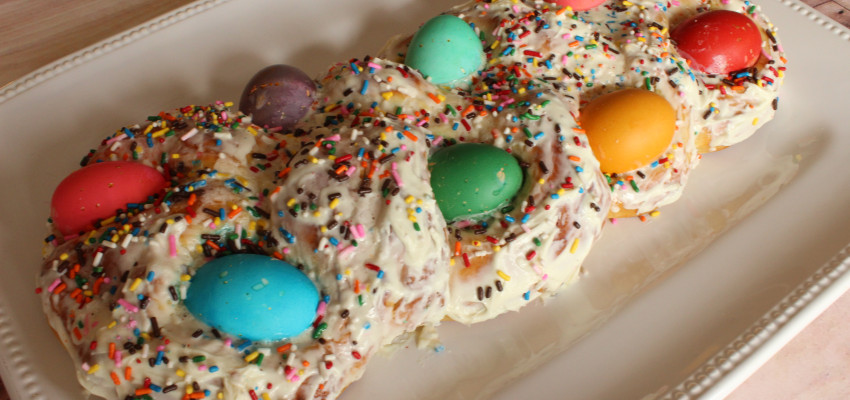 Ingredients
1 cup whole milk
2 ½ tsp. quick-rise yeast
1 tsp. granulated sugar
½ cup unsalted butter, softened
5-6 cups all-purpose flour
3 large eggs
½ cup granulated sugar
Pinch of kosher salt
1 tsp. pure vanilla extract
1 tsp. lemon juice
Zest of 1 lemon
¼ cup unsalted butter, melted
6-7 uncooked eggs, dyed to preferred Easter colors
Glaze
1 cup powdered sugar
2-3 Tbsp. milk
Rainbow pastel nonpareils or sprinkles
Instructions
In a microwave-safe bowl, heat milk in microwave for 45-50 seconds on full power just until warm; stir in yeast and 1 tsp. granulated sugar; set aside.
In bowl of electric mixer, combine softened butter and two cups of the flour on medium speed. One at a time, beat in all three eggs. Slowly add reserved yeast mixture, granulated sugar and salt, beating until combined; add vanilla, lemon juice and zest.
Using the dough hook, add remainder of the flour, ½ cup at a time, until the dough is stiff and no longer sticky, but still slightly tacky to the touch. Knead dough in mixer until smooth.
Place dough into a well-oiled bowl and cover with a lightweight towel; let dough rise in a warm place until doubled in size, approximately 1–1 ½ hours. If dough has been refrigerated at this point, it may take 2–2 ½ hours for dough to rise until doubled in size.
Punch dough down and divide in half. Divide each half into three equal portions.
Using lightly floured hands and work surface, roll each portion of the dough into a 16" long rope with tapered ends. If dough wants to pull back at this point, simply cover and let rest for 10 minutes to allow dough to relax a bit.
Arrange three ropes side-by-side onto a greased sheet of parchment paper placed onto a baking sheet; pinch top ends together, then braid dough ropes, pinching bottom ends together and creating a braid about 12" long. Nestle dyed eggs into braid, spacing evenly throughout the braid; repeat with remaining three dough braids to create second braid. Cover each braid with plastic wrap and let rise in a warm place until slightly puffed, approximately 45-50 minutes.
Preheat oven to 375 degrees F. Carefully brush each braid with a bit of melted butter, taking care not to touch dyed eggs. Bake braids uncovered on center racks of oven for 20-25 minutes or until golden-brown on the top and bottom. Let braids rest on baking sheets for five minutes, then slide on parchment paper over to cooling racks.
Meanwhile, create glaze by combining all ingredients in a small bowl until smooth, adding milk until glaze reaches desired consistency. Using a pastry brush, gently brush glaze onto each braid, then sprinkle with rainbow nonpareils or sprinkles. Store braids in airtight containers for up to three days.
---