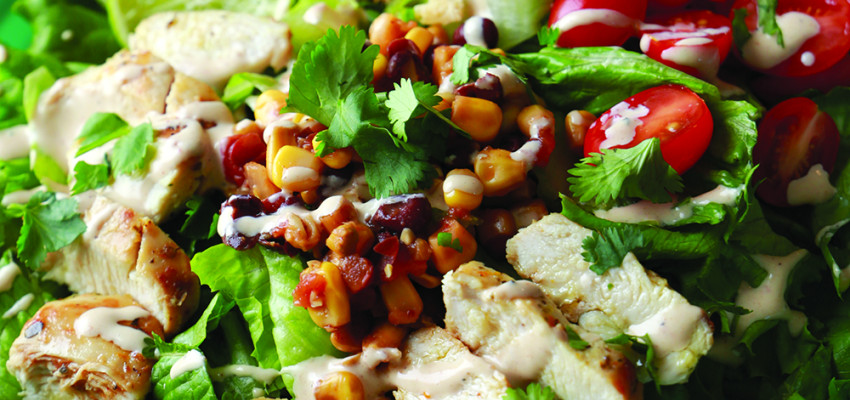 Ingredients
MOJO MARINADE
5 cloves garlic, crushed
1/2 small onion, minced
1 tsp. oregano leaves
1 tsp. kosher salt
1/2 tsp. black pepper
1/2 cup fresh orange juice
2 tsp. orange zest
1/2 cup fresh lime juice
1/3 cup extra virgin olive oil
SALAD
4 small chicken breasts, pounded thin to become chicken cutlets
1 cup prepared mojo marinade, or use 1 cup of your favorite bottled mojo marinade
2 cups BBQ sauce
1/2 cup ranch dressing
2 heads romaine lettuce
1 cup black bean salsa (my favorite is black bean and corn)
1 cup French fried onions
2 limes, halved grape tomatoes, halved
Instructions
PREPARE THE MARINADE
In a pint jar with a tight-fitting lid, add the garlic, onion, oregano, salt, pepper, orange juice, orange zest, lime juice and olive oil. Tightly cover the jar with the lid and shake to combine all ingredients.
PREPARE THE CHICKEN
 Marinate the chicken breasts for at least three hours in the mojo marinade.
Remove the chicken from the marinade and pat dry. Add a bit of olive oil to a skillet over medium-high heat; when the oil is hot, add the chicken breasts to the pan, browning them on each side. Reduce the heat to medium, cover the skillet and continue to cook the chicken breasts for eight to ten minutes or until the chicken breasts are cooked throughout and 160 F at the center. Reserve the chicken and keep warm.
ASSEMBLE THE SALADS
In a small bowl, combine the BBQ sauce with the ranch dressing.
Tear both heads of the romaine lettuce into bite-size pieces and divide among four large salad bowls.
Top each bowl of lettuce with the desired amount of the prepared BBQ dressing, salsa, French fried onions and
tomatoes.
Slice the chicken breasts, placing the chicken on top of each salad. Squeeze a lime half over the chicken slices.
Serve the salads at once.
---