Baked Gnocchi Gratin with Ham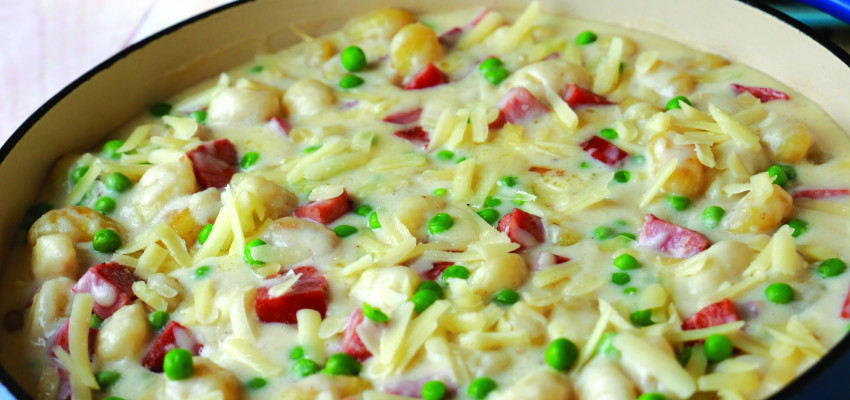 Ingredients
1 lb. potato gnocchi, cooked according to package directions, drained
6 Tbs. unsalted butter, divided use
1 lb. ham steak, cut into 1/2-inch pieces
1 cup frozen green peas, thawed
1/4 cup all-purpose flour
1/4 teaspoon kosher salt
1/4 teaspoon black pepper
2 cups whole milk
6 oz. Gruyère cheese, shredded
2/3 cup grated Parmesan cheese, divided use
Instructions
Preheat oven to 375 F. Spray an 11-by-7 baking dish with nonstick spray.
Place the cooked and drained gnocchi into the prepared baking dish and set aside.
In a large Dutch oven over medium-high heat, melt 2 Tbs. butter. When the butter is hot, add the ham pieces and cook, stirring often, until the ham is lightly browned. Transfer the ham to the baking dish with the gnocchi, add half of the peas and toss gently.
Wipe the Dutch oven clean. To make the sauce, melt the remaining unsalted butter in the Dutch oven over medium-high heat; whisk in the flour, salt and pepper. Cook the flour with the butter, whisking constantly, until the mixture is light golden brown in color, one to two minutes. Remove the Dutch oven from the heat.
When the butter/flour mixture in the Dutch oven has cooled just a bit, slowly whisk in the milk, a little at a time, until all the milk is incorporated.
Return the Dutch oven back to the burner over medium heat, bringing the sauce to a simmer; whisk until smooth and nicely thickened.
Turn off the heat, then slowly whisk in the shredded Gruyère cheese and 1/3 cup of the grated Parmesan cheese, stirring until the cheese is fully melted.
Pour the prepared cheese sauce over the ham, gnocchi and peas in the baking dish; top with the remaining Parmesan and peas.
Bake the gratin, uncovered, on the center oven rack until bubbly and golden brown, 20 to 25 minutes (160 F at the center).
Remove the gratin from the oven and serve at once.
See how Chef Alli makes the sauce for this recipe perfect every time!
---