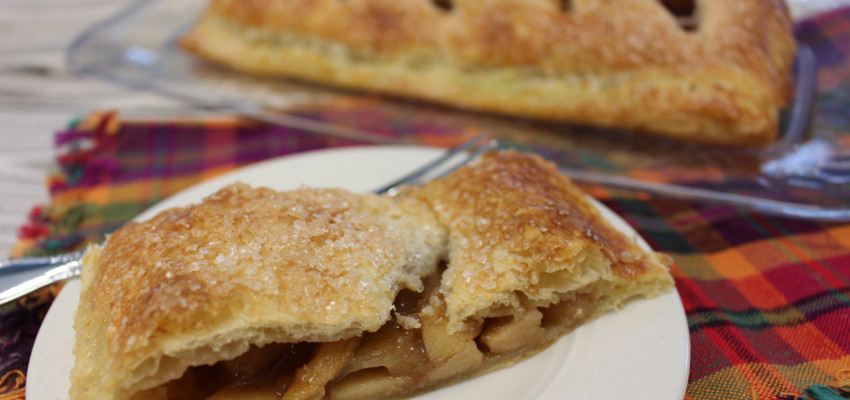 Ingredients
4 large Granny Smith or Jonathan apples, peeled, cored and thinly sliced
6 Tbsp. unsalted butter
1/2 cup packed dark brown sugar
Pinch of kosher salt
1 tsp. ground cinnamon
1/4 tsp. ground nutmeg
1 package of frozen puff pastry sheets, thawed
1 egg, beaten with 1 Tbsp. water to make an egg wash
Coarse sugar for sprinkling
Instructions
In a large skillet over medium heat, melt butter and add apples, cooking until lightly browned and softened, stirring occasionally. Reduce heat to low and stir in brown sugar, salt, cinnamon and nutmeg, continuing to cook until apples are caramelized. Cool apple mixture until just warm to the touch.
Meanwhile, lightly dust a sheet of parchment paper with flour. Place a sheet of puff pastry onto the prepared parchment and unfold it. Sprinkle a bit of flour over the puff pastry sheet, then use a rolling pin to roll it to a size of about 10 x 11 inches. Cut the puff pastry sheet in half lengthwise to make two long halves.
Place half of the prepared apple mixture lengthwise down the middle of one puff pastry half, leaving a one-inch border on all sides. Brush the edges of the pastry with egg wash, then top with the second pastry rectangle and press down the edges to seal together all the way around. Cut four to six slits in the top of the pastry for steam vents.
Brush pastry top with egg wash and sprinkle the top with sugar. Use parchment to lift pastry to a baking sheet, then repeat process to create second pastry.
Bake pastries, uncovered, in a preheated 400 degree F. oven for 15-20 minutes, or until golden brown and puffed. Let cool and cut each pastry into four or five slices.
---