Amy's Maple-Apple-Glazed Breakfast Meatballs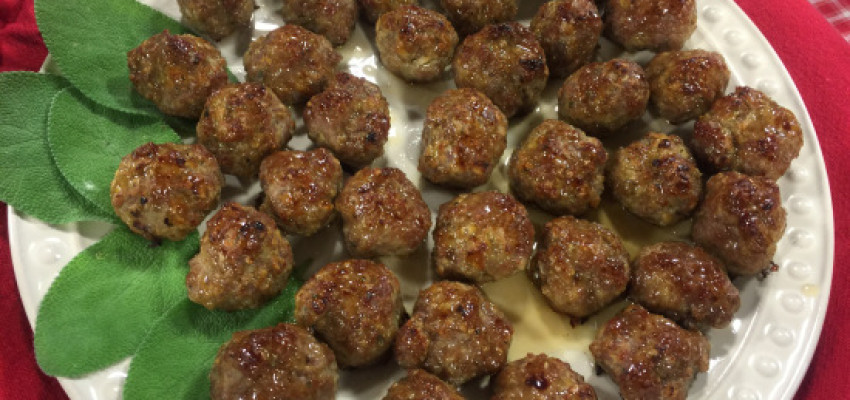 Ingredients
Meatballs
1 egg
1/2 cup quick-cooking oats
1/2 cup finely chopped red-skinned cooking apple
2 teaspoons snipped fresh sage
3/4 teaspoon fennel seeds, crushed
1/2 teaspoon salt
1/8 teaspoon ground black pepper
1 pound of ground pork (not sausage)

Glaze
1/4 cup apple jelly
1/4 cup pure maple syrup
Fresh sage for garnish
Instructions
Line a 15x10x1 inch baking pan with foil; coat with cooking spray.  Set aside.  In a large bowl, beat egg lightly.  Stir in oats, apple, sage, fennel seeds, salt and pepper.  Add pork; mix until combined.

Shape mixture into forty 1-inch meatballs. Place meatballs 1/2 inch apart in prepared baking pan. (At this point, meatballs can be stored, covered, in the refrigerator for up to four hours.) Bake meatballs on the middle rack of a 400 degree oven for 10 minutes, or until cooked throughout.

In a small saucepan, heat jelly and maple syrup over medium-low heat, whisking until jelly is melted and mixture is smooth.  Drizzle 1/4 cup of the jelly mixture over the baked meatballs, lightly toss to coat, and bake meatballs two minutes more. Transfer meatballs to a serving platter and drizzle with the remaining glaze.  Garnish with fresh sage, then sprinkle with a small amount of coarse sea salt or kosher salt.
Recipe from Amy Good, Olsburg, Ks.
You might also enjoy
---