December 1, 2018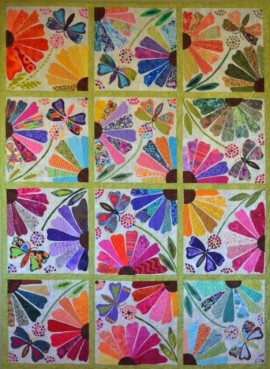 Details
The Kansa Prairie Quilters (KPQ) will be having their annual quilt and boutique show at Oskaloosa Middle School Dec. 1, 2018 from 9 a.ml until 2 p.m. The show is in conjunction with the Oskaloosa Holiday Open House and Craft Show at 404 Park, Oskaloosa. The event is free to attend.
All quilts will be displayed in the school library. Hand-made items and quilted products made by the members of KPQ will be for sale at the boutique table as you do your Christmas shopping.
This year, KPQ has made two beautiful quilts called the "Garden Party" designed by Laura Heine. Every person that supports our ticket sales (1 ticket= $1 or get 6 tickets for $5) has the opportunity to win one of these quilts. The drawing is at the end of the show. You do not have to be present to win.
Proceeds raised from the boutique and raffle go to support non-profit services in Jefferson County.
Come and enjoy the day and see the artistry and craftsmanship of quilting. Perhaps you will be the lucky winner of one of the quilts!
Good comfort food is available at the middle school cafeteria for sale.
---