Community Chamber Orchestra in Clay County hosts guitarist Braulio Bosi
June 2, 2019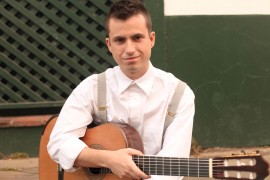 Details
Join Community Chamber Orchestra Sun., June 2, at 4 p.m. for a family-friendly concert with classical guitarist Braulio Bosi.
Bosi is currently guitar faculty at UMKC, and will play classical works with the orchestra, followed by solo Brazilian guitar music.
The location is the main lodge of Life's Finer Moments, 1285 16th Rd., Clay Center. Tickets are $8/person or $18/family. Non-family groups of more than five receive a $1 discount. Display tables are available to merchants and organizations for $75 each, and include U.S. Cellular and Etsy's Tater and Nooney jewelry. A bargain table of $1 vintage sheet music will benefit the Orchestra.  
Morganville native Elizabeth Anne Mall's last four EAM CDs will also be for sale. She is currently an artist with Street Lamp Records in Los Angeles. 
See www.kansasmusic.net for more information or call Dr. Anne Clark at 785-926-4725 to order advance tickets. This performance is co-sponsored by Clay County Arts Council and Clay County Travel & Tourism.
---