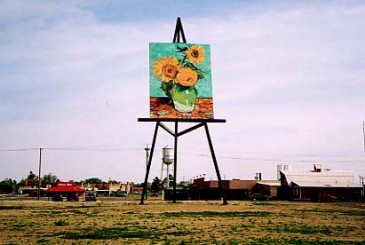 "Three Sunflowers in a Vase," an 80-foot-tall art piece found in Goodland, is part of the Big Easel Project and is based on a painting from Vincent van Gogh's Sunflower series. Van Gogh originally created the paintings in Aries, France, between 1888 and 1889.
The project's original intent was to reproduce paintings in seven different countries. Cameron Cross is the artist, and he selected Goodland for this particular piece because he wanted the paintings to match the area where they are displayed. Cross also wanted to pull people off I-70 to view the artwork. It took two and a half years and 10 layers of acrylic paint to create this easel painting.
Suzanne McClure, economic development director for the city of Goodland, adores this painting and is gracious for the publicity that Goodland receives. "It's a beautiful piece of art. You can't believe the size of it until you witness it for yourself," says McClure. Next time you're traveling down I-70, take Exit 19 and see the
enormous painting. In the meantime, check out http://seegoodland.com.cityofgoodland.org/big_easel.php.
Location
---