Prairie Museum of Art and History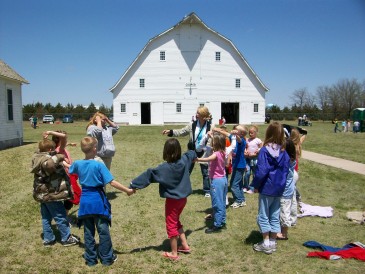 Explore life on the High Plains at the Prairie Museum of Art and History, a 24-acre complex with indoor and outdoor exhibits located in Colby. Since it opened in 1988, the Prairie Museum showcases exhibits that reflect the lives of the pioneers who settled in western Kansas in the 1870s.
Start your visit in the museum's main building. Designed by George Kuska, son of Joe and Nellie Kuska, the museum is made of pre-stressed concrete. Native buffalo grass encircles the building, beautifully blending with the surrounding prairie.
Within the museum's main building you will find High Plains Journeys: The People, The Places, The Journeys, an exhibit that explores Kansas history through Thomas County objects, stories, photos and other unique historical treasures.
In total, the museum's collection is made up of more than 28,000 items, including dolls, furniture, clothing, quilts, toys, ceramics, silver, souvenirs, household items, tools, musical instruments, coins, clocks, stamps, guns, minerals and art.
Visitors can experience early prairie life in a sod house, a one-room school, a country church and a 1930s farmstead, all located on the museum's 24 acres. In addition, Cooper Barn — one of the largest barns in the world — features the museum's High & Dry: Agriculture on the High Plains exhibit.
Built by volunteers in 1984, the Prairie Museum of Art and History's Sod House reflects the sod houses common to the pioneer families. As you enter the sod house through a latch-string door, the earthy smell and period displays will take you back to life on the Great Plains in the 1870s.
Another adventure awaits the visitor who steps inside the Nicol School building. Here, antique school desks and an authentic wood-burning stove provide a slice of early history on the High Plains.
To learn more, visit www.prairiemuseum.org.
Location
---