National Festival of Breads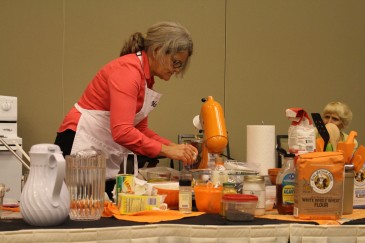 If you love bread and home baking, the National Festival of Breads in Manhattan is the event you've been craving. The Kansas Wheat Commission, along with title sponsors King Arthur Flour and Red Star Yeast, host this event showcasing Kansas' rich history of wheat production and flour milling along with the art of home baking. 
On Sat., June 17, take in the aroma of bread baking at the Hilton Garden Inn Conference Center in Manhattan from 8:30 a.m. to 3 p.m. The biennial event features a live baking competition, bread demonstrations by national presenters, children's activities, door prizes and vendors.
"This is a fun event for the whole family," Julene DeRouchey, nutrition educator assistant at Kansas Wheat, says. "Over the years, we've added barbecue demonstrations and this year the National Wheat Foods Council is sponsoring the "Enrich Your Life" 5K and one-mile fun run to kick off the day."
National Festival of Breads partner Oklahoma Wheat Commission will hand out fresh samples of cinnamon rolls and whole-wheat rolls. Prior to the festival, recipe entries are received from all over the country. The recipes are read, evaluated and baked in the test kitchen at the Kansas Wheat Innovation Center. Numerous rounds of preliminary judging determine the top recipes. The eight finalists are invited to Kansas during wheat harvest to participate in the live competition.
 "We received approximately 300 submissions this year in the youth and adult age divisions," Cindy Falk, nutrition educator for Kansas Wheat, says. "It's great to have so many outstanding original recipes in the roll, holiday breads, time-saving and whole-grain categories."
 "Recipes have been entered that use creative, trendy ingredients like turmeric, cauliflower, coconut, peppers and even a recipe with bacon and macaroni and cheese as a filling," DeRouchey says. Once the recipes are vetted, winners are selected based on taste, texture, originality, ease of preparation, nutritional value and artistic flair. 
 "The top prize winner receives $2,000 in cash and an all-expense paid trip to the King Arthur Flour education center in Vermont," Falk says. "They also receive a year's supply of yeast from Red Star Yeast."
Don't miss the opportunity to taste award-winning bread recipes, learn tips and techniques from national baking experts and teach your children more about the importance of wheat in our great state. Attend the National Festival of Breads on June 17 in Manhattan.
The National Festival of Breads is free to attend, but a non-perishable food item donation is suggested. The Flint Hills Breadbasket receives all donations. More information is available at nationalfestivalofbreads. com. 
Try your hand at making the top entries from the 2015 National Festival of Breads at kansaslivingmagazine.com/featured/national-festival-of-breads. 
Location
---