Kansas' Largest Barn Quilt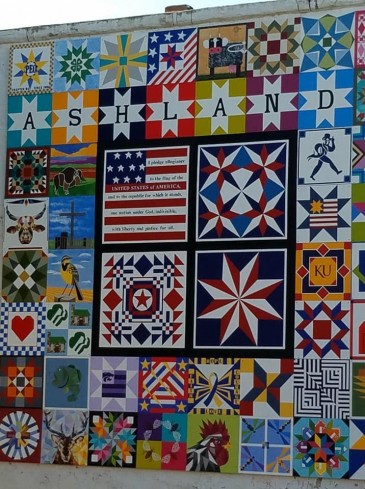 Teresa Sawyer Arnold, Mary Kaltenbach and Beth Ann DeMont of Ashland are quilters. But not just any quilters – they're barn quilters and they created the idea of Kansas' largest barn quilt.
The three women started barn quilt classes, which grew in popularity.
"People just kept coming back," DeMont says. "We had been painting for about a year when Teresa had the idea to have a paint and donate class."
Rather than a barn quilt trail, they thought they would put all the barn quilts together for a bigger impact.
"If Cawker City can have the World's Largest Ball of Twine, why can't Ashland have the largest barn quilt?" Arnold asks hypothetically.
Over time, the three women collected 49 quilts from donations. People would paint their barn quilt, then give it to the cause of creating the largest barn quilt in Kansas. Many of the quilt patterns are in memory of loved ones or depict a certain cause the painter believes in, while others show the picturesque and thriving agriculture of Ashland.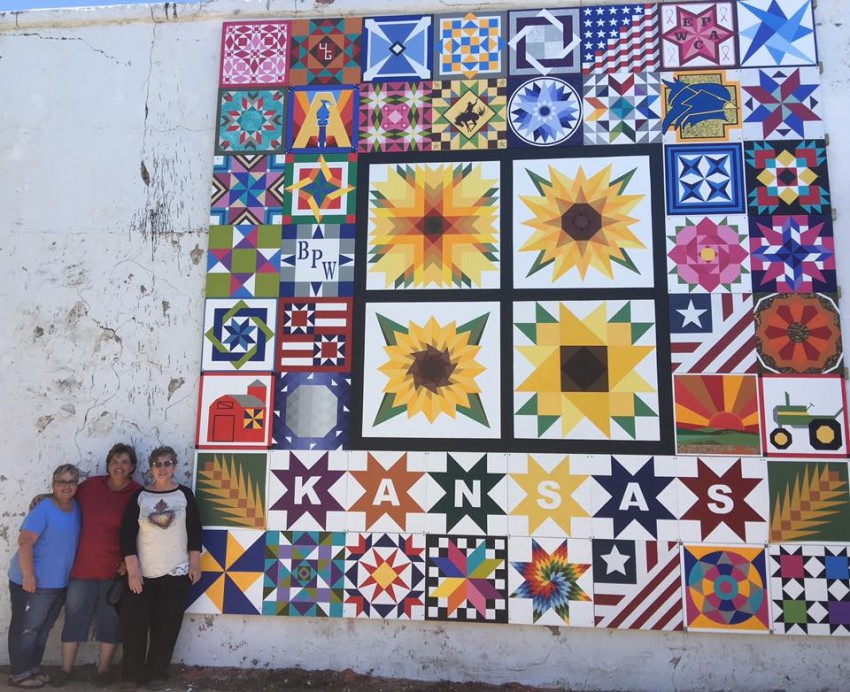 Within two years, including the threat of a tragic wildfire in the area, the barn quilt was ready for display.
What better place to display a barn quilt than the town's grocery store? That's where the barn quilt is placed – at Ashland's Venture Foods grocery store, owned by Brad and Heather McCann.
"This would not have been possible without everyone's help," DeMont says. "From the other women who helped with this idea, to the grocery store owners, the city of Ashland, and the countless others who donated their barn quilts, time and money, we are truly grateful."
When you visit Kansas' largest barn quilt in Ashland, be sure to look at the registry, which identifies each artist, the significance and its location on the wall, and sign the guest book inside the grocery store.
"I believe it takes a little crazy sometimes to bring color and happiness to a quaint little community that pulls together to make things happen," DeMont says.
Location
---