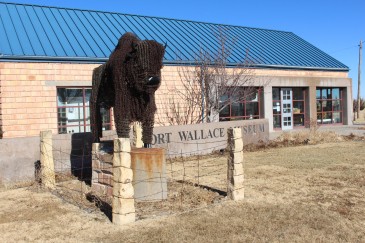 Located just south of the town of Wallace — home to fewer than 50 hearty souls — the Fort Wallace Museum is a sight to behold. Rising up out of the High Plains, the museum is made up of several historic buildings including a church, train depot, the Pond Creek Stage Station and the Sunderland-Poe building complete with antiques.
The museum has many items typical of a community historical museum including clothing, artifacts and displays. A large portion of the exhibit space in the main building is occupied by the Floris and Viola Weiser Collection, which is devoted to the 7th, 5th and 10th Cavalries. But don't expect to find the original fort at the museum location. Fort Wallace, which the museum is named for, was located two miles to the northeast and there are no visible remains at that site. However, the old Fort Wallace cemetery is located next to the Wallace Township Cemetery.
The heyday of Fort Wallace spanned the years 1865–1882. Most of the buildings at Fort Wallace were made of native stone while the remaining buildings were wood. Eventually 40 buildings were constructed, enough to house and support 400 men, even though the total number of troops topped 350 only a handful of times.
Fort Wallace operated as a U.S. Cavalry fort to help defend settlers against Cheyenne and Sioux raids. For more than a decade, Fort Wallace remained one of the most important military outposts on the frontier.
Some of the more famous officers at Fort Wallace included Theophilus H. Turner, Lyman Kidder and Lt. Col. George Custer.
Today, Fort Wallace is represented by a small state-operated museum nearby.
While most western-Kansas museums display at least a few fossils from the days when Kansas was home to dinosaurs and other animals, Fort Wallace sports a much larger display of local fossils. Pete Bussen, a paleontologist and retired rancher, collected many of the fossils on display.
A casting of an Ichthyornis dispar, a toothed seabird from the Late Cretaceous period, is the crown jewel of the museum. The skeleton, collected by Bussen, is reputed to be the most complete specimen of the species ever found.
Call 785-891-3564 to confirm open days and hours. Don't forget that this portion of far-western Kansas operates on Mountain Time.
Location
---