Flint Hills Discovery Center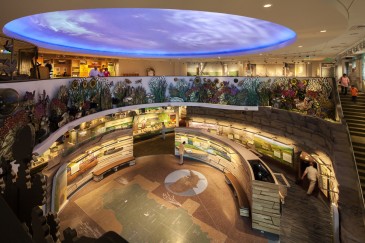 As you enter the Flint Hills Discovery Center in Manhattan, be sure to step into the panoramic screening room. The Horizon Ranch Flint Hills Immersive Experience Theater offers an interactive movie that shows the history behind the Native Americans who originally burned the prairie grass to enrich its nutrients and bring more buffalo and wildlife to the
region. Preserving the prairie is especially important now because of the scarcity of that habitat.
"The Flint Hills Discovery Center explores the geology, biology and cultural history of the Flint Hills, the last remaining tallgrass prairie in North America," says Megan Berry, Marketing Director for the Flint Hills Discovery Center. "We want to inspire visitors to become engaged in exploring this region and all it has to offer. "We offer many programs for
children including Adventure Camps, Preschoolers in the Flint Hills, Share the Story and others," Berry says. "We also have three special events a year including National Day of the Cowboy, Flint Hills Festival and Family Day."
The center is open 363 days a year, only closing for Thanksgiving and Christmas.
Location
Map
---