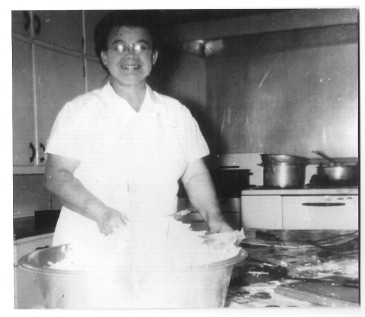 If you have a hankering for some down-home fried chicken, look no further than Chicken Annie's in Pittsburg.
Ask anyone from southeast Kansas where to find the best fried chicken and they'll respond with a resounding "Chicken Annie's." The restaurant grew out of a need to care for family. 
Ann Pichler began preparing dinners in her home when her husband, Charlie, became disabled after a coal mining accident in 1934. While she started out serving local coal miners, her reputation grew and eventually people were coming from all over to try her chicken dinners. She even let customers come in and order, and then wait in their vehicles until their meals were ready.
Ann's two children, Louella and Carl, continued the legacy and moved the business to its current restaurant location in 1972. The third generation, Annie's great grandson Lonnie Lipoglav and his wife, Janice, along with their granddaughter, Donna, run the operation today.
"Our business may have grown since the start, but the heart of Chicken Annie's has remained the same," says Janice. "It's about family. We love having your family share our family's traditions and history."
Chicken Annie's has been "something to crow about" - their motto - for several award-winning years. The Lipoglavs participated in Travel Channel's Food Wars program, where they won People's Choice. They were voted the best fried chicken in the four-state area by readers of Joplin Globe.
"We consider ourselves lucky to be in business this long and with the accolades we've received," says Lipoglav. "We invite anyone who's traveling through to stop by for a great meal."
The restaurant is open Tuesday through Sunday.
Location
---