Carry A. Nation Home & Stockade Museum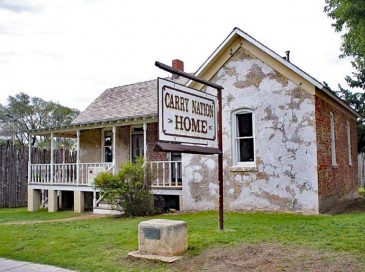 Carry A. Nation was a formidable woman.  Born in Kentucky in 1846, she ventured to Missouri and Texas before eventually making her home in Medicin Lodge in 1890 with her husband, David Nation.  In Medicine Lodge, David was a minister while Carry became involved in religious and civic activities. 
Carry was a devout organizer and member of the Women's Christian Temperance Union and campaigned for enforcement of Kansas' liquor laws.  In 1894, Carry and her followers conducted their first raid of a pharmacy that had whiskey. She rolled the keg out of the establishment and lit it on fire. She would go on to conduct several more raids of area stores and bars that sold alcohol.
Carry took her issue to state legislators in Topeka and asked for the state's laws to be enforced, although she was turned away without a promise. She continued her fight against liquor establishments, becoming a nationally recognized figure. She died a year before women were allowed to vote in Kansas.
Today, Nation's home in Medicine Lodge is a national historic landmark. Inside the home are memorabilia of Carry's crusade against alcohol. You'll find an antique writing desk, a pump organ, a walnut dresser and an oak bed. The Stockade Museum is just next door to the Nation home. The museum was built in 1961 and although not an exact replica of the original 1874 frontier stockade, it is built in the same manner.
"The museum displays historical artifacts and antique items that tell the story of Medicine Lodge," says John Nixon, Stockade Board President. "People really find it interesting that we have on display the actual peace pipe used in the signing of the 1867 peace treaty."
Other features include old photos that depict the Medicine Lodge bank robbery of 1884 in which two bank officials were shot and killed, an old jail and the Smith Log Cabin built in 1877.
To learn more about the Stockade Museum and Carry A. Nation, or to plan your visit to the museum in Medicine Lodge, visit medicinelodgestockade.org.
Location
---