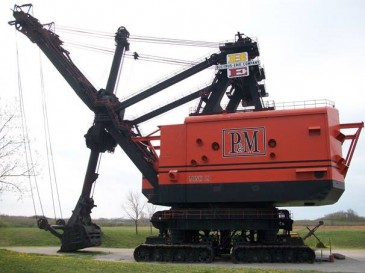 It's difficult to grasp the enormity of Big Brutus without visiting the orange and black piece of equipment formerly used for mining in southeast Kansas. (I remember climbing in its bucket when I was in grade school and thinking it was some pre-historic creature, just waiting for everyone to leave so it could stretch its old bones.)
Big Brutus, the largest electric coal shovel in the world, is 160 feet tall. It took 150 railroad cars to bring all of its parts to Cherokee County. Big Brutus weighs 11 million pounds and was built by Bucyrus-Erie for the Pittsburg & Midway (P&M) Coal Mining Company.
The bucket is 90 cubic yards and, when operating, could move 150 tons of coal in one bite.
"The shovel was used to remove dirt and rocks from the top of the coal," says Betty Becker, manager of Big Brutus, Inc. "Now, the shovel is one of the favorite features for our visitors."
To understand Big Brutus is to understand the coal mining business in Kansas, which began in the 1850s. Strip mining started in the 1870s, but minerals had been depleted by the 1970s and mines were closed in the 1980s. When the mines closed, deciding what to do with Big Brutus became a difficult task.
"Big Brutus was so expensive and bulky to move," Becker says. "So when the shovel became a thing of the past, P&M gave it a purpose to be part of the present and future."
With the shovel, 16 surrounding acres and $100,000, Big Brutus came to life in a new way. The dinosaur was made into a museum. 
"Big Brutus is a symbol of the hard work and determination of the coal miners," Becker says. "We love having visitors out to teach them about the history and importance of the mining industry in Kansas."
Located near West Mineral, the museum and visitors center is open year round, but hours vary with the season.
Location
Map
---