By

Chef Alli

on

February 22, 2023
14 Practical Tips for Perfect Picnics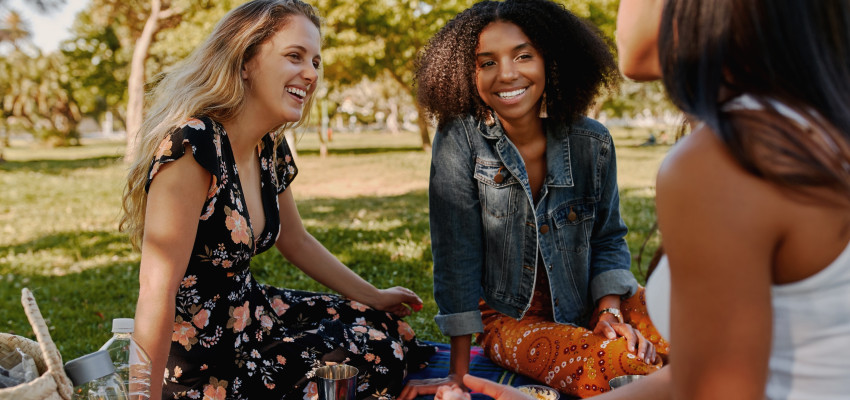 These tips will help you make the most of planning and hosting a successful picnic. 
1. Pick the perfect picnic blanket
Wherever you decide to picnic, you'll want something to sit on. A blanket or sheet work great, especially if you bring a tarp to lay down first. If it has recently rained, the tarp will keep your blanket and bottom from getting wet. 
Another ground cover option that works well for picnicking is a large vinyl tablecloth. The vinyl covering wipes off easily and comes in many prints that are festive and fun for an aesthetic picnic. 
Chair cushions are great for additional comfort while sitting on the ground.
2. Get your picnic basket ready to roll
There's a lot to carry when heading to the picnic site. Make it easier by enlisting the help of a wagon or grocery tote on wheels as your grocery basket. Rolling carts make transporting picnic items easier and they prevent foods from shifting and spilling.
3. Set up your picnic buffet-style
Instead of placing the food and drink in the center of the picnic blanket, choose a separate, shady area to set up a picnic buffet. Select a designated area to arrange food and drinks to keep your picnic blanket organized. It also helps guests easily assemble their plates. 
4. Helpful picnic centerpiece 
Bring a large cutting board to place in the center of your picnic blanket. It acts as the perfect table to keep drinks from being placed on uneven ground and spilling.
5. Double up with efficient picnic packing 
Let your cooler space pull double duty. Fill empty drink bottles half full of water and then freeze. The frozen drinks will act as ice packs. Upon arrival at your picnic, top off the bottles with water or another beverage to enjoy a chilled drink with your meal.
6. Easy picnic clean up 
Make cleanup effortless by packing plastic bags to put dirty dishes in. This keeps your picnic basket tidy and clean. Also bring plastic bags to put trash in if the park trash receptacles are full or not close by. .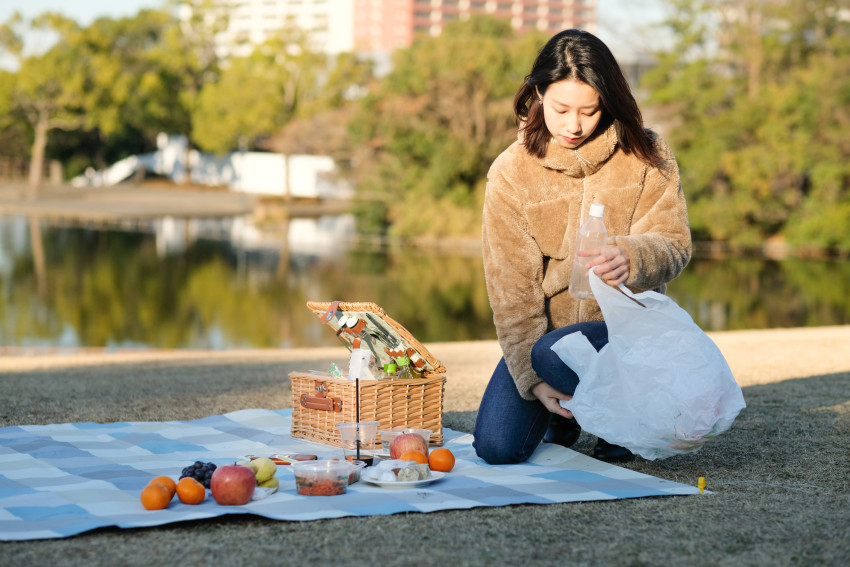 7. Bring the coolest cool picnic snack 
Frozen grapes are the perfect chilled picnic snack for two reasons: they work great for popping into beverages as an ice replacement and they are a super refreshing treat in the heat. 
8. Plan an interruption-free picnic
We can't make the most of the moment if we are staring at our screens. The best way to encourage a no-phone zone at your picnic is to do something fun. Gather the group for ring toss, corn hole, horseshoes or kickball and get everyone off their phones and engaged. 
9. Charcuterie is perfect for picnics
Charcuterie boards are a wonderful option for picnics if you prefer to graze instead of eat a full meal. Assorted cheeses, smoked sausages, dips, crackers, breads, pickles and mustards are fantastic options for a quick-to-make grazing board. Don't forget the fruits and berries. 
10. Setting the picnic mood
In case the birds aren't in song for your outing, bring your favorite tunes and a bluetooth speaker. Background music is a mood enhancer that can really set the tone for your picnic experience. 
11. Ditch the picnic plates 
Instead of plates, try using small, rimmed baking sheet pans as meal trays. The rimmed edge will keep everything contained as we are eating from our laps.
12. Picture-perfect picnic 
Photos make any event memorable. Since Polaroid cameras are trendy again, use one to take snapshots at your picnic, then hand them out to your guests as special take home souvenirs.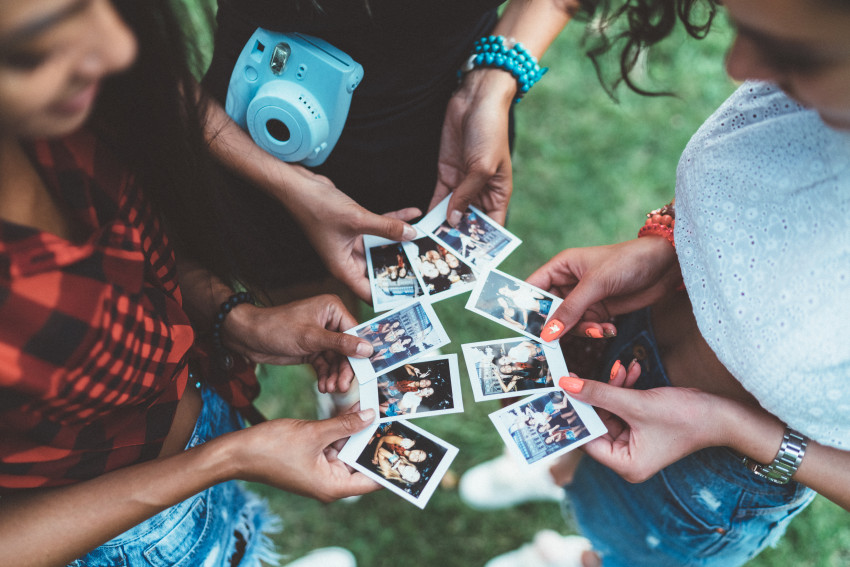 13. Remember the picnic necessities 
These items are super unglamorous, but a definite must: insect repellant, toilet paper, paper towels, hand sanitizer, lighter, corkscrew and bottle opener. If you aren't sure if there is going to be running water, don't forget the wet wipes. 
14. Water balloons for the picnic finale 
If kids are included as picnic guests, host a water balloon fight they love water and enjoy seeing other people get wet! For a fun surprise assault, secretly pack a cooler of water balloons, then find the perfect time to make your attack. Don't forget to bring towels to dry off!
---