By

Greg Doering

on

September 27, 2022
Startup Hopes to Solve Waste, Access Problems in Diesel Exhaust Fluid Distribution Chain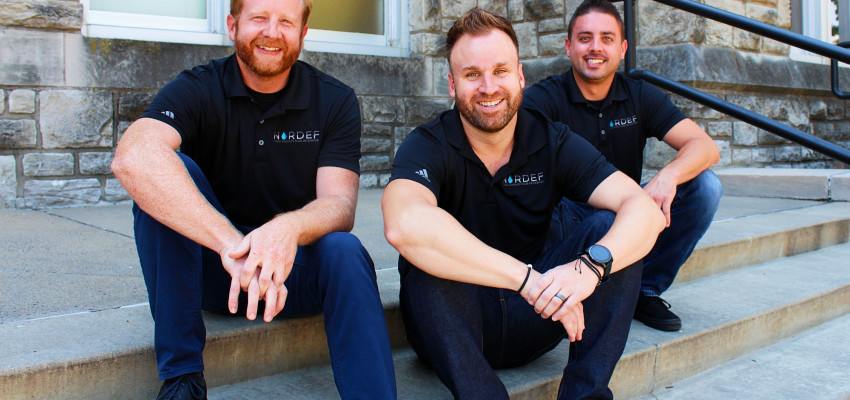 Editor's note: This story was written in September 2022. In January 2023, Austin Hausmann and his team competed against three other innovative companies at the American Farm Bureau Federation (AFBF) Convention in Puerto Rico. NORDEF was announced as the winner of the Ag Innovation Challenge on Jan. 9. As the winner, NORDEF was awarded $50,000, which will help their business commercialize their product.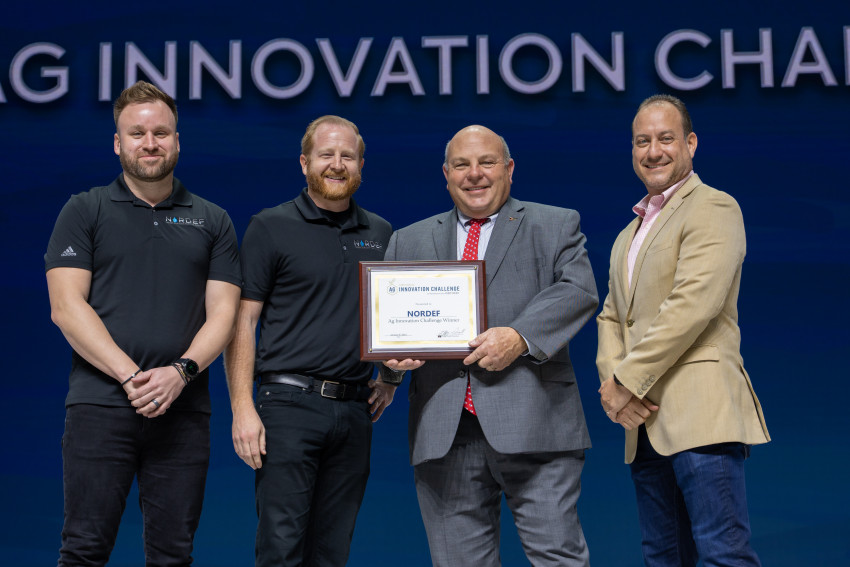 A trio of entrepreneurs believe they're the first to come up with a relatively simple solution to improve the quality and distribution of a critical component in the transportation industry called diesel exhaust fluid, commonly known as DEF.
With backgrounds in the automotive and trucking industries, Adam Bronge, Austin Hausmann and William Walls have seen firsthand how important timely access to DEF is for fleet operators, farmers and anyone who runs a diesel engine. The problem is embedded in the current supply chain. In addition to packaging waste for small users, shipping the fluid essentially means paying to move mostly water.
The simple recipe for DEF, which has been required to treat the exhaust of every diesel engine in the United States since 2010, is one part urea to two parts water. Bronge, Hausmann and Williams began their company, NORDEF, to create a machine that allows the end user to produce DEF when they need it in the same way Keurig users can quickly brew a cup of coffee.
NORDEF's founders have been refining their idea and building support for the fledgling company since its inception in 2019. In September the company was named one of 10 semi-finalists for American Farm Bureau Federation's (AFBF) Ag Innovation Challenge.
DEF ON DEMAND
For a fluid designed to reduce the overall emissions from diesel vehicles, the effectiveness is limited by an unwieldy supply chain that not only ships mostly water but also produces tons of plastic waste. NORDEF is taking aim at small and medium fleets with a machine that filters locally sourced water and mixes it with a pre-measured amount of urea to produce DEF on demand.
"We make that sound very, very simple," Hausmann says. "It is fundamentally simple, but it's a little more complex than we've outlined to get it to work. So far, results have been incredibly promising."
Most vehicles use a gallon of DEF for every 50 gallons of diesel burned, meaning the exhaust fluid market is about 2 percent of the overall diesel market. Still, users will spend an estimated $25 billion on DEF in 2023, Walls says. NORDEF has raised about $70,000 in grants and equity for product development and patent fees and hopes to capture a sliver of the overall market.
MEETING STANDARDS
In the summer of 2022, NORDEF successfully proved its machine worked by having researchers at Kansas State University test several batches of DEF made by the company to prove the water quality and composition met industry standards.
"The recipe is well defined," Bronge says. "We've done our best to meet that on our own, and we will soon send it off to an independent lab for verification."
After having a third-party verify the machine works, NORDEF can start testing its DEF in actual vehicles to prove it's safe.
"We're highly confident that you could put this in a vehicle and run it for the foreseeable future without any issues," Hausmann says.
DEF AS A SERVICE
NORDEF hopes to have its first machines in the field within the next six to 12 months in what amounts to another trial phase to refine the machines.
"We're starting to identify who some of those key customers could be to try out the fluid and make sure everything works out," Hausmann says. "In parallel we can start thinking about what piloting the second generation of machines looks like so we can start handing them off to fleet operators to actually produce, distribute and consume their own DEF from our machines."
Industrial users who've expressed an interest in the idea include convenience store operators and co-ops that see seasonal demand spikes around planting and harvest but aren't always high-volume users. The larger the fleet the more likely a company is to be able to secure DEF in bulk at a discount, but that isn't always the case.
Remote mining operations could benefit from NORDEF's system, as can the military, which often deploy to areas where DEF isn't readily available. Bronge says rural and remote areas are often the last to receive shipments of DEF under the current supply chain, and when the fluid does arrive the shelf life is diminished.
"DEF is a really interesting product that doesn't necessarily fit in the traditional oil and lubricant market," Hausmann says. "But it's a relatively substantial product to the overall transportation ecosystem. The aftertreatment system, if it's not working, it will shut the whole vehicle down."
Hausmann envisions NORDEF as a service, rather than simply a new technology that saves money, but that's still a selling point as they lean toward a service model that includes either a monthly subscription or a per-gallon charge.
"We do think up until a fleet size of a few hundred units, there's absolutely a cost savings that come with all of the other benefits like quality, customer service and uptime," he says. "We think we can serve a significant portion of the market, make a good profit and still pass on savings to the customer."
CHALLENGE BENEFITS
Being a finalist for the Ag Innovation Challenge "validates the idea" Walls says, and the $50,000 top prize would help launch pilots dedicated to the agriculture industry, but the recognition is about more than any potential prize money.
"The uniqueness of the exposure is probably most important," Hausmann says. "Our backgrounds are heavily focused on commercial trucking, where we're lacking experience is on the ag side. This could be one of the most impactful early starting points for us."
All semi-finalists will receive training from Cornell University's SC Johnson College of Business before competing at AFBF's 2023 convention in San Juan, Puerto Rico.
"The exposure, connections, advice and mentorship we can get out of this are really important," Hausmann says. "Expanding that network is one of the things we're really excited about."
---