South Baldwin Farms grows apples, peaches, blackberries, cherries and pumpkins in Douglas County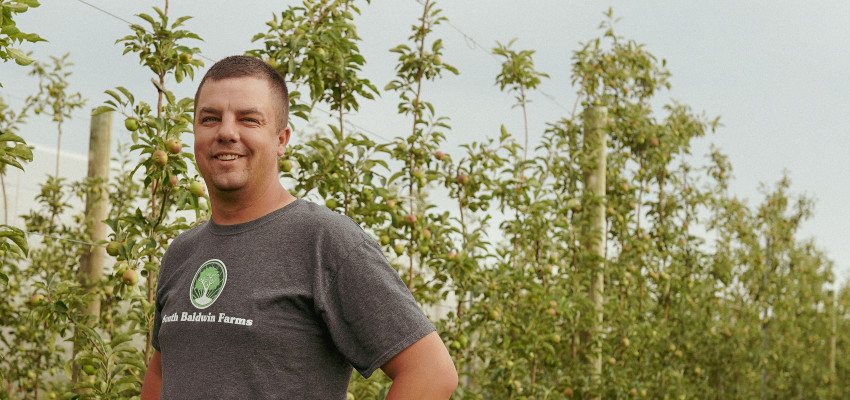 It doesn't take long to realize Gabe Spurgeon has strong opinions about apples. More specifically, Spurgeon has a viewpoint on each variety of fruit grown in the orchards at South Baldwin Farms in Baldwin City. He pontificates not only about the growing process but also the taste of individual varieties and their best use.
"Honeycrisps cost more for a reason," the first-generation farmer says. "It's a good thing people are willing to pay double for it because it costs a lot more to produce."
Red Delicious? "Tastes like cardboard," Spurgeon says. Galas are "pretty bland" in cider. He's high on Suncrisp, but he knows it's a tough sell to consumers because of the color of its peel.
"No one buys yellow apples," he says.
Spurgeon says he appreciates all 28 varieties of apples grown at the southern Douglas County farm he operates with his father-in-law, but he's most excited about a new variety planted in 2021 called Ludacrisp.
"It's probably my new favorite apple," he says. "It has a very unique citrusy flavor. People who like Pink Lady are really going to like this."
PLANTING APPLE TREES IN KANSAS
Spurgeon wasn't always quite so opinionated about apples before starting South Baldwin Farms nearly a decade ago. But he did have thoughts on other fruits, namely peaches — the Belle of Georgia variety has way too much fuzz.
Spurgeon formed that opinion when he was 13 and worked in a peach orchard in southwest Missouri, near where he grew up. He spent his summers there until the orchard had a total crop loss when he was midway through college. Spurgeon went on to graduate and got a job as an engineer.
In 2012 Spurgeon and his wife, Katelyn, moved to Baldwin City near her father's home south of town. Spurgeon asked his father-in-law, David Miles, to plant a few peach trees to sell fruit at farmers markets. That eventually led to a new conversation.
"I think I'd much rather farm for a living than work at a desk," Spurgeon told Miles, who also worked as an engineer.
"Maybe we can make that happen," Miles responded.
The pair quickly mapped out a plan to plant 10 acres of peach and apple trees, but soon the engineering side took over.
"Before we even started, we thought, 'Well maybe we'll put the peaches over there and the apples over here so if we want to expand it's easier,'" Spurgeon says. "Next thing you know we've planted 30 acres."
GROWING AN ORCHARD IN KANSAS
South Baldwin Farms has 13 acres of peaches, an acre of sweet and tart cherries, a half-acre of blackberries and 21/2 acres of pumpkins to offer some diversity from the apple crop, which will top 50 acres this fall when the final nine acres are scheduled to be planted.
Once that's done, Spurgeon says the plan for the next five to 10 years is to hopefully pull back on the capital-intensive investment while the orchard matures. He says the dwarf varieties of apple trees they plant, along with some aggressive care, leads to a harvestable crop by year two.
"Ideally we get some fruit that second year and the amount goes up a little bit each year until years five to seven when we near full production," he says.
As with all growing ventures, however, early projections are prone to be wrong. Spurgeon pointed out that some 2-year-old trees he expected to produce apples this year didn't flower.
"Very young trees are fickle," he says. "It's low volume, but it was going to mean something to the bottom line."
Despite the minor setback, things have mostly gone to plan at the orchard, which Spurgeon expects to produce 8,000 to 10,000 bushels of apples this year, up from 2,000 in 2019. He's looking forward to continued growth over the next several years with no plans for further planting.
"We're not profitable yet because the cost of planting is so high and what we're planting is still such a large portion of our existing orchard," he says. "This year, with a good peach and apple crop, we may not break even, but we'll be close."
Still, Spurgeon is encouraged by the future, noting he meticulously tracks the revenue generated from each variety planted, down to individual bins. Once the farm is past its startup costs, the payoff will come.
"I'm pretty happy with the projected economics," he says. "We're just in this awkward middle school phase."
APPLE HARVEST IN KANSAS
The trees at South Baldwin Farms are spaced 2½ to 3 feet apart and grown on 11-foot trellises spaced 11 feet wide. In the spring, the orchard looks like a gangly vineyard but will grow into walls of fruit by fall. The orchard's dimensions are intentional, making harvest both ergonomically and economically efficient.
Spurgeon and a full-time employee are joined by up to four temporary workers from Mexico who come here under the federal H-2A program to pick the peaches and apples starting in late July.
From a harvest platform, workers can pick an entire tree without ladders and the platform holds up to 100 bushels of fruit, which is transferred to a bin on a trailer. As the front bin fills up, it's lowered to the ground underneath the trailer while an empty bin is pulled forward. The loaded bin is retrieved by a tractor and taken to the packhouse.
"The system reduces not just time spent walking, but fatigue," Spurgeon says. "It's not a big deal to fill your bag half full then dump it. I'd rather have 20 pounds around my neck than 40 all day."
Spurgeon says August is the most difficult month because it's peak peach season and the apple season really picks up when the Galas ripen around the middle of the month.
They catch a brief break in early September before "real apple season" sets in and goes through October.
PROCESSING APPLES ON THE FARM
Once picked, the fruit is taken to a packhouse on the property. The gleaming facility includes space to wash, size and package the apples, cold storage and the cider pressing equipment. It's a significant but necessary investment for an orchard in Kansas.
"If you think of it in terms of traditional Kansas agriculture, there's no grain elevator for us," Spurgeon says. "Everything from the seed company to the flour mill is us. We buy nursery trees and we deliver apples directly to grocery stores."
Spurgeon says the downside to vertical integration is he still spends a fair amount of time behind a desk arranging delivery schedules or invoicing customers. There are also benefits that come with running every aspect of the orchard.
"We get all those little pieces of the pie," he says. "We're kind of our own distributor to a certain extent. As we grow our volumes, we've started working with a distributor in Kansas City."
They also sell apples to individual grocery stores, restaurants and a couple of schools, and offer apple picking during the season with some limits.
"Since 95 percent of our business is wholesale, I can't leave fruit on a tree for people to pick," Spurgeon says. "In 2021, you-picking went really well and amounted to about a bin and a half of Honeycrisps, compared to 70 bins overall."
APPLE CIDER IN KANSAS
Even with a diverse customer base that accepts a range of apples — with small ones going to schools, larger ones to grocery stores and the biggest to restaurants — there are some apples no one seems to want, called "seconds."
The seconds get pressed into about 10,000 gallons of cider that's sold from the farm store or to wholesale customers like wineries or grocery stores. It's also another area where vertical integration favors South Baldwin Farms.
"The nice thing about crushing our own apples is I control the apples," Spurgeon says. "A cider mill, if they're buying apples, sometimes receives apples that aren't refrigerated, which does compromise the flavor and clarity of your cider. I can be mindful of the blend of apples; you want some sweet and some tart."
A FULL SEASON GROWING APPLES
Generally, South Baldwin Farm's supply of apples and cider runs out in early December, giving Spurgeon a break around the holidays, but it's brief. Like all other farms, harvest begins well before the growing season starts. Come January, there's tree pruning, equipment maintenance and supply ordering. Then spring hits along with the worries of a late frost denting production.
With all the uncertainty, Spurgeon knows it takes thick skin to trade a desk job for life in an orchard, which might explain his opinion about Honeycrisp apples.
"They've got superthin skin, which everyone loves," he says. "That thin skin that's so great to eat is a pain when you're dealing with 1,000-pound bins." 
For more information about South Baldwin Farms, visit their Facebook page, www.facebook.com/SouthBaldwinFarms.
YOU MAY ALSO ENJOY:
---