By

Chef Alli

on

December 16, 2021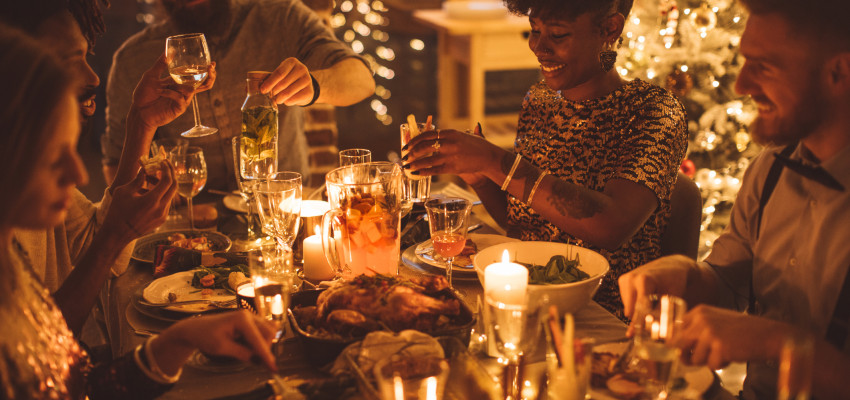 Most people are terrific at parties, but sometimes we all need a reminder of how to be considerate and respectful of our hosts. 
Always RSVP in a timely manner  
As soon as you know what your schedule allows, RSVP at once. Etiquette dictates an invited guest should respond to an invitation within two to three days of receipt. Whether accepting an invitation OR declining, be respectful of your host and let them know right away. 
Reconsider the mind set of "I'll wait to RSVP to see if I get a better offer." This is the epitome of rudeness and inconsideration. Your host would prefer a response of declination than to be in limbo regarding your attendance. 
If you truly do not know if your schedule will allow you to attend the party, contact your host right away to let them know. They will likely be totally fine with this, appreciating the respectful communication you extend. 
Never arrive empty-handed 
A host gift is a must-do, even if the host says "no gifts." Always arrive with something in hand; a gift is seen as gratitude for being invited to the gathering. 
Don't feel as though it must be elaborate. A nice bottle of wine is a classic hostess gift, but so is something useful or personal such as holiday decor or baked goods. 
If you're coming to the party from out of town, bring a small specialty food item from your area. 
Don't be an early bird 
When it comes to a party, arriving early is not always a good idea since every host can always use a few extra minutes to get last-minute party preparations completed. 
While arriving ten minutes past the stated start time may seem counterintuitive to being a polite guest, it is usually quite welcome and acceptable by the host. 
Unless communicated and approved by the host ahead of time, it is always considered rude to show up to any party hours late. Refuse to be that guest. 
Graciously sit where you're placed
Even if you don't know the person you're seated next to, etiquette says moving place cards is unacceptable.
Have some conversation topics in mind, ask plenty of questions and listen to the table partners around you. 
This is a great way to score some points with the party host since they will be relieved you helped connect and entertain their guests. Just be yourself, relax and enjoy the meal.
No extra guests without prior approval
Any time food of any sort is being served, it all comes down to numbers. No host wants to run out of food, feeling as though they didn't accommodate their guests properly. 
If you really want to bring someone along, ask your host at the time you RSVP to be sure this is OK. 
Understand this decision is completely at the discretion of the host. 
Special diets and food allergies 
No host wants any of their guests to go hungry. If you can let them know ahead of time about your dietary needs, they will likely be sure to offer a menu that includes certain dishes that specifically meet your needs. 
A good host must put their focus on pleasing the majority of their guests. As much as they would like to cater to the few that have special dietary requirements, it's not practical to expect that they do so. 
Offer to bring food items that are safe for you to enjoy. They will greatly appreciate your contribution and understanding.
Toss technology at the front door 
Commit to ditching technology at the door for the duration of the party. Nothing says "rude" more than someone who seems completely focused on their phone. 
This shows the people you are chatting with digitally are more important than those in your physical presence. How inconsiderate. 
If you have your phone in hand, it is going to be too tempting not to reply to that funny text or posting on Instagram. Real-life conversations are much more important--pay attention to those around you at the party. Be fully present! 
And, if you feel you must have your phone at your side, at least be sure it's on silent. Don't take calls in the presence of other guests; remove yourself to another room to have a phone conversation. 
Rein in those kiddos
If we choose to bring our children with us to a holiday party, we must remember they are not the host's responsibility to monitor. Nor should another parent have to tend to them. After all, they are our children, thus our responsibility. 
Even if children are openly invited to the holiday party, they should only be present if they are well behaved and respectful of the host's home and furnishings, as well as non-disruptive to the gathering and guests. If you're concerned, go with your gut and get a sitter. 
Be a good conversationalist 
Focus on active listening. Really hear what the other person has to say without interrupting; interject your response only when the conversation has come to a natural stopping point. 
Everyone likes to talk about themselves so be a good conversationalist by asking lots of questions, then listen to the answers before responding. You never know what you may learn about another person.
Don't be a grinch 
Join the party as an active and enthusiastic participant. Dress for the occasion, play games, dance to Christmas music, take photos with Santa. Get into the holiday spirit and enjoy yourself. Fun and energy are contagious! 
Lend a helping hand 
Offering a hand at any gathering is an easy way to help a host enjoy their own party. Take dessert orders, do a few dishes, refill drinks….do whatever is needed to help the host be able to mingle with guests. 
Keep the toddies in check 
Know your limits when it comes to alcoholic beverages. No matter the group, no one wants to take care of an inebriated friend or family member. 
Pace yourself so you don't go overboard, embarrassing both yourself and the host.
Make introductions 
Make it point to introduce yourself to people you don't yet know. And, if you're having a conversation with familiar people when someone new approaches, try to loop them into the conversation. 
Your host will greatly appreciate this extension of hospitality on their behalf while they are busy tending to other details of the gathering. 
Think before speaking 
Consider the intention of your conversation. There are many topics we should avoid talking about at holiday parties, including politics. 
When in mixed company, it's always best to avoid any topic that could potentially annoy guests. 
Avoid starting arguments and making passive-aggressive statements. 
Don't wear out your welcome 
Don't be the last to leave the gathering. Read the room; if the coffee and after-dinner drinks have been served and most of the guests are heading toward the door, don't linger. 
Even more so, if the host has begun to pick up dishes and put away the leftovers, it's definitely time to pound the pavement. 
Never ghost your host 
Never leave a party without making a point to tell your host goodbye. Be sure to offer a sincere thank you for a lovely evening. It's a small gesture that will mean a great deal to the host. Actions always speak louder than words. 
Remember the 10-second tidy 
If you're still present at the close of the party, help your host tidy up. Make a quick sweep to gather dishes and wine glasses. 
Put leftovers into containers and into the fridge. Toss some trash. Any of these small gestures will help your host a great deal. 
Set yourself apart from the pack
Good etiquette says a hand-written thank you note never goes out of style. 
A thank you note shows appreciation for all the hard work your host went to. It's also a fun way to share a special memory from the party the host may not be aware of. 
Plus, in today's world, who doesn't love a good old-fashioned note sent by snail mail? It's such a special treat. 
You might also enjoy
---