By

Chef Alli

on

September 21, 2021
22 Kitchen Organization Hacks You'll Love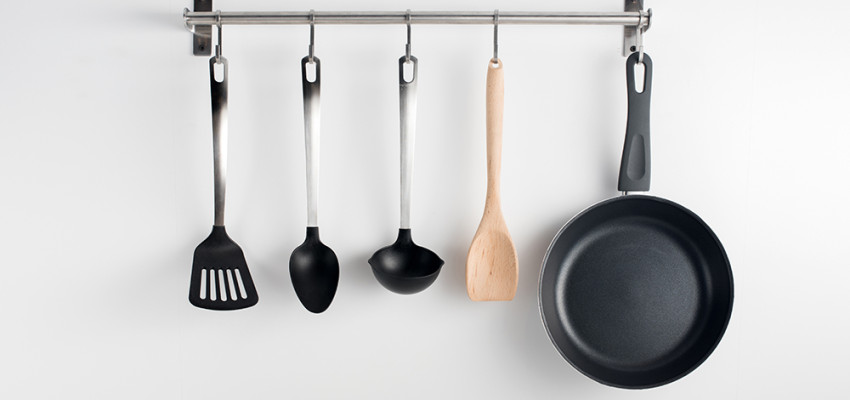 Running out of room in your kitchen and pantry? Below are some of my favorite helpful ways to better utilize and organize my kitchen space. Check them out!
Use A Magnetic Knife Strip for Appliance Attachments
A magnetic knife strip is the perfect remedy for keeping track of food processor attachments. If you use your food processor as much as I do, there's nothing more frustrating than needing to grate cheese and being unable to locate the darn grater blade.
Placing the attachments on a magnetic strip where they are plainly visible not only keeps them handy but also reminds us of all the tasks our food processor can perform to make life in the kitchen efficient. 
Install Diagonal Drawer Organizers 
Using a diagonal, instead of a right angle, gives much more flexibility for tools and items that are long, large or bulky. Diagonal compartments allow utilization of the drawer's full dimensions for better storage. A jumbled pile can quickly become tidy in a diagonal home.
For Good Measure 
And once you've organized your utensil drawers diagonally, be sure to stash a tape measure inside one of them. I can't tell you how handy I've found this!
Whether it's to check the measurement of rolled-out dough to find the measurements of a baking dish or pan, having easy access to my tape measure has really been a time-saver.
If you've got a lot of men in your household, be sure to stash your measuring tape in the very back diagonal slot of your utensil drawer.  Too many of mine have disappeared!
Pot Rails Aren't Just for Pots
To maximize storage in my kitchen and pantry, I love hanging things. This frees up cupboard and counter space, and it makes my tools and gadgets a lot more visible. "Out of sight; out of mind" is a real thing!
Pot rails come in all different sizes (some are adjustable) and usually come with hooks. In my pantry, I hang mandolins, barbecue tools, box graters, pizza peels and other tools that take up too much cupboard space.
On the sides of my cupboards, I use pot rails to hang long-handled cooking utensils that I want to keep in view. I even hung a pot rail underneath my cupboard to hold my favorite mugs. 
Store Appliances on Plastic Cutting Boards
I absolutely love this hack! I have a plastic cutting board beneath my food processor, mixer and Instant Pot, allowing me to easily grab the cutting board and slide it closer to my workspace. 
The cutting board slides like a dream instead of skipping along the counter as heavy appliances do when you try to pull them out from their resting place. 
Put Silicone Baking Mats Inside Paper Towel Tubes 
If you like silicone baking mats like I do, up-cycle your paper towel tubes to keep them collected. Simply roll up the silicone mats and slip them inside a cardboard tube. Voila! The mats are perfectly contained for easy storage. I usually cut my cardboard tubes in half to make two holders.
Turn Cabinet Shelves into Drawers
I am adding rolling racks to the shelves in my pantry cabinet. It will be wonderful to pull the rack out and easily see all my canned goods. Doing this to my pantry cupboard helps rotate canned goods in a more efficient way so we can use the oldest foods first.
I am currently using heavy-duty plastic bins that pull out so I can easily see my inventory on each shelf without digging. This works fine, but the actual rolling shelves are better and easier to handle.
Shelf Risers Add Inexpensive Shelf and Counter Space 
Place shelf risers in your cupboards to double your shelf space. Or, add a narrow shelf riser at the back of the cupboard to lift spices or canned goods that get pushed to where they can't be seen.
I've added a few wood-grain shelf risers at the back of my countertop to display some of my favorite cooking ingredients.
Pegboard Storage
My utility room had a wall with some open space, so we installed a sheet of pegboard there. I use it mainly for cast iron skillet storage, and I also like to hang assorted kitchen tools. I'd like to add a shelf across the top to store items I don't use often but want to keep visible. 
Snag a Kitchen Cart 
A rolling kitchen cart provides extra workspace when needed, and the shelves beneath can store items. 
I like to keep the top of my cart empty to act as extra countertop space when I roll it into the working area of my kitchen. The first shelf stores a few placemats and cloth napkins, then my overflow of flavored oils and vinegars goes on the shelves beneath. 
You may be surprised at the wide variety of rolling carts that are available for purchase, like shiny stainless steel, laminate, painted metal and several colors of wood finish.
File Folders for More Than Files
To keep your cutting boards, baking sheets and pizza stones vertically organized, grab that file organizer you're no longer using in the office. Adding a piece of rubber shelf liner prevents the rack from moving around on the shelf. 
Store Your Stand Mixer Attachments Right in the Bowl
All those stand mixer attachments fit perfectly inside the bowl of your stand mixer. I no longer search for my attachments since they are contained right within my Bosch mixing bowl. Because my mixer came with a lid for my bowl, my attachments also stay clean. A nice dish towel can do the trick for keeping the attachments clean and covered. 
Build a Baking Sheet Shelf 
If you're like me and often make casseroles ahead of time, you already know how much space the big pans take up in the fridge.
Placing a baking sheet on top of the foil-covered casserole gives me back the space I need for storing items in my fridge. Life-changing! 
Sponge Holders 
Sponge holders are so handy attached on the inside of the cupboard or pantry door for storing dressing and seasoning packets. Pop one into the fridge for leftover condiment packets. 
Lazy Susans Are Not Lazy! 
Placing a lazy Susan into an awkward corner of a cupboard or shelf allows you to see things better and find them more quickly. I even found a small, wood-finished single-shelf lazy Susan to sit in the middle of my table to make cloth napkins, salt and pepper easily accessible at dinner time. 
Your fridge and countertops can also be good spots for turntables. Lazy Susans are popular on home coffee bars for keeping creamer, sweetener and spoons handy. 
Don't forget the space under your kitchen sink. This is a fantastic spot for a turntable for easy access to cleaning products.
Clip On a Hanging Shoe Organizer 
Do you have a pantry door that has available, open space on the back? Optimize it by hanging a shoe organizer there. The pockets can store muffin mix packages, bags of chocolate chips and baking nuts, dried fruit and other pantry staples. 
Because shoe hangers offer high visibility for what they store, they make a great snack station. Your kiddos will enjoy shopping for snacks. 
Corralling Pot and Pan Lids 
I was sick and tired of uncontrolled lids in my cabinet. First, I tried the command hook method on the back of the doors, but this didn't work for me.
I placed an inexpensive dish drainer on the bottom shelf of my pot cupboard, piled in the lids, then organized the pots and pans around the drainer. Problem solved!
Utilize The Built-In Organizers Across the Bottom of Your Freezer 
I bet you didn't realize most refrigerator-freezers come with an organizer already installed. I didn't. The ridges across the bottom are there to help organize the storage of frozen dinners and packages of meat by filing them on their sides within the slots.
Trash Bag Storage 
You may already know of this hack, but I love keeping a few extra trash bags in the bottom of my trash cans so I can place a new bag in fast.
Hanging Chip Bags 
Do you have wire racks in your pantry? You may want to employ some pant hangers. Fold over the chip bag packaging and clip shut with the pant hanger clips. Then hang the chips over the bags of the wire shelving. 
This method of organizing chips also keeps the bags from slipping and sliding all over the cupboard. 
Shelf Liners 
Instead of lining all my shelves, I decided to cover just two areas: the shelves that take the brunt of the wear and tear from everyday use, and the shelves that are within eyesight. 
If you have some window pull-shades you'd like to up-cycle, they make excellent shelf liners because they are easy to cut-and-fit to size.
Top Shelf Bins and Baskets 
Top shelf liquor is always good, but not as good as top shelf organization!
I'm not tall enough to see into the top shelves of my cupboards. Since I don't want to grab a step stool every time I need an ingredient from the top shelf, I found some sturdy bins that fit the width of my top shelves.  Now, I can quickly pull down the bins to find what I need, and I love that the bins slide back in easily. Labels can also be a handy addition.
Tension Rods Can Help 
Install tension rods inside large, deep kitchen drawers to divide the space and keep the contents organized. This works great for keeping plastic lids corralled and on their side so you can easily locate what you need. 
A tension rod near the top of the cupboard under the sink is also handy. The rod provides the perfect place for hanging scrub brushes, cleaning products and spray bottles. Hanging items over the rod makes them easy to grab and frees up storage space. 
You Might Also Enjoy
---