By

Chef Alli

on

July 29, 2021
11 Tips for Grocery Shopping on a Budget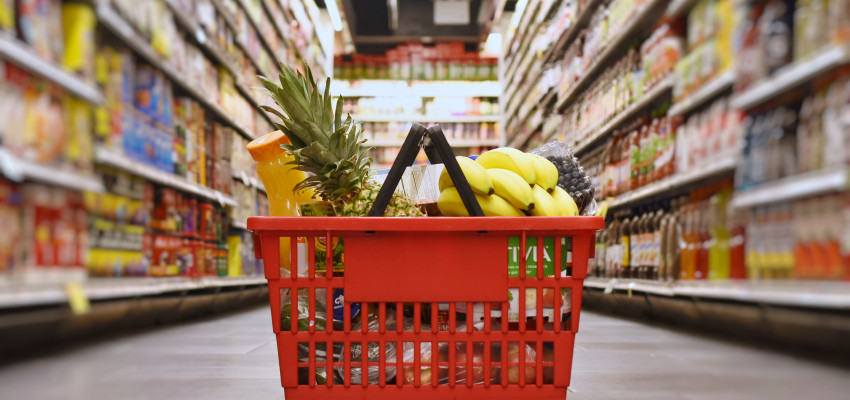 Sticking to a budget can be tricky when it comes to grocery shopping. 
The moment we enter the grocery store, we are tempted with food displays, distracted by sale signs and enticed by impulse buys. 
And what about that sneaky grocery store tactic of purposely changing the layout so we must stroll through new aisles and areas, searching for what's on our list? That is no accident. Grocery stores know that when we shop in new territory, we may see new things we just have to have. 
Fortunately, over the years, I've discovered there are ways to cut costs on groceries, no matter where we shop.  
And though the savings may not seem significant at the time, when we consider how much of our budget is spent on groceries and how often we shop, they add up.  
1. Plan first 
Meal planning can seem dull, but if we hone this skill, there are tons of opportunities to save. We must first realize that a meal plan does NOT have to be complicated to be effective; it mainly requires commitment.  
The best way to avoid wasting food from overbuying is to create our grocery list based of what we need for the meal plan we have set for the week. Instead of purchasing random, single grocery items, we are now shopping for the building blocks for the entire week.  
Big ticket items (such as meat and produce) suddenly don't seem quite as expensive once we realize they are the foundation of multiple family meals.  
And sometimes meal planning can be easier if we identify ingredients we already have on hand that need to be consumed. Do a quick search for recipes that include ingredients you already have and build a meal from there. You may only need to purchase a few more items in order to complete the entire meal. 
2. Commit to the list 
Once you have your weekly meal plan set, build your shopping list. Shopping with this list is hands-down one of the most effective ways to save money on grocery purchases.  
Committing to purchasing only what we need prevents impulse purchases that wreck budgets and healthy eating plans.  
Sticking to a grocery list also helps us shop with intent, which saves time when we shop. Less time in the grocery store means more time doing something fun. 
3. Shop seasonally 
Produce can be expensive if we aren't careful. Because they are an important part of a nutritious diet, fruits and vegetables do deserve a good portion of our food budget. 
We can save money by stocking up on in-season fruits and veggies. Certain types of produce are cheaper during different times of the year. Try buying strawberries in June, pumpkins in October and broccoli in January.  
Research seasonal produce when creating your meal plan so your food budget can benefit from the savings of shopping in season when supply outweighs demand.  
4. Bulk up 
Buying certain food items in bulk is a simple way to save money at the grocery store—as long as we use these items often and consistently. Non-perishable items such as canned goods, cleaning supplies and toiletries are typically cheaper if purchased in large quantities.  
It's also great when you can split up bulk buys with friends and family.  
5. Look for sales 
When perishable foods such as meat, produce and dairy items get close to their expiration date, they are nearly always discounted for a quick sale.  
If you're planning to cook the meat or use the perishable dairy items that very day, it's definitely a bargain. In each grocery department, be sure to learn where they accumulate the discounted items so you can check that area first.  
6. Bottoms up 
To grab some better bargains and deals, always consider shopping from the bottom shelf.  
Nearly all name-brand items are placed approximately five feet off the floor, which is basically at eye level. Brands pay a premium to have their items placed within this area, and that extra expense is passed directly to shoppers.  
This is a very intentional shopping strategy; this area of each aisle is right where customers are accustomed to grabbing items without considering better bargains below that eye-level area. 
Many shoppers don't realize non-name brand items on the bottom shelf are the same product without the fancy label.  
7. Go private label 
Another way to save money at your favorite grocer is by shopping their private-label items. Private label items are manufactured by one company to be sold with a different company's brand on the label. Walmart's Great Value brand or Target's Archers Farms brand are both examples of private label items. 
One of the best features of private-label shopping is that it usually comes with the "love-it or leave-it" guarantee of satisfaction.  
If you're not completely happy with your private-label purchases, they will be replaced with name brand items, no questions asked. (Most grocery stores do require your receipt for taking advantage of this service.) 
8. Do the prep work 
Instead of purchasing sliced cheese, trimmed meats, or pre-cut fruits and veggies, start buying them in their original form. Convenience comes with a pretty price tag. Sometimes it's worth it, sometimes it's not.  
9. Grab those rewards 
Most grocery stores offer rewards programs with several cash-back earnings options.  
Once you enroll in the program, you can expect special discounts, points toward future in-store purchases, digital wallet coupons and discounted gas. 
10. Use rebate apps 
There are also savings from using cash-back rebate apps.  
These savings are found via post-shopping discounts and do not require any sort of enrollment in a grocery rewards program. Many of the rebate apps simply need a photo of your sales receipt for participation.  
The points earned help offset future grocery purchases and can also earn points toward gift cards from retailers such as Target and Walmart.  
11. Get online 
Shopping online has saved me tons of time and big bucks, and grocery shopping has gone from being a chore to something I enjoy! I can sit down with a cup of coffee in my favorite chair and order my groceries straight from my meal plan list using an app.  
I get into the app, order what I need and get out. That means zero impulse buys. 
One of my main challenges with online shopping has been unsatisfactory produce. Thankfully, if I discover the produce isn't up to par, it's easy to notify the store and they credit me back.  
---