Kansas Inventor Creates Row Shaver Systems to Combat Weeds
Kansas entrepreneur creates equipment to combat herbicide-resistant weeds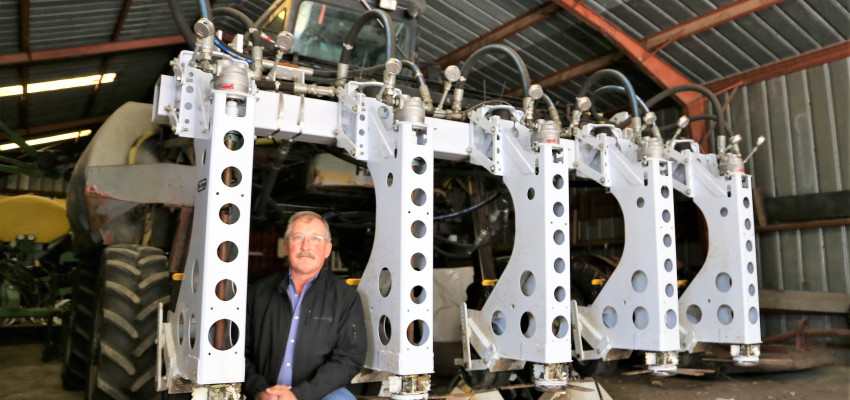 Dave Button has plenty of time to think through problems while sitting in a tractor or driving down the road to see his grandchildren. The Great Bend farmer also has a vivid imagination and the resourcefulness to take what's in his mind and make it real.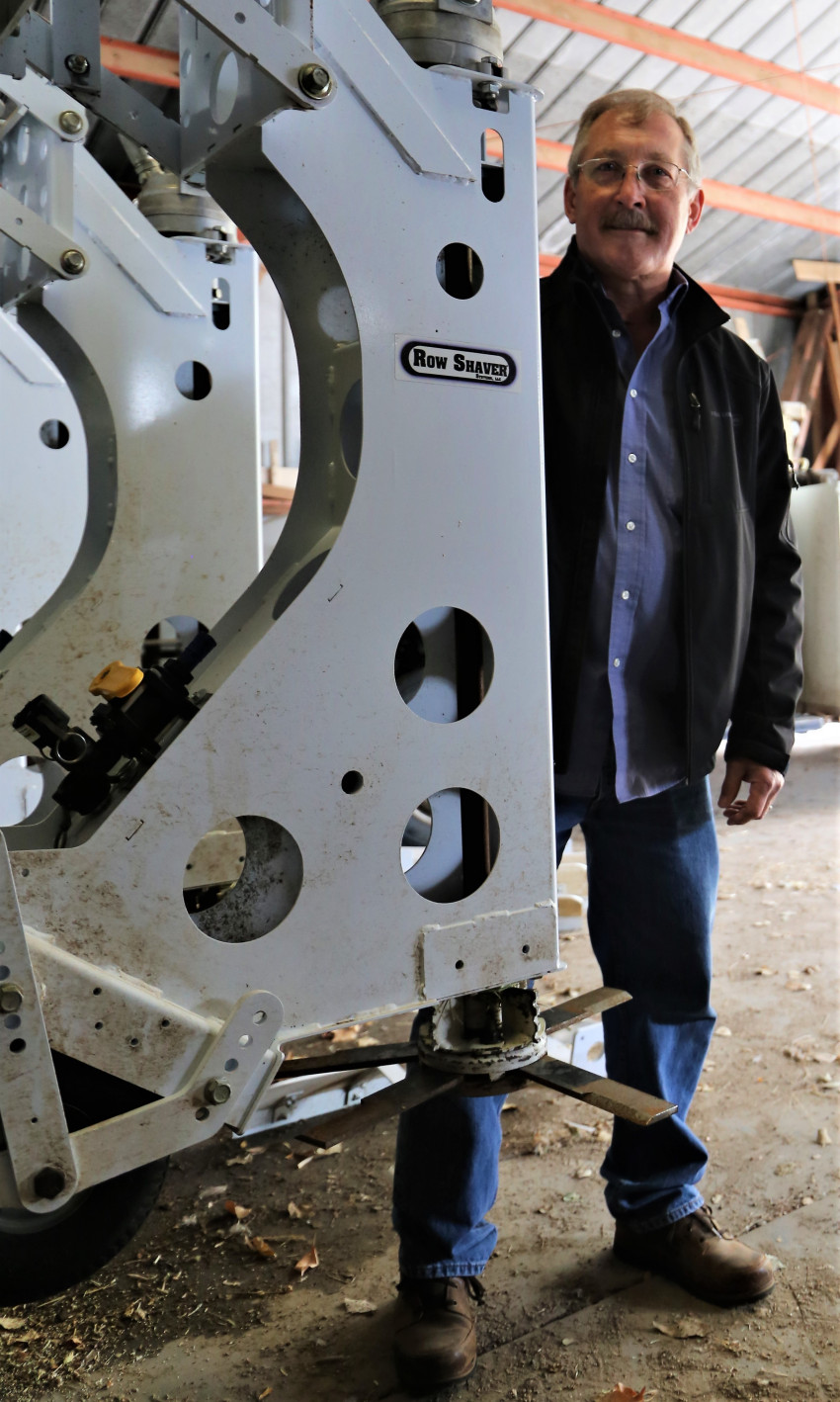 About seven years ago, Button's mind set to work on fixing a pigweed problem in a soybean field. The weeds didn't even flinch after four chemical applications. The unwanted plants had developed resistance to glyphosate.
"We had to get rid of weeds without chemicals because seven years ago we were already seeing a lot of herbicide resistance, mostly on pigweeds. Now it's kochia, even some grasses and some nutsedge," Button says. "It's becoming apparent that probably in the next 10 years, chemicals really won't kill much of anything."
Button spent a summer coming up with a solution and over the winter the initial version of Row Shaver, a mechanical solution for unwanted plants in row crops, came into being.
Initial testing was conducted in Texas with the single-row machine mounted on the back of a tractor. It worked, but it was immediately evident some fine-tuning was needed.
"We very quickly learned that's not the way to use this machine. It needs to be on the front, so the tires of the tractor don't crush the weeds," Button says. "We also learned very quickly it had to be on something with a high clearance. That's where the idea of putting it on a sprayer came from."
Through years of testing and tinkering, Button now has a Row Shaver model he believes is ready to lay waste to weeds on a production scale. His current five-row prototype is mounted on the front of a sprayer that typically applies fertilizer or herbicide.
It also includes hooded sprayers to apply glyphosate and tubes to add nitrogen as weeds are clipped.
"We tried to make it as versatile as possible," Button says. "Get double use for each trip across the field."

CLEAN CUT
The business end of Row Shaver looks similar to what's underneath a lawnmower. Steel blades are mounted on a hub that whirls around, chopping up whatever is in its path. In testing on soybeans, corn and milo, Row Shaver was able to all but eliminate even the toughest of weeds.
Clearing between the rows means the crop doesn't have to compete with weeds for water, sunlight or nutrients, which can lower yields. Row Shaver has the added bonus of not disturbing the soil to further enhance moisture savings, which is by design, Button says, though there've been a few changes.
"The original machine, that we got a patent on, was a dual-rotor machine. The blades actually intertwined with each other, so we had to have gear boxes on them," Button says. "We learned that machine was very heavy. It got put on an extreme diet two winters ago and we came up with the current design, which is a single mower shrouded on the sides to protect the crop."
Button swapped gear boxes for hydraulic drives among other weight-saving measures. The current five-row configuration is the same width as the sprayer it's mounted on, but Button says the machine is now light enough to be put on a larger sprayer and cover 12 rows.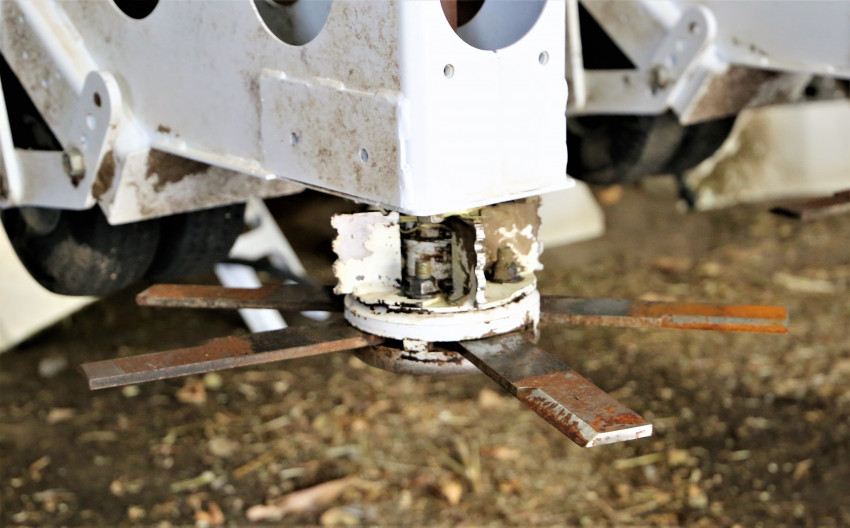 "Personal economics played a role," he says. "So far we have done all the financing ourselves."
Row Shaver was named one of 10 finalists in American Farm Bureau Federation's Ag Innovation Challenge, and he's hopeful the notoriety, in addition to the $7,500 he received as a finalist will help build momentum for his invention. 
KANSAS CONNECTIONS
While Button has provided most of the brainpower behind Row Shaver, he's partnered with professionals across the state to fabricate the machine.
"We're just a bolt-together factory, so to speak," he says. "When I say factory, I mean the shed out in the yard, for the time being."
Button passed off his hand drawings to an engineer in Wichita to put them into a computer format with precise details. A Garden City company, Kanamak Hydraulics and their sister company Mad Dog Metals, advised on the hydraulic drives and fabricated all of the metalwork.
Neodesha Plastics in southeast Kansas provided the expertise for the sprayer hoods. And a local welder, Scott's Welding, has assisted in fine-tuning and making changes on the fly.
"We've had a little help on the technical side," Button says. "We're ready for a pre-production unit. I'd like to get a unit sold and out in the field this summer. We've done a pretty good job figuring out how the machine works, how we want to do things."
ROBBING THE BANK
Part of Button's hope is to permanently reduce the number of weed seeds scattered across the soil, called the seed bank. Not too long ago, chemical applications could clear virtually all weeds from a field, but some weeds have now developed full or partial resistance to available chemicals.
"I'm a little biased because of what I do for a living, but I really think herbicide-resistant weeds are one of the top problems facing row crop producers around the world today," says Sarah Lancaster, a weed science extension specialist and assistant professor at Kansas State University. "The best time to control an herbicide-resistant weed is before it comes out of the ground."
Lancaster says timely use of Row Shaver, like chopping off weeds before they pollinate, can reduce the seeds in the bank.
"A lot of weed management is trying to prevent new additions of weed seed into the soil," Lancaster says. "The Row Shaver has a place definitely in terms of preventing additions to that soil seed bank."
A single pigweed variety called palmer amaranth can produce up to half a million seeds. That prolific production, Lancaster says, means there's ample potential some of those seeds possess the genes to make offspring resistant to herbicides.
"When we think about herbicide resistance, it's basically a process of natural selection. When farmers use similar herbicides year after year, they're selecting for weeds that are inherently more tolerant of those herbicide applications," she says. "One of the things we've seen in recent years in weed science is not only a lot of research about mixing herbicides and introducing new crops but going back to some of these principles of nonchemical weed control."
Button also has created what he calls the Row Trimmer, which is essentially a combine header stripped down to a reel and sickle bar. It doesn't kill weeds, rather it floats atop the crop canopy and removes seed pods, flowers and stems to prevent seed maturation.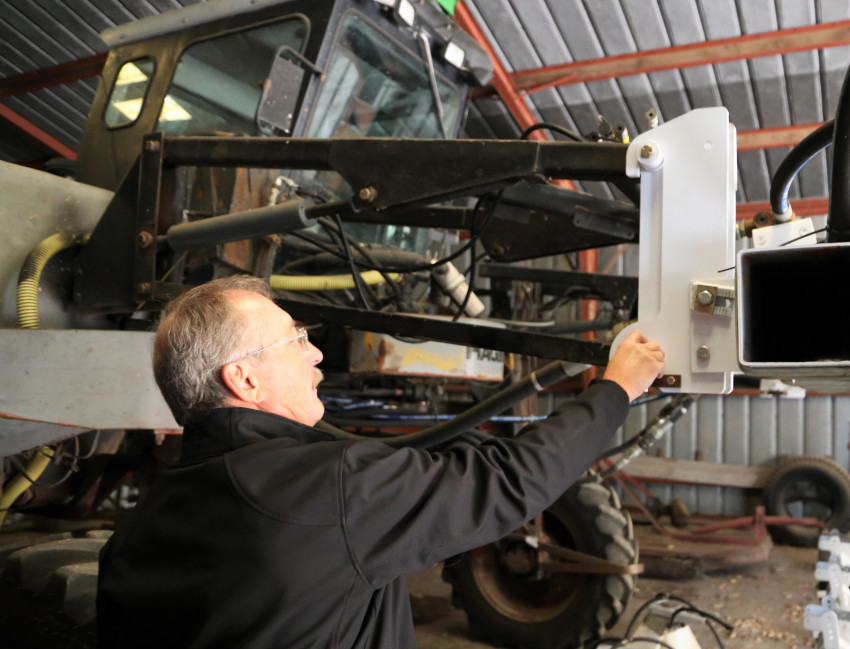 FULL CIRCLE
In addition to helping crops grow, Row Shaver can save wear and tear on combines during harvesting because they don't have to process so much residue, like 3-inch-thick pigweeds.
Button is anxious to get Row Shaver in fields soon not only to start reducing the seed bank but also because he faces competition from others who are racing to develop new ways to combat an old problem.
"The history of weed science is a long one," Lancaster says. "You go back to tillage practices in ancient or prehistoric agricultural settings and a lot of the purposes of those practices were to control weeds. Weeds interfere with crops. Some weeds are more competitive than others."
Physical removal isn't new, but Button's implement aims to make it viable in production agriculture. His main selling point:
"Because weeds can't grow resistant to steel."
To learn more about Row Shaver or see the system in action, visit www.rowshaver.com.
---