College inventor's Quick-Pin makes disconnecting faster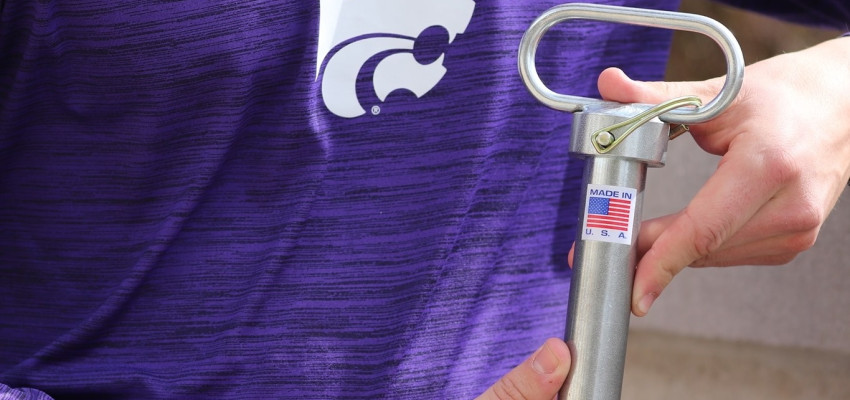 Editor's note: This story was written in January 2021. In October, American Farm Bureau Federation (AFBF) announced Blake was a top 10 finalist in their Ag Innovation Challenge.  As a top 10 semi-finalist, Blake was awarded $10,000 and will compete at AFBF's Convention in Atlanta on Friday, Jan. 7  where the four finalist teams will receive an additional $5,000 for a total of $15,000 each. The final four teams will compete live in front of Farm Bureau members, investors and industry representatives on Sunday, Jan. 9, to win three top titles and prizes:
Farm Bureau Ag Innovation Challenge Winner, for a total of $50,000
Farm Bureau Ag Innovation Challenge Runner-up, for a total of $20,000
People's Choice Team selected by public vote, for an additional $5,000 (all 10 semi-finalist teams compete for this honor)
----
After narrowly avoiding disaster when a bearing failed on his hay baler, Kansas State University student Blake Chance invented a new style of hitch pin that would allow an operator to decouple a tractor from an implement faster than a traditional model.
"The mechanic said we were pretty lucky it didn't burn up," Chance says of the baler. "We never had the actual problem happen, but I thought if it did catch on fire, I didn't want to lose a tractor, so I tried to think of an idea to get the pin released a little bit easier."
Chance came up with Quick-Pin, a design that allows for the quick disconnect of an implement by removing the top of the hitch pin, letting gravity pull it out.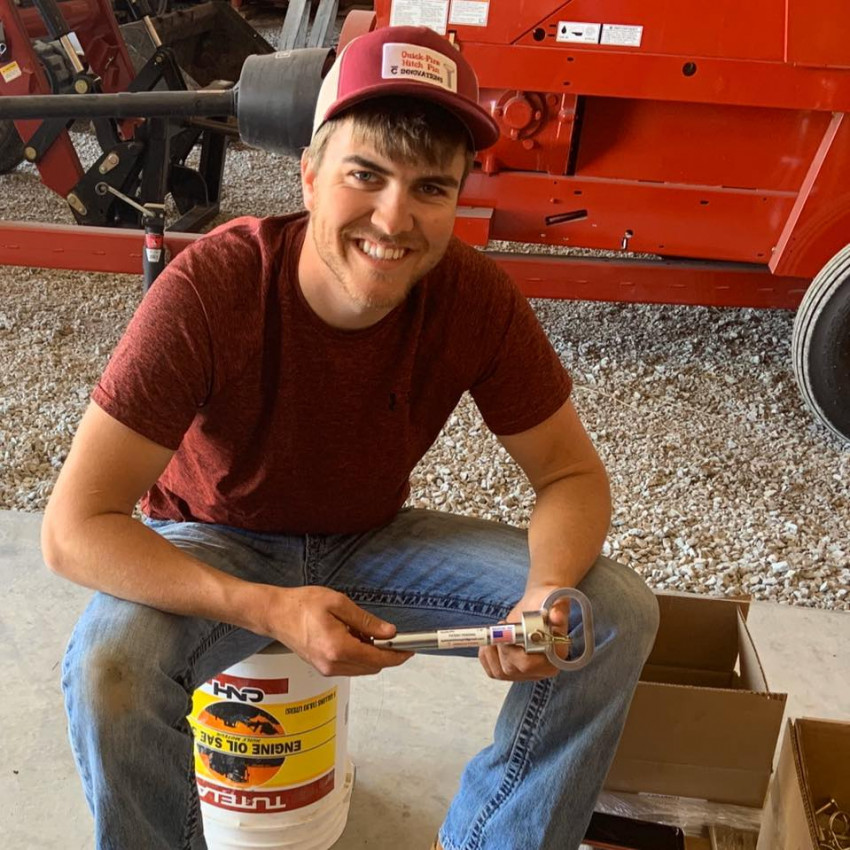 A traditional hitch pin is a simple tool and looks somewhat like an oversized nail. The pin is inserted from the top to secure the tongue of an implement to a tractor with a flange to keep it from falling through. On the bottom is a hole where a keeper is placed to keep the pin from bouncing out.
The pin withstands the entire pulling force of an implement, which means pulling a pin from the top requires removing the keeper and having slack between the implement and drawbar on a tractor. That's time consuming in the event of a catastrophe, like a baler fire.
With Quick-Pin, there are two keepers, one at the bottom as usual and another connecting the top flange to the shaft. Pulling the top keeper removes the flange and an operator can make a faster retreat to the tractor in the event of an emergency.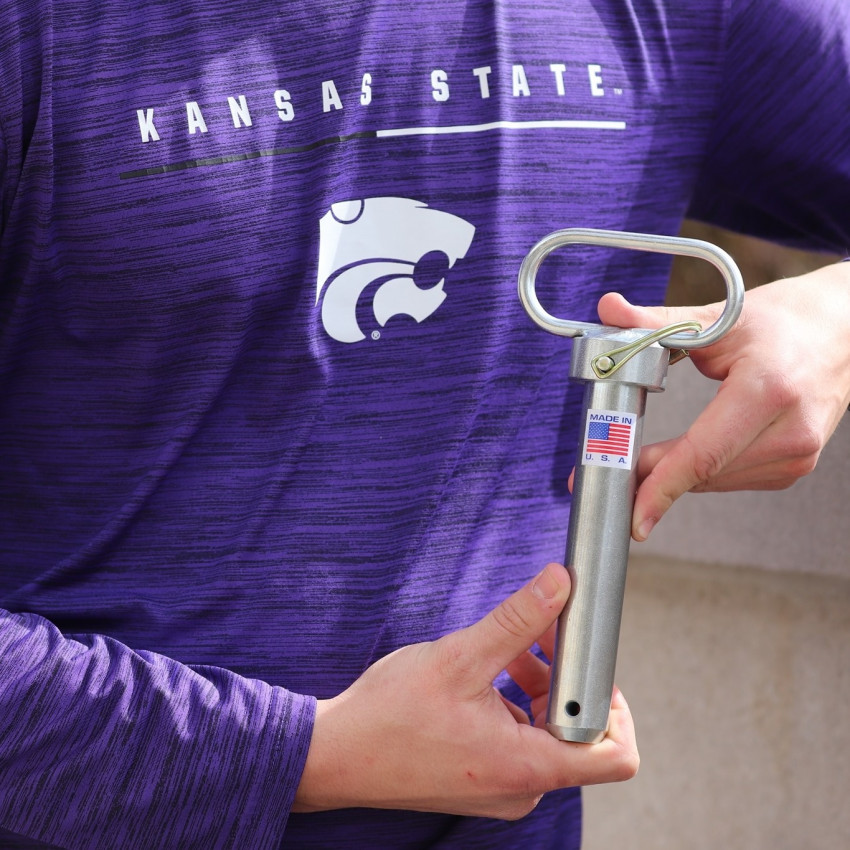 Chance created Quick-Pin in 2019 and took third place in the K-State College of Business Entrepreneurial Launch competition. Chance says he was disappointed to not win, but the prize money for third place was enough to get a patent-pending designation to protect his invention.
Initially Chance says he struggled to find a manufacturer who could take on the small orders, before he discovered Topeka-based Industrial Chrome, which is now fabricating three different sizes of Quick-Pins in 250-piece batches.
Chance estimates he's sold about 900 pins so far, and he is on track to make a profit in the near future.
"My breakeven is 1,200 pins, so I'm getting there," he says. "If I stay on track, here in a couple of months I should start making a profit."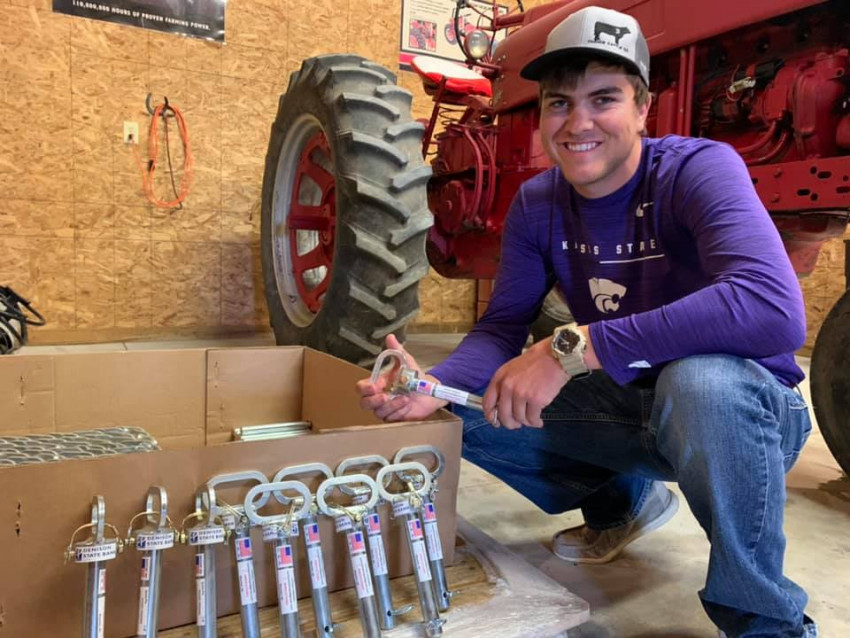 With COVID-19 disrupting farm shows, Chance says his primary marketing has happened on social media. He's working to establish a network of dealers and retailers to bulk up his orders to increase his order size and lower production costs.
For now, Chance is balancing his classes at K-State, where he's majoring in agribusiness, with the demands of running a start-up. He has an internship lined up for the summer at an implement dealer in Nebraska since Quick-Pin isn't "a big-time moneymaker."
"Hopefully I can keep selling them," Chance says. "It's been quite a ride and I've definitely learned a lot."
Learn more about Chance and Quick-Pin on its website or Facebook page.
---