Though the future looks promising, farmers see mixed results in initial year of industrial hemp production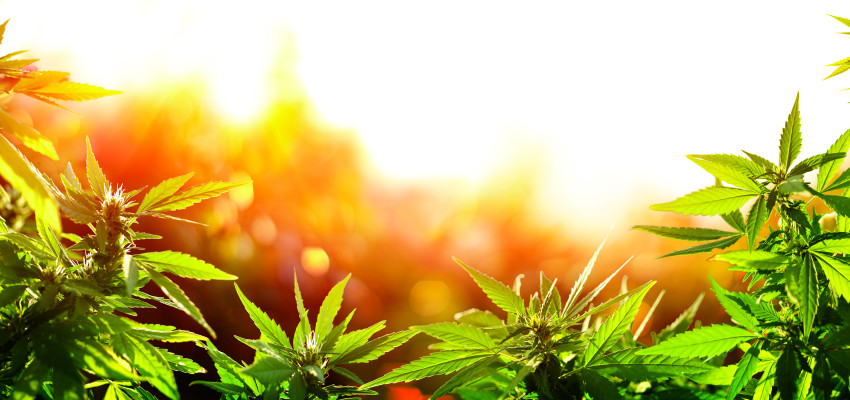 Two words can summarize Kansas farmers' initial foray into growing hemp for commercial purposes in 2019: learning experience.
Though it's derived from the same species as marijuana, industrial hemp contains less than 0.3 percent THC, the chemical that gives marijuana its psychoactive properties.
The 2018 farm bill paved the way for industrial hemp, just four years after the 2014 farm bill allowed colleges, universities and state agriculture departments to conduct research on the crop.
With such a short window between research and commercial growth, farmers didn't so much plant a crop in 2019 as they embarked on a large-scale experiment.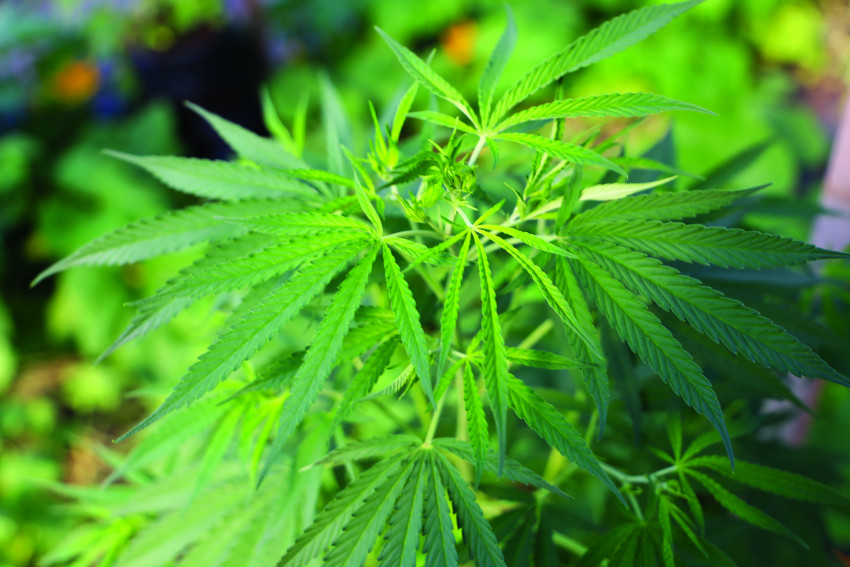 HEMP AS A BUSINESS
Every part of a hemp plant has commercial value, and parts of the plant are used in everything from textiles and clothing to bioplastics and even food. The stems contain valuable fibers and the edible seeds are rich in oil.
But in 2019 the most lucrative product produced from hemp was CBD oil, which is extracted from the flowers of female plants. Pollination from male plants significantly reduces the amount of oil available to extract.
Whatever the end use, all hemp production, distribution and processing is regulated by the Kansas Department of Agriculture (KDA). All growers are licensed through the KDA, which also conducts inspections to ensure compliance.
"To be granted a license, individuals cannot have a felony controlled substance violation within the last 10 years in Kansas," Braden Hoch, KDA industrial hemp supervisor, says. "Anyone receiving a license or participating in the program has to go through a background check process."
Those background checks include fingerprinting and a Kansas Bureau of Investigation review of state and federal databases on criminal history records. The checks are just one part of a patchwork of federal and state regulatory hurdles that, like hemp, are still in the beginning stages.
"There's a long way to go, and there's a lot of moving parts," Hoch says. "It's going to be another couple years until states that regulate hemp production have great insight into where the future of this will be headed."
INITIAL SKEPTICISM
To a certain extent, there's a stigma surrounding industrial hemp because the plant is identical in appearance to marijuana. The negative connotations initially were a deterrent for Melissa Nelson-Baldwin, who formed South
Bend Industrial Hemp with her husband and brother-in-law, to grow hemp for CBD, seed and fiber.
"At first I thought, 'That's not my thing,'" she says. "After learning what you can do with industrial hemp, the products you can make, the opportunities for farmers in terms of cash crops, I was sold."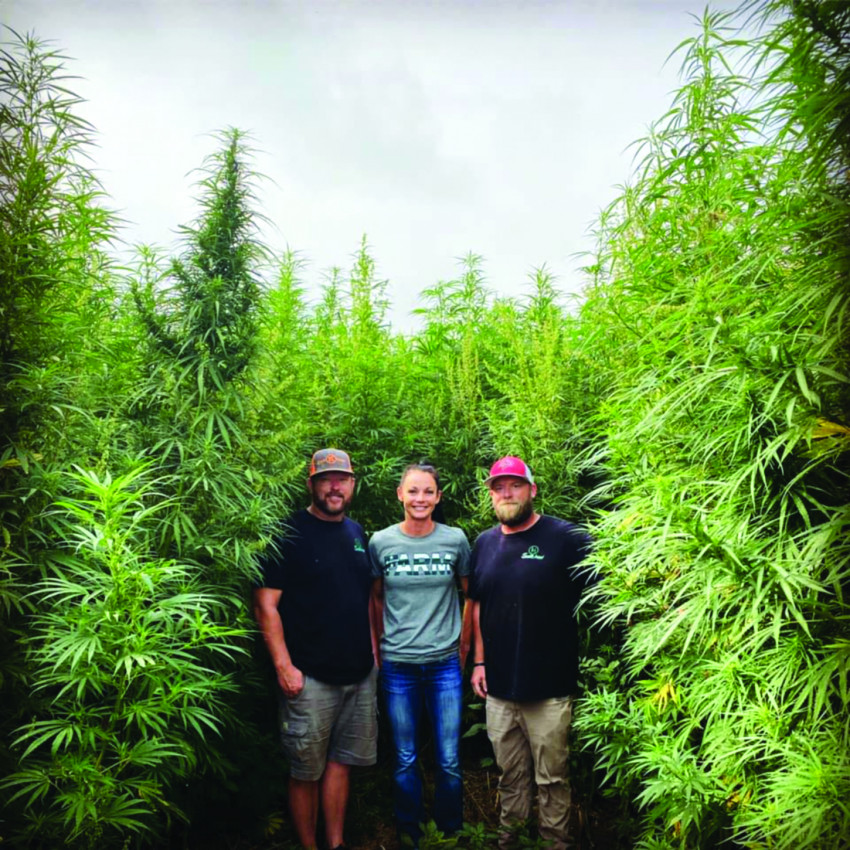 Haskell County farmer Jarvis Garetson says there is a public education component to growing industrial hemp, and that started with his own family and workers like irrigation technicians. Nearly 30 people in all underwent background checks  to become licensed.
"I literally fingerprinted my 10-year-old son and my 93-year-old grandmother and everybody in between," Garetson says.
He says after contacting KDA for the licenses, his second call was to the local sheriff, "just to let him know what we were doing."
BOOM TO BUST
The opportunity to reap net revenue while conserving water drew the interest of Garetson and his family in Haskell County in the southwest corner of the state. Garetson, his brother and brother-in-law planted just shy of 300 acres, a massive investment for hemp.
"It felt kind of overwhelming to think that five acres is what we started with," Garetson says. "The more we talked and the more questions we asked, we decided to push our acreage."
One reason the Garetsons went big is that pencil-on-paper projections in early 2019 showed potential for a net return of up to $100,000 per acre.
"That did not come to fruition by a long way," Garetson says. He noted most of his crop was still unsold in early 2020 because the processing capacity is still in its infancy. 
FINDING SUCCESS
South Bend Industrial Hemp had mixed results in 2019. Nelson-Baldwin, her husband and brother-in-law had a small CBD growing operation and 50 acres for seed and fiber.
"Our CBD grow was successful," Nelson-Baldwin says. "Our fiber and seed grow, not so successful, but this year we are starting out in a lot better place."
South Bend found success by creating its own line of CBD products, outsourcing only the oil processing. Nelson-Baldwin created a line of CBD-infused products, ranging from honey to salves and lotions, partly because it allowed her total control over the end product.
The vertical integration also allows Nelson-Baldwin to ensure the amount of CBD listed on products is actually there, and it means she can assure customers there's no THC in any line.
"At the end of the day, do we want to be a CBD line company? No," she says. "The reason it started is I'm doing all this public speaking on what CBD can do for people, and people were coming back to me saying they can't have THC in their products."
Nelson-Baldwin says they planted 1,500 clones from a female plant for their CBD grow, enough to fill about a quarter-acre of ground, plus a 300-square-foot greenhouse. They ended up plowing under the hemp grown for fiber and seed because it was cheaper than attempting to harvest the crop.
GROWING PAINS
Hoch says in the first year, licensees included everyone from farmers with decades of experience to growers with
zero experience in crop production.
Licensed to grow a maximum of 5,800 acres, farmers only planted 2,700 acres and harvested just 1,800 acres.
"We jumped in with both feet truly not knowing what to expect," Garetson says. "We just don't have the years of research behind it like we do with wheat, corn, milo and beans."
A wet spring delayed seeding until early June and, due to the late start, weeds competed with the young hemp.
"Then the war began," Garetson says. "That war was on pigweeds and kochia because they appear to grow rapidly in early June as well. That was our biggest labor challenge. It was brutal. Anybody on our license got tired of being on the end of a hoe handle."
Despite not having as much ground to cover, Nelson-Baldwin says her background as a crop researcher, which includes lots of field walking, taking tissue samples and other detailed work, helped prepare her for growing hemp.
"I am very used to high-labor fields," she says. "My husband and his brother were like, 'Let's get in the tractor.' They didn't love the labor side. It's a lot of work."
GROWTH INDUSTRY
Both Garetson and Nelson-Baldwin are optimistic about the long-term future of hemp in Kansas on the fiber and seed side, where costs are lower and mechanization is likely to attract more growers. Anticipated demand on the CBD side pushed the cost of feminized seed to $1 per kernel. Clones cost up to $4 each.
Garetson says seed costs fell by 50 to 70 percent for 2020, but he still scaled back his operation for the year.
"We feel like everything we learned from last year, we can grow the same pounds of biomass on 50 acres as we did on 250," he says.
Nelson-Baldwin says her dream is to have a processing facility in central Kansas for fiber and grain, which would provide farmers more certainty that they could market the crop if they chose to grow it. For now, she's happy to continue experimenting and figuring out how to make this newly available crop work in Kansas soil.
For more on South Bend Industrial Hemp, visit www.southbendindustrialhemp.com or see photos of the operation at Instagram.com/southbendhemp.
What is CBD?
CBD is short for cannabidiol, the second most prevalent ingredient in cannabis behind THC. By itself, CBD doesn't cause a "high" or demonstrate any of the psychoactive properties of THC. CBD is the most well-known cannabinoid in hemp.
In late 2015, the Food and Drug Administration eased rules to allow more research into the medical efficacy of CBD, which is ongoing. To date, only one medication using CBD has been approved by the FDA, but it is readily available as a supplement. Supplements don't fall under FDA guidelines.
Though more research needs to be done on its effectiveness, the market for CBD oil has boomed in recent years as more and more consumers have turned to the product for relief from chronic pain, anxiety and other health issues.
---