How farming and ranching drive Main Street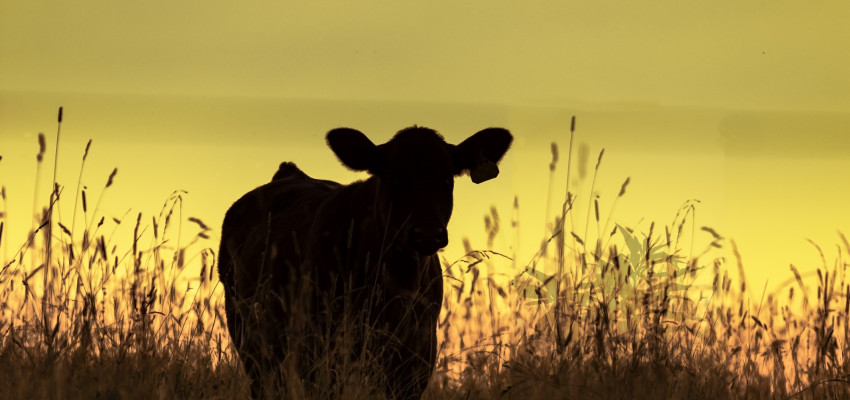 Living in the city makes it hard to know where our food comes from, and also makes it incredibly easy to forget growing crops and raising livestock aren't purely charitable acts. In Kansas and across the country, agriculture is an economic engine that fuels not only our stomachs, but also cities and towns.
In 2019, farmers and ranchers had a direct output of nearly $50 billion in Kansas and supported more than 130,000 jobs, according to figures from the Kansas Department of Agriculture. When you add in agricultural spending, the economic  benefits of farms and ranches, and economic activity in supporting industries, those numbers swell to more than $65 billion and nearly 250,000 jobs. That's about 13 percent of the Kansas workforce.
Agriculture is a significant business even in urban areas, but the work of logistics and processing is often hidden inside office buildings and warehouses. The relevance of agriculture is omnipresent in small cities like Oakley.
AG CENTRAL
About two miles off the interstate in northwest Kansas, Oakley draws travelers on their way to Monument Rocks or Little Jerusalem Badlands State Park, both just off U.S. 83, a major north-south corridor. While tourists and highway travelers certainly provide a boost to the local economy, you don't have to look very hard to see that farming and ranching are the backbone of the town.
Corn, wheat and pasture give way to implement dealers and grain bins as you approach Oakley on U.S. 40. Visitors to the Buffalo Bill Cultural Center see the 16-foot-tall buffalo hunter sitting atop a horse and gunning down a buffalo. Across the highway, towering over the statue of the prairie marksman is a grain elevator.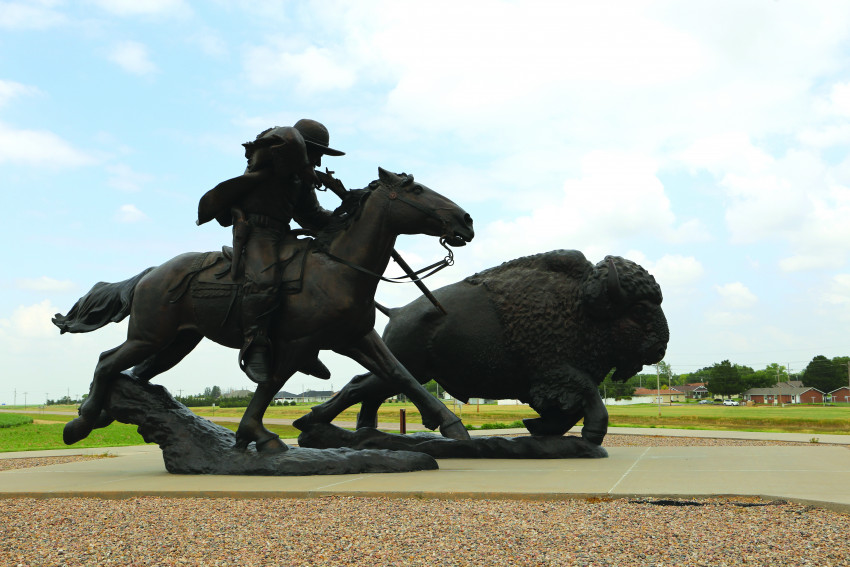 Center Avenue is the commercial and social hub of Oakley. Anchored by the high school at the north end and a business district to the south, it features the usual small-town mix of shops, a bar, bank and a theater. The post office is a block to the east, the grocery store a block west.
A GOOD HARVEST
Jayme Pfeifer doesn't farm or ranch, but her family is deeply connected to agriculture. She is the Logan County Farm Bureau coordinator, managing the day-to-day activities of the organization, and she serves as director of the Logan County Community Foundation. Her husband runs the John Deere dealership in town and her in-laws own a hardware store on Center Avenue.
"You know when it's been a good harvest," Pfeifer says. "That's when people get new kitchens. That's when they get new carpets."
Pfeifer says the outsized role farming and ranching has on daily life isn't unique to Oakley.
"In most rural areas, I would say, what happens out in the fields is what affects the town," she says.
The seasons affect everything, including the schedule. Events are planned with spring planting, wheat cutting in June, and fall harvest in mind. 
THE BUSINESS OF FARMING
While cities and towns have easily identifiable business districts, it can be hard to remember the plots of pasture, corn, soybeans, wheat and other grains are actually factories for raising food.
These factories are largely family-owned farms and ranches operating as small businesses. They range from a few hundred acres to several thousand, and like other businesses, they buy inputs from suppliers and sell their goods to customers.
Like other businesses, agriculture is cyclical. Good years mean farmers and ranchers buy new combines, tractors, fencing supplies and other staples. In down years, that spending may shift to repairing implements and patching fence.
"We don't seem to be hit out here by the national economy like other places," Pfeifer says. "Like in 2008, we just didn't feel those hits (as strongly). I think it's because we're dependent upon that ag economy that dictates what we do.
"What affects us in a really bad year is bad weather," she says. "You hear more about that. 'We didn't get enough rain this year,' or 'We had that hailstorm come through.'"
KEEPING IT LOCAL
With a population of just over 2,100 people, Oakley's economy is dominated by locally and regionally owned businesses, further insulating it from national trends.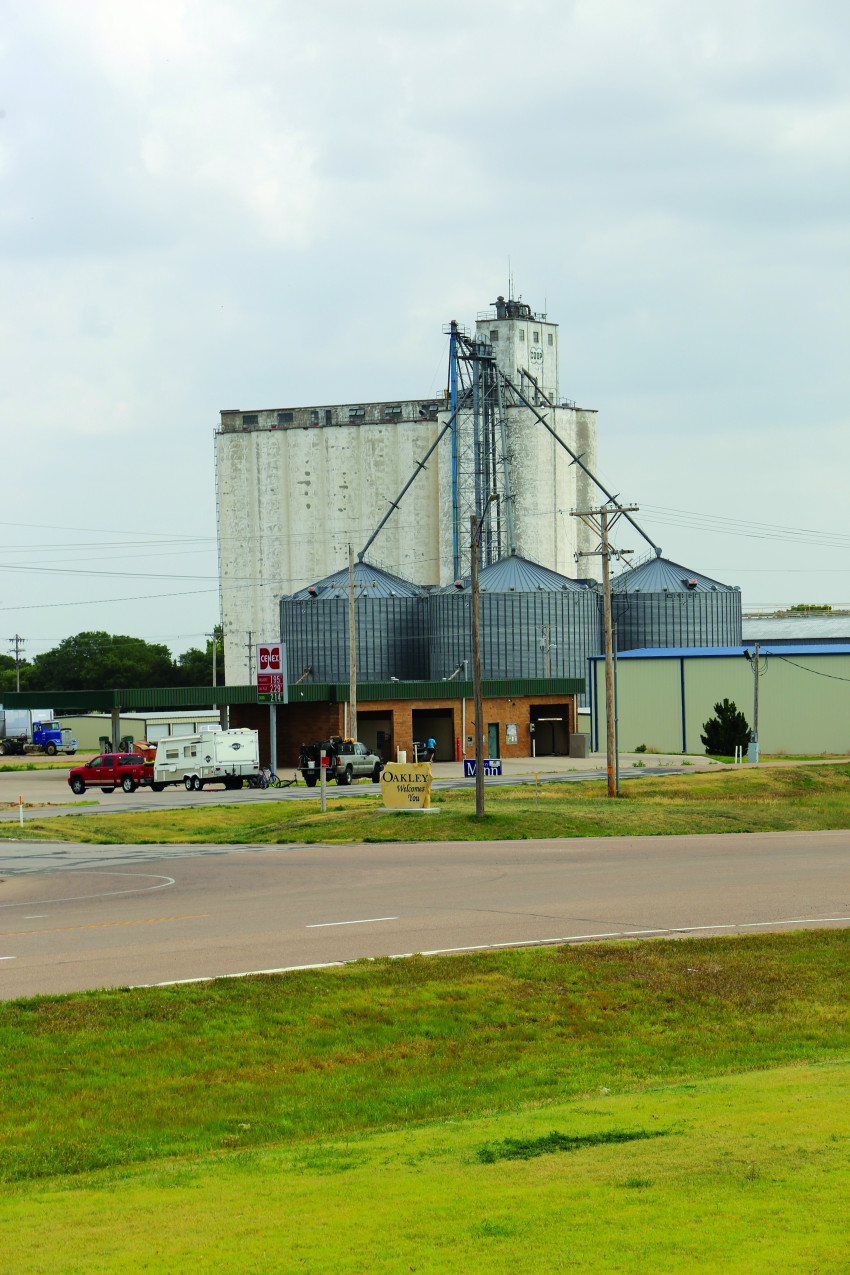 "The theater is run by the high school, which is really cool," Pfeifer says. "There are a few businesses that aren't Oakley-owned, but a lot of them are. They depend on each other."
That dependence extends beyond business to philanthropy as well. Pfeifer says farmers and ranchers are some of the biggest supporters of the Logan County Community Foundation, a nonprofit that provides services across the county.
"It all goes around," she says. "We're here to give back to schools, churches and other nonprofit organizations. It's all for the sole purpose of giving back to our community and to make us self sufficient."
Projects range from helping local businesses spruce up their storefronts to placing limestone signs welcoming visitors when they enter any city in Logan County.
BIGGER FARMS, FEWER PEOPLE
Production agriculture in Kansas is largely mechanized, which has allowed farmers to expand their operations without necessarily hiring more help. However, those same machines that reduce the need for labor on the farm provide a litany of work for mechanics, tire dealers and fuel haulers.
"Farms are becoming larger but unfortunately they can't support more than one family," Pfeifer says. "The farm is not large enough to support multiple families, so then the kids go off to college, and they don't necessarily come back."
With so many jobs focused on agriculture, recruiting workers for certain jobs like health care and education can be difficult.
"We can maybe get a teacher to come here," Pfeifer says. "Then we don't have a job for their spouse."
MAKING IT WORK
For those with ties to the area or a dedication to small-town living, cities like Oakley have a lot to offer.
"I just think a lot of people, if I could just get them here for a little bit of time, I think they would realize the joy of rural life," Pfeifer says. "It was very much a conscious effort for my husband and me to move back here."
That effort is something Pfeifer says sticks in the back of her mind as her children begin to consider where they'll continue their education and live once they're grown.
"I remember as a kid thinking I'd live in Denver or Colorado Springs," she says. "We're only three hours away. That's what you think, you grow up and move to a big city."
Pfeifer's oldest child has expressed a desire to live in Oakley, and she's hopeful that's a possibility.
"We're looking at jobs that are more geared to this area," Pfeifer says, noting there's plenty of demand for skilled trades like electricians and plumbers.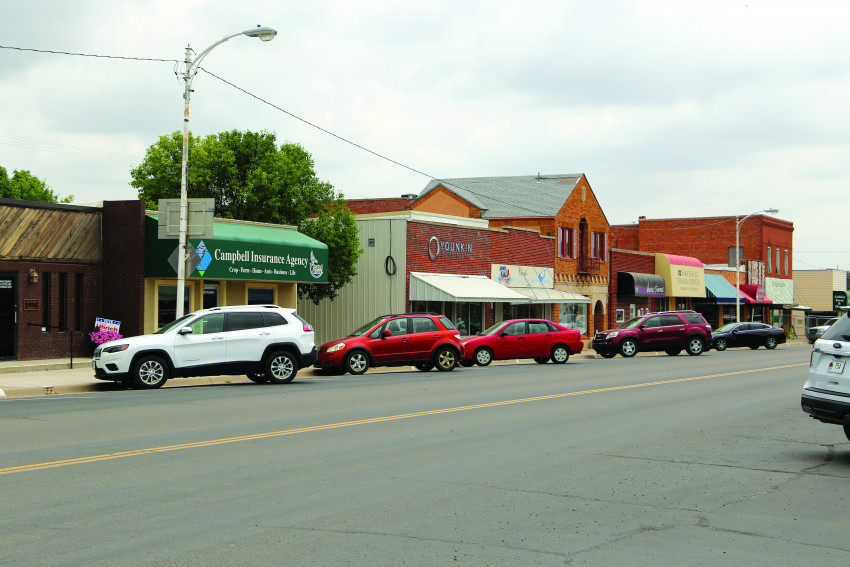 GLOBAL REACH
Kansas farmers and ranchers grow crops and raise livestock on nearly 46 million acres across the state, using just shy of 90 percent of the total land area. Agriculture is the single largest economic driver in the state. Leading exports include beef, wheat, soybeans and corn worth nearly $4 billion annually to feed people across the globe.
The next time you're zipping down the highway, watching farm fields and grazing cattle through your windshield, remember you're driving past a small business. Tied to its success are the fortunes of countless other small businesses up and down main streets across the state.
---