By

Ali Ragan

on

August 28, 2020
Farmers to Families Food Boxes in Kansas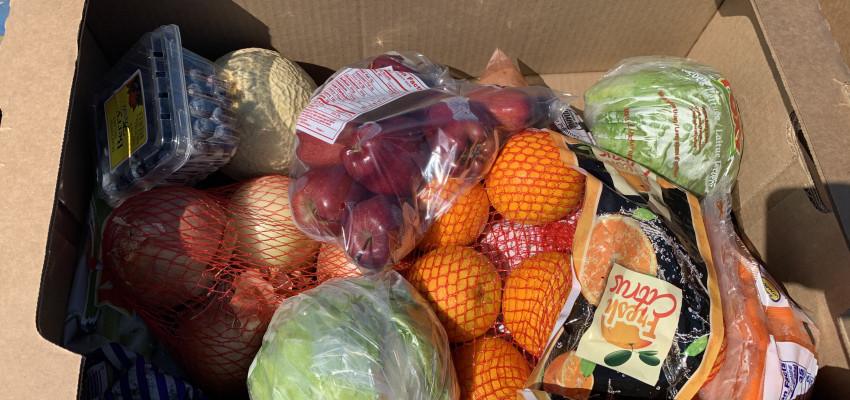 When the coronavirus pandemic hit, people across the country were worried about getting sick and alarmed by scarce grocery store shelves and job layoffs. Many families began relying on food banks for their food. Unfortunately, with such high demand, food banks were overrun. Simultaneously, farmers were stuck with excess produce and dairy, with no means to get it to people who needed it because of delays in shipping, decreased labor and backed-up processing plants.
Solving the Problem
To help bridge the gap of getting food from farms to families, the U.S Department of Agriculture (USDA) announced its Farmers to Families Food Box Program in April. This program allowed up to $3 billion of agriculture products to be distributed to food banks and other non-profit organizations to help provide food to Americans hit by job losses during the COVID-19 pandemic.
Since the first distribution period in mid-May, national, regional and local distribution partners across the country have sent approximately 75 million food boxes, helping an incredible amount of those in need.
It was recently announced an additional $1 billion will be provided for the program, allowing it to continue to provide support for farmers, distributors and American families.
Here at Home
The magic is happening in Kansas, too. Local distributors such as A & H Farm, Britt's Garden Acres and Barbara Flores Farm, all in Manhattan, are working hard to prepare boxes to send to schools and churches across the state, as well as to food banks in Missouri, Oklahoma, Colorado and Florida.
Andrea DeJesus, owner of A & H Farm, says the program has been instrumental for both small farms and people struggling to keep their fridge stocked.
"We had to cancel all our spring events and I had many sleepless nights wondering how I would pay my bills," DeJesus says. "Once I was approved as a distributor, I was relieved my family farm could continue."
The initiative has allowed more support for farmers and reducing on-farm food waste.
"We've always had an issue with excess produce but didn't have a system in place to get it to folks who needed it," says Angela Britt, owner of Britt's Garden Acres. "That connection wasn't being made."
Now, that excess produce is not being wasted and going to families across the U.S who need it.
"It's hard work, but worth it to help out the single mom with five kids who can't go to the store, or the folks who don't have a way to get to the store," Britt says. "My team is still packing up boxes the minute the truck pulls into the drive to pick them up for distribution."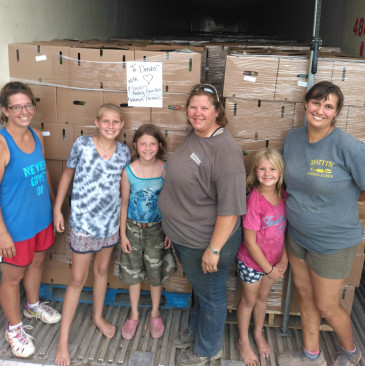 A Helping Hand
Partnerships with the program have helped tremendously in strengthening relationships between distributors and community organizations who want to lend a helping hand.
Matthew Carroll, principal at Circle High School in Towanda, saw a lot of people in his community struggling, so the school partnered with Farmers to Families to give back. People receiving donations were able to receive up to three boxes filled with produce, dairy and meat products.
"We had no idea what to expect and there was some anxiety that the food would go to waste," Carroll says.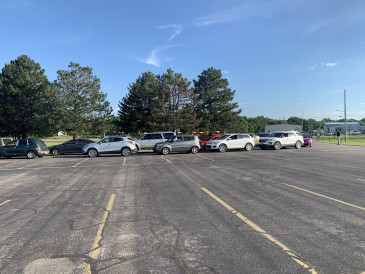 Little did he know, there would be more than 30 cars in line an hour before the distribution was scheduled to begin.
"We had approximately 900 boxes and we gave away every single one," he says. "Several people collected their initial three boxes and then went back to the end of the line in hopes of making it back to the front for another three."
Community organizations such as Circle High School have seen firsthand how this program is essential to families from all walks of life. With folks struggling to make rental payments, there was little to no chance they'd have access to healthy and fresh produce.
"We had a wide range of people in line from all different demographics and ethnic backgrounds," Carroll says. "There was no doubt this was a great way to help people in our community and surrounding areas fill their empty fridges."
This robust program has been a win-win-win. It's keeping distributors afloat, helping Kansas farmers sell products that may otherwise not be sold and nourishing families in need. It's highlighting the backbone of America: our farmers and ranchers who work to put food on the dinner table.
---