By

Chef Alli

on

April 2, 2020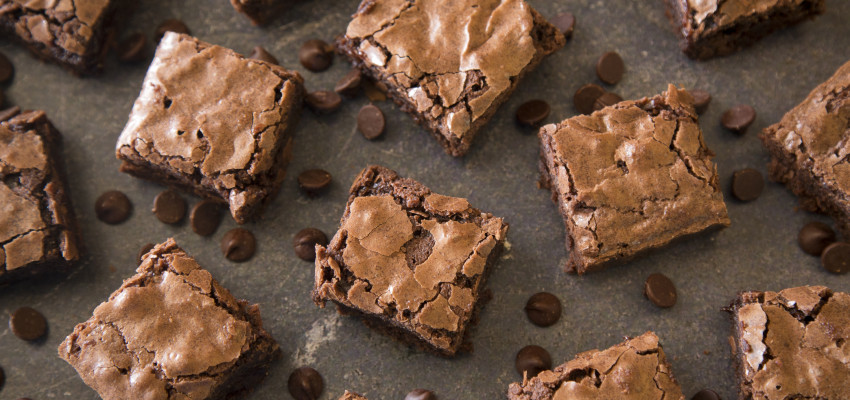 When you need a chocolate dessert in a hurry, is there anything easier and faster than a boxed brownie mix? Everybody loves brownies and most of us usually have one or two box mixes in the pantry. Below are 20 fun ideas for elevating your brownies to new levels.  
All of the brownie ideas below call for using a 9x13 family-size brownie mix, approximately 18 ounces, made and baked according to package directions unless otherwise specified below.  
Rocky Road Brownies  
Fall in love with rocky road brownies by stirring mini marshmallows and nuts into the batter, such as chopped pecans or walnuts. Once the brownies are fully baked, top with a layer of mini marshmallows, then return the brownies to the oven for an additional 1-2 minutes to let the marshmallows melt. When the brownies have cooled, drizzle some warm hot fudge ice cream topping over the top.  
Customized Brownies  
To make your brownies super rich, add a cup of chocolate chips to the batter before baking the brownies, such as semi-sweet, white, dark, or milk chocolate chips. Fold 2/3 cup of the chips right into the batter, then sprinkle the remaining 1/3 cup of chips over the top and bake. Butterscotch, mint, and cinnamon chips are also delicious in brownies.  
Brownie Cookies  
Yep. Brownie cookies are the bomb. Just combine the brownie mix with one egg, 1/3 cup vegetable oil, 2 Tbs. water, and 1/4 cup all-purpose flour. Roll the dough into 2-inch balls, then bake on a rimmed baking sheet at 350 degrees F. for 8-10 minutes. You can add your favorite stir-ins to the cookie dough as well, such as chocolate chips.  
Brownie Whoopie Pies 
Spread those freshly baked brownie cookies (from above) with buttercream frosting or whipped cream, then gently press two of them together to make whoopie pies. For summer, we love to fold chopped strawberries into whipped cream as a filling for mini whoopie pies, then freeze them. Such a refreshing summer treat! . 
Frosted Brownies  
Once the baked brownies are fully cooled, spread your favorite icing over the top. Coconut-pecan frosting (often used on German chocolate cakes) is yummy when spread over warm brownies.  We love peanut butter frosting spread over chocolate brownies, too. To make an easy peanut butter frosting, combine ½ cup softened butter with 1 cup creamy peanut butter and 3 tablespoons of milk; stir in 2 cups powdered sugar until you find the frosting consistency you like best.  
S'mores Brownies 
Nearly all kids (both big and small) love s'mores brownies and they are super easy to make. Just top the freshly baked brownies with 2-3 cups of mini marshmallows, then return the brownies to the oven about 6" beneath a preheated broiler, just until the marshmallows are golden brown. (This just takes a few seconds!). Top with chocolate chips, and graham cracker pieces. You're good to go and no campfire needed.  
Candy Bar Brownies  
Candy bars and brownies? You bet. Chop up your favorite large candy bar into small pieces, then fold the chunks into the brownie batter. We love adding dark chocolate Milky Way pieces to dark chocolate brownies and chopped peanut butter cups to milk chocolate brownies. If your family is a fan of caramel and chocolate, they may enjoy the combination of Twix bars with brownies. A super fun add-in to brownies for kiddos is M&M's or colorful peanut butter candies.  
Coffee Cake Brownies  
Blend together one stick softened butter, 1/2 cup sugar, 1 1/4 cups all-purpose flour and 1 tsp. cinnamon; add 1/2 cup finely chopped walnuts. Spread the coffee mixture over the brownie batter and bake until the coffee cake topping is golden brown and the brownies are done. 
Grasshopper Brownies  
Any mint fans in the house? We dare not forget grasshopper brownies. Mix ½ cup chopped Andes Mints into your prepared brownie batter. Bake until done and allow to cool completely. Melt 1/2 cup light green chocolate melts in a quart bag, snip off the corner of the bag and drizzle over the top of the brownies. Finish with 1/2 cup chopped Andes Mints sprinkled over the top.  
Cookies and Cream Brownies  
Every kid in the world loves cookies and cream. Make them happy by mixing ½ cup white chocolate chips and 1/2 cup chopped Oreo cookies into the brownie batter. Sprinkle 1 cup of crushed Oreo cookies over the top; bake as directed, then sprinkle with white chocolate chips.  
Family-Style Skillet Brownie Sundae 
 Bake your brownie batter in a greased cast-iron skillet according to package directions. Once the brownies have cooled slightly, top them with ice cream, sliced bananas, chocolate syrup, chopped pecans, whipped topping, sprinkles and whatever your heart desires. Give everyone spoons and dig in.  
Bite-Size Brownie Treats  
No more boring, flat, square brownies. All you need to bake up some cute little bite-size brownies is a mini muffin pan. Pour the batter into the greased mini muffin cups, then bake for 13-15 minutes at 350 degrees F, just until the center of each brownie is set. If desired, place a small piece of candy (such as a chocolate kiss, a Rolo, or a mini peanut butter cup) into the center of each brownie cup while they are still warm. Or, once the brownie bites have cooled completely, make them a special mini dessert by topping each one with whipped cream and a fresh strawberry or raspberry.  
Brownie Pizza  
Definitely a crowd-pleaser, this recipe for a fun brownie pizza includes an easy marshmallow frosting and fresh berries laid out in a patriotic flag for July 4th celebrations. Decorate the brownie base any way you wish and for any occasion . 
Salted Caramel Turtle Brownies  
Add chopped pecans and dark chocolate chips to the batter. Drizzle the top of the batter with caramel ice cream topping, using a butter knife to swirl the caramel through the batter. When the brownies have baked and cooled just a bit, drizzle more caramel over the top, along with a sprinkle of kosher salt; and top with toasted coconut.  
Peppermint Christmas Brownies   
Crush up peppermint cookies, such as chocolate peppermint sandwich cookies, then stir 1 cup into the brownie batter; bake as directed. Frost the cooled brownies with chocolate frosting then top with crushed candy canes, as desired. 
Brownie Dessert Trifles  
Crumbled baked brownies make some impressive desserts, such as are dessert trifles layered with pudding and berries, or even individual brownie trifles in glass canning jars or pretty stemware. Try these Chocolate Mousse Brownie Jars to see for yourself! 
Just-Add-Coffee Brownies  
Coffee delectably enhances chocolate, making it taste richer, offering a more complex experience. Add 1-2 Tbs. strongly brewed coffee to the brownie batter, along with 1/2 cup of toasted pecans or walnuts. Pair the warm baked brownies with a coffee brew that has strong nut tones: Columbian, Brazilian, or Honduran coffees will nicely balance the sweetness of the chocolate. 
Cheesecake Brownies  
Combine one 8 oz. block of softened cream cheese with ½ cup sugar, 1 egg and 1 tsp vanilla; gently spread the mixture over the brownie batter in the pan. Swirl the cheesecake mixture into the brownie batter with a butter knife, if you'd like or leave the cheesecake mixture on top in a separate layer to enjoy two-tone brownies.  
Brookies 
Prepare a 17 oz. chocolate chip cookie mix (such as Pillsbury or Betty Crocker, etc.) according to package directions. Using your fingers, crumble the prepared cookie dough evenly over the top of the brownie batter. Bake, uncovered, at 350 degrees F. for 28 to 30 minutes or until the cookie topping is golden brown and the brownies are set at the center.  
Butterscotch Pretzel Brownies  
 Stir 1/2 cup of broken pretzel pieces and 1/2 cup chocolate chips into the brownie batter. Melt 2/3 cup butterscotch chips in a quart bag; snip off the corner and drizzle the melted butterscotch over the slightly cooled baked brownies. Top with more pretzel pieces.  
---