Renewable Energy in Kansas: Harnessing the Sun
A longtime leader in wind, power companies see the sun's role rising in Kansas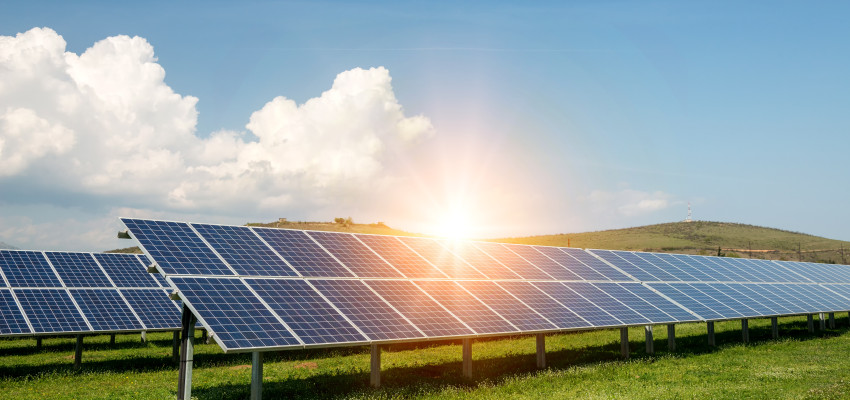 Drive through Kansas long enough and you'll see wind turbines stretched across the horizon, the gusting winds slowly rotating the blades. Wind is the most visible form of alternative energy production in Kansas, but that's changing as companies begin eyeing the Sunflower State for its abundant sunshine.
While only a fraction of a percent of power production in the region comes from solar today, the future is bright for solar panels in Kansas and across the country. The panels are made up of photovoltaic cells capable of converting light particles into electricity.
Each cell is a sandwich made up of an inside layer that absorbs sunlight and converts it to electricity, while the outside layers consist of electrodes to transport that electricity away.
The U.S. Energy Information Administration predicts that by 2050, solar energy will account for nearly half of all the renewable electricity generated in the country, up from 13 percent in 2018.
GETTING STARTED
With plenty of wide-open spaces and abundant sunshine, Kansas is well positioned to benefit from the sun's increasing role in power production. Massive, utility-scale projects, however, are still in their infancy.
"I do feel like the solar industry today is where the wind industry was about 15 years ago, when the technology was continuing to improve, advancements were continuing to be made," says Kimberly Svaty. "In the case of largerscale solar projects, it's just an upward trajectory."
Svaty is the public policy director for the Kansas Power Alliance, which represents the renewable energy industry in Kansas.
PRODUCING PANELS
One reason large-scale solar generation is just getting started here, Svaty says, is how it's determined when and where electricity is produced.
Kansas is a part of the Southwest Power Pool (SPP), which oversees the electric grid in Kansas and 13 other states. For consumers, the SPP ensures a reliable supply of power, transmission infrastructure and competitive wholesale electricity\ prices. In essence, electrons are a commodity just like grain and cattle. Utilities with generating capacity — coal, nuclear, natural gas, hydro, wind or solar — submit bids to sell power through the SPP.
The low-cost bidder wins the right to produce and sell electricity. Until the last few years, most solar projects in Kansas were homeowners who put a couple panels on their roof to supplement power from the grid. Then so-called "community" projects gained favor where homeowners and businesses could buy into small solar facilities built at an offsite location.
The first significant solar project in Kansas broke ground in late June about 10 miles from the Colorado border in southwest Kansas. The Johnson Corner Solar Project is a 20-megawatt generator expected to come online in early 2020. One megawatt could power a 100-watt lightbulb for 10,000 hours. Once operational, the 200-acre plant will become the largest solar project in Kansas. But that could change if Acciona, a global company focused on sustainably meeting society's needs with renewable energy, moves forward with a 150-megawatt solar project near Great Bend. The project is one of more than 20 Acciona recently acquired from Tenaska, a Nebraska-based independent energy company, with plans to put eight of those projects into service by 2023.
Tenaska's Mike Roth, director of strategic development and acquisitions, says the company will continue to be involved in the Great Bend project.
"While Tenaska is a strong player in renewables, Acciona brings additional capital needed to bring this project to fruition," Roth says.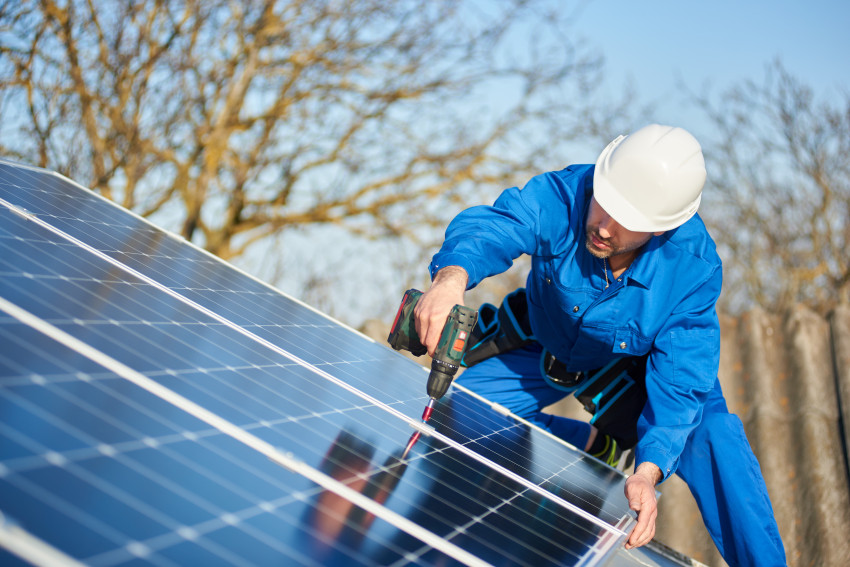 COMMUNITY BENEFITS
The Great Bend facility would go on 700 to 1,000 leased acres near an existing electric substation, which helps lower transmission costs. The initial planning work helped open the eyes of area landowners to the benefits of lease agreements, Kyle Schartz says.
"For what they're proposing, there's no way we could farm and make that kind of money," the Barton County farmer says. "It would be a great boost to the farm economy for the ones who sign leases."
Though Schartz didn't sign a development lease with Tenaska, some of his neighbors did. However, the real money doesn't start coming unless the project is built.
Solar companies lease ground for projects and pay a per-acre fee. Rates start at a few hundred dollars per acre and go up based on site conditions, access to transmission lines and other factors.
Spokesman David Jakubiak says Acciona is still sorting through the portfolio it acquired, and its selection process for the eight fast-tracked projects will be an "evolving situation" until they sign the long-term leases with landowners.
"Kansas is a very interesting state for solar," Jakubiak says. "The resource is really good there."
DIVERSIFYING OPTIONS
Schartz said he initially had no interest in solar leases because he's not quite ready to retire, but he and the Barton County Farm Bureau helped arrange a meeting with Tenaska officials and area landowners during which he realized a solar lease may be an option as he nears retirement.
"I'm 58 now, and I got to thinking, even 10 years down the road, if [my son] is still in town, it may not be a bad thing for me to cut back," Schartz says. "The income off that, I'd never see in farming."
Svaty, whose husband is a fifth-generation farmer in Ellsworth County, says the lease payments from wind turbines have helped farmers and ranchers across the state as commodity prices have cratered over the last half decade.
"This is diversification at its finest," she says. "For landowners who have a wind turbine or would have solar panels on the ground, it is a dedicated payment every year they know they will receive. In many instances, as we've gone through tough times, it's absolutely stabilized many family farms and kept them afloat."
PRICING POWER
Jakubiak says three things have contributed to the increasing interest in solar production across the nation: a solar investment tax credit, declining cost of panels and a "real interest in the technology."
The tax credit has helped both lower the cost of solar panels and make the technology interesting. The first solar cells were created in the 1800s but were less than 1 percent efficient. Today, efficiency has soared to more than 20 percent, while cost has fallen nearly 65 percent over the last decade, from $8.50 per watt in 2009 to just under $3 in the first half of 2019.
The investment tax credit dropped from 30 percent to 26 percent this year and will fall to 10 percent by 2022 for utility scale projects. The credit will go away entirely for residential systems that same year.
"I think the incentive for solar did exactly what it was intended to do," Svaty says. "It really drove innovation. It drove market research. It rapidly changed the technology, which rapidly decreased the price."
COMMUNITY BENEFITS
In addition to payments to landowners, solar projects can give an extra boost to local economies. Roth says the project near Great Bend would offer jobs for local laborers and skilled craft workers as well as opportunities for area businesses to provide goods and services during the construction phase.
"Once operational, these types of power generation facilities are local businesses and important economic assets for the community," he says. "These facilities generate tax revenue, provide additional income for landowners, create well-paying jobs and provide opportunities for local businesses."
There's also the benefit that most of the cost of solar plants comes up front. A solar field able to produce 100 to 200 megawatts of power can cost anywhere from $100 million to $250 million to build, but utilities can spread that out over decades.
"It's a nice steady sort of power at an affordable price, and you can lock in that price because there's no fuel cost," Svaty says. "It's like wind in that sense, because the sun is free. The most variable cost on your bill is your fuel. If you eliminate that fuel cost, you've eliminated a lot of that pricing volatility."
---