The Top 10 Reasons to Choose The Wheel Barrel for Your Next Night Out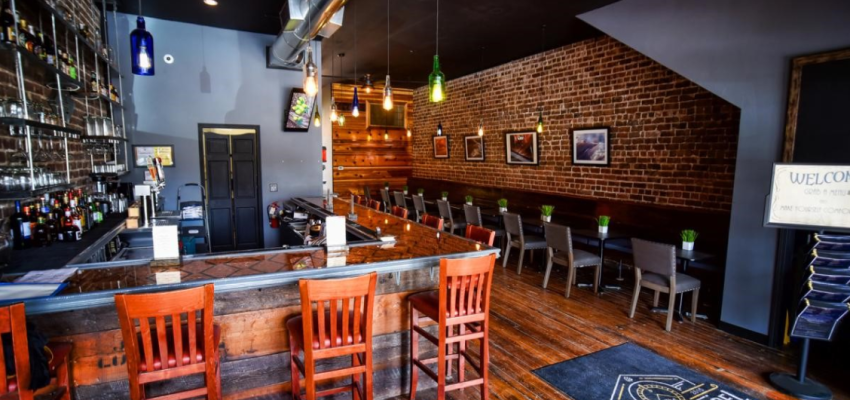 Located in Topeka's, North Topeka Arts District (NOTO), The Wheel Barrel is the home of the "Best Grilled Cheese in Kansas," a title bestowed by USA Today - but that's not only thing that makes this local favorite a standout.
If you're looking for a scrumptious night out on the town, this place will not disappoint. From fantastic drinks to delectable meals, it has become a staple in Topeka cuisine. We've compiled the top 10 reasons to choose The Wheel Barrel for your next night out. 
10. Jams on Jams on Jams
Not the spread you put on toast (although they do use some great ones in their food), but the sweet sound of music. Get yourself a drink and enjoy local bands that perform regularly at The Wheel Barrel. 
It's one of the best places to enjoy live music in Topeka, and you don't want to miss out.
9. Don't Sleep on Their Breakfast
Each Sunday, they have a few staple items and breakfast sandwiches as well.
The Rise and Shine with cheddar, black forest ham and two eggs over medium brioche with a side of maple or buttered bourbon maple syrup is the true 'breakfast of champions' (not sponsored by Wheaties). And a huge highlight (for the 21+ crowd) is the mimosa and Bloody Mary bar they have each week.
8. Fun for the Family
While there is a bar, The Wheel Barrel is still a great place to bring the whole family. With the cozy atmosphere and food items like the Adult PB&J and the Classic Grilled Cheese, it's easy to find something on the menu for any kids (or picky adults) that join.
7. A Rotating Menu to Appeal to Your Adventurous Spirit
The menu changes with the seasons at The Wheel Barrel. This gives you more choices every few months to branch out and try something a bit outside your comfort zone.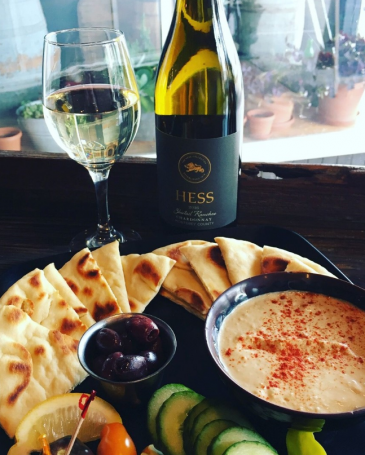 6. And of Course, the Staples Too
Their staples are to die for and are easily split-able if you go with a friend and want to try a few.  Not Yo-Mama's BLT, The Jalapeño Popper and The Olga are all great options.
5. Soothe Your Sweet Tooth
The desserts alone should be enough to make you fall in love with the Wheel Barrel. Try Not So Bittersweet Symphony and try to not fall in love. Consisting of creamy brie with a chocolate hazelnut spread on sweet brioche bread, dusted with powdered sugar and served with a side of blackberry jelly, this is a dish you can't find anywhere else. If that's not your style, they also have a take on the s'more called the Happy Camper that won't disappoint.
4. The 'Cool' Factor
There's something about The Wheel Barrel that always leaves you wanting to come back. Though it is definitely a sit-down restaurant, it never feels stuffy or overly ostentatious. With a seat-yourself approach and cozy environment, you feel as if you've been invited into a secret club with your closest friends.  
Side note for restroom lovers: this place has some good ones. 
3. Cocktails That Won't Disappoint
We're talking mojitos, specialty margaritas, whiskey cocktails. Whatever your alcohol preference is, you can find a one-of-a-kind drink to fit your style.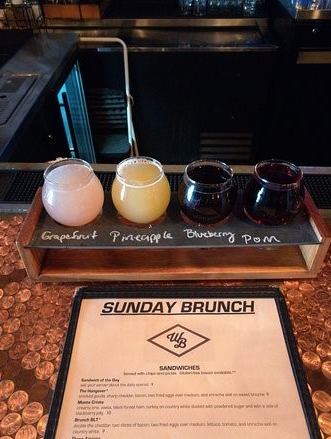 2. And Don't Forget the Hops
The Wheel Barrel has a variety of seasonal and staple ales from local and national names. Because of this, it's why people flock to see what they have in store each season.
1. A World-Renowned Sandwich
The Wheel Barrel has a nationally-noticed sandwich, The Hangover. In 2018, USA Today named this gourmet treat THE "Best Grilled Cheese in Kansas." Made with perfectly smoked Gouda, sharp cheddar, bacon, two fried eggs and sriracha aioli on a sweet brioche bun, USA Today's assessment is spot on.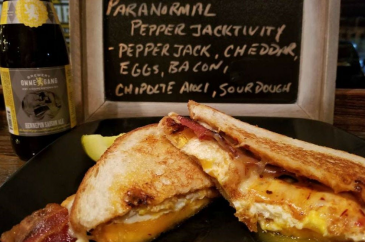 ---