The Kansas State Fair may be known for Pronto Pups and amusement rides, but to one young exhibitor, the fair is about strength and support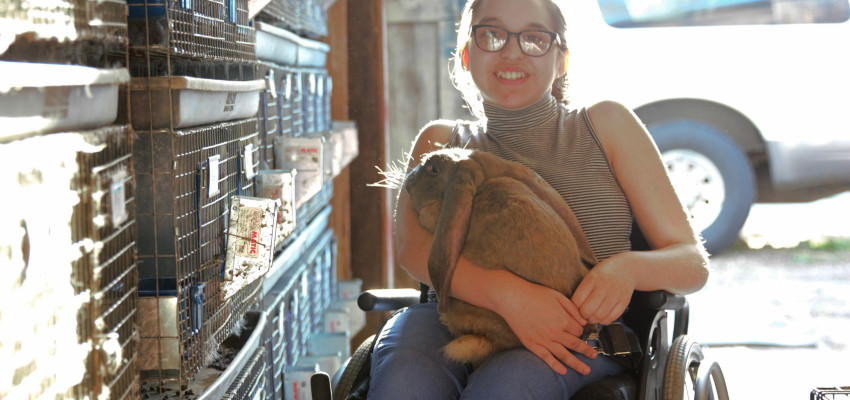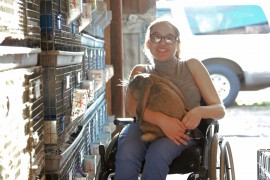 It's September and you're in the middle of Kansas. It's likely a warm day and as you near the entrance, the smell of fried food invites you in. There are exhibit halls, birthing barns, amusement rides and vendors galore. You hear kids laughing, an occasional "moo" and carnival sounds from the other side of the grounds.
By now you could probably guess you're at the Kansas State Fair in Hutchinson, an experience every Kansan should put on their bucket list. The state fair experience is unique to everyone. Some enjoy the food, others take in the exhibits and educational opportunities, and others, like those in 4-H, enjoy the opportunity to show off their best work.
4-H is a global network of youth organizations whose mission is "engaging youth to reach their fullest potential while advancing the field of youth development." Kids complete hands-on projects in areas like health, science, agriculture and citizenship. Thousands of Kansas 4-H members, ranging from sixth grade to college freshmen from 105 Kansas counties, travel to Hutchinson to exhibit their projects at the Kansas State Fair. These 4-H members, having earned the spot from their performance at county competitions, will exhibit livestock and showcase fine arts projects in hopes for the top prize.
BUILDING A REPUTATION
One of those 4-H exhibitors is 16-year-old Emilee Dobbs from Abilene. Her family is known as "Wild Crackers Rabbitry" in the rabbit project.
"When I was six years old, my grandma and grandpa still had some rabbits," Dobbs says. "My older brother and I got our first rabbits on Easter, when they brought us the 'Easter bunnies.'"
The Easter bunny crew grew from five rabbits to now more than 250 rabbits.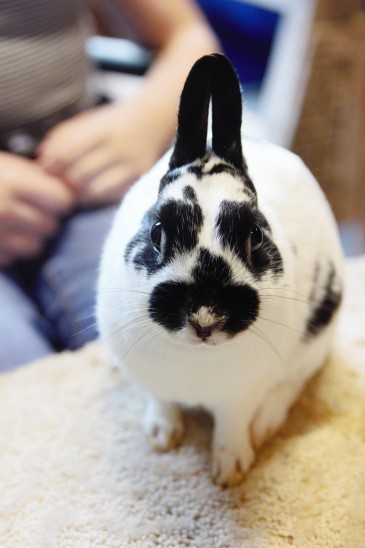 Dobbs and her family carry a reputation of being strong competitors in the rabbit barn at the State Fair, thanks to many years of hard work. While many fairgoers attend the fair for the sights and entertainment, Dobbs has a different mindset long before she reaches Hutchinson.
"What people don't understand about the exhibits [at the Kansas State Fair] is the years of hard work we put into a single project," Dobbs says.
STAYING THE COURSE
Dobbs is a unique exhibitor whose strength is inspiring. She was born with spina bifida, a birth defect where part of the spine does not close completely. Dobbs also battles scoliosis and has been dependent on her wheelchair since she was 15 months old.
"I have had 59 surgeries and throughout pretty much all of them, my 'rabbit family' has been there to support me," Dobbs says.
"I used to walk when I was little by using leg braces and a walker, but I no longer do it because it takes so much energy for me just to move a few inches."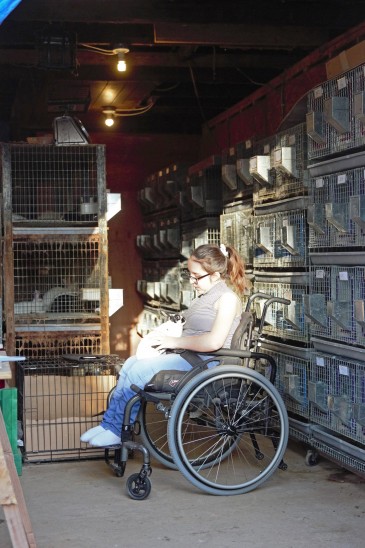 Dobbs wasn't going to let this stop her from doing what she loves to do — raise and show rabbits.
Dobbs, along with her mom, dad and brother, raise and breed rabbits. Multiple breeds can be found at their operation, including: Tan, Mini Satin, Netherland Dwarf, Mini Rex, Britannia Petite, English Lop and American Cavies. They have traveled to national breed shows across the United States.
MORE THAN A RIBBON
Dobbs is dedicated to the rabbit industry. She plans to improve her own skills while also encouraging future 4-H members to become involved.
"It is a goal of mine to get my registrar's license, which is the prerequisite to the judging license, by the time I graduate high school in 2020," Dobbs says. "I want to be more involved with the judges, look at other rabbit breeds and help kids learn how they can improve."
To become a registrar, there is a petition of 30 American Rabbit Breeders Association, Inc. (ARBA) members. Following that process, there is a written test. If passed, you then work under three ARBA judges before earning the official judging license.
While improving her own skillset, she wants others to become future rabbit showers.
"We love helping other 4-H'ers get started in the rabbit project by helping them learn about the best breed of rabbits to get started with and what it takes," Dobbs says.
If you or someone you know is interested in exhibiting rabbits, Dobbs suggests seeking advice from others in the rabbit-showing world.
"Keep your head up," she says. "There are people out there willing to help. Just enjoy it and do your research."
SKILL AND SHOWMANSHIP
Dobbs works every day to enhance her knowledge of rabbits and her showmanship skills. Her favorite contest at the State Fair is showmanship. This contest focuses on how well the exhibitor presents, shows and answers questions about their rabbit.
"Sometimes I just sit out in our barn and constantly go through my showmanship routine, looking for ways to improve my skills," Dobbs says.
Working with animals takes special skills — patience, consistency, care and passion. Those who show animals at the county and state fair need these skills in order to form bonds with their animals. For Dobbs, her wheelchair doesn't interfere with her success.
"I work with my rabbits enough to know how to take them out of the cages, set them on my lap and still be able to push myself," Dobbs says. "It's not me training them, it's just the connection I have built being around them enough."
Dobbs also talks about building a connection with fair attendees and educating them about her rabbit project while at the State Fair.
"A lot of people think they shouldn't be in cages or we're starving them, but in reality, they have the exact amount of food they need to perform well in a show and they always have water and coolers blowing on them," Dobbs says.
4-H FAMILY
While Dobbs remains fiercely competitive in the rabbit project, she has built strong relationships with other families she's met when showing throughout the country.
"There was a time when my mom and I were in Children's Mercy hospital for my spinal fusion and I had just finished my shower when the nurse came and said, 'You have visitors.' My mom and I looked at each other because we weren't expecting anyone," Dobbs says. "It was a family we had been long-time friends with who we met showing rabbits. It made everything seem like it was going to be OK just knowing there was support from others."
In the evenings after the work is done, Dobbs' favorite time is when she's sitting in the barn, listening to the fans blowing and the rabbits munching away on their supper. To her, that is the moment when she feels all is right in the world.
To see the rabbit exhibit, eat delicious food, experience educational displays and more, visit the Kansas State Fair Sept. 7-16 this year in Hutchinson. While you're there, visit the Kansas Farm Bureau exhibit in the Ad Astra building.
Learn more about the fair and get tickets at www.kansasstatefair.com.
---