By

Chef Alli

on

July 11, 2018
10 Genius Ways to Utilize Your Immersion Blender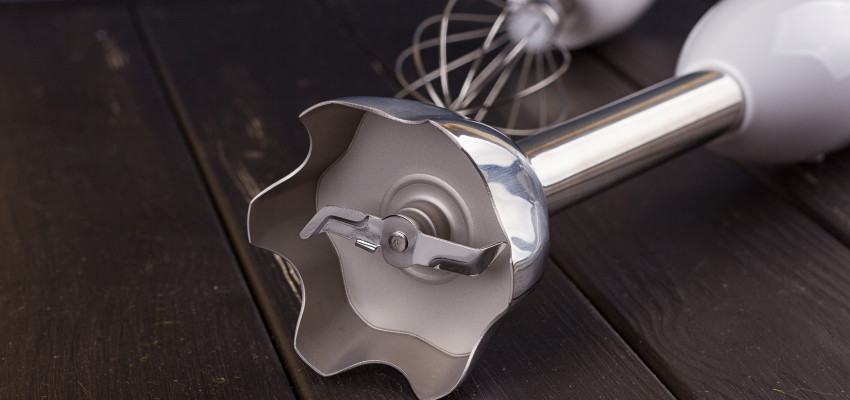 If you're thinking an immersion blender is used primarily to purée soups, get ready to be amazed.  Not only does an immersion blender (also known as a stick blender or a hand blender) spave space, it also has tons of uses you may not realize.
Baby Food
Be in control of what's in your little one's baby food by making your own in a flash. Simply purée cooked fruits and vegetables and portion them into servings and freeze until needed. An added bonus: you save some money in the process.
Beating Eggs
When it's time to make omelets or scrambled egg sandwiches, use an immersion blender to whisk the eggs. It is especially smart for the following two reasons: the whites and yolks of the eggs are guaranteed to be uniformly combined, and your scrambled eggs will have the fluffiest texture you have ever experienced.
Pesto and Chimichurri Sauces
Do you enjoy making summer pestos and chimichurri sauces when your herbs are in full swing? If so, an immersion blender might become your new best friend. A quick whirl transforms fresh herbs and olive oil into a nice sauce for your pasta or a topping for grilled meats. 
Puréeing Soups
I've heard that this is an immersion blender's true calling, and I believe it. It is not easy to transfer hot soup to a food processor bowl, and doing so runs the risk of a kitchen disaster. Stay safe and use an immersion blender instead.
Apple Sauce and Apple Butter
I love to make applesauce and apple butter the fast way using my electric pressure cooker (aka, the Instant Pot). After cooking the fruit for just a few minutes under pressure, I purée it to an ultra-smooth consistency with my immersion blender. I've found you don't need to peel the apples before cooking them in the pressure cooker with this method.
Sauces and Dressings
Whether it's gravy or cheese sauce, the bottom line is nobody like lumps. For emulsifying vinaigrette dressings, the immersion blender makes it a snap. Homemade mayonnaise is even within range. When my sons were little, they didn't like chunky tomatoes. Instead of battling over it, I would use my immersion blender to transform the chunks into a smooth tomato sauce.
Fruit Smoothies and Milk Shakes
These are uber-easy, fast and frothy when made with an immersion blender. Don't be afraid to tackle frozen fruit or ice cubes, either – they are no problem.
Better Batters
If you're a fan of big, fluffy flapjacks, ditch your whisk for an immersion blender, pronto. Emulsified, frothy batter equals perfectly fluffy pancakes in short order for Saturday morning breakfasts.
Jams and Coulis
Did you know you can crush berries using an immersion blender? My family is a huge fan of strawberry freezer jam, so instead of using a potato masher to crush my strawberries, now I whip out my stick blender. Sometimes I even make a quick raspberry coulis by crushing raspberries and adding a bit of lemon juice, lemon zest and sugar and straining out the seeds. It is delicious over waffles in the summer.
Savvy Salsa
My family adores salsa, but again, they just aren't fans of big chunky tomatoes. I've discovered if I toss in onions, garlic, jalapenos, chipotle sauce, cilantro, lime zest and lime juice first, then add the tomatoes on top, I can puree the salsa quicker due to the liquid from the tomatoes. Just use a narrow, tall dish and move the immersion blender up and down as you purée. 
---