3 Tips to Survive the Summer Insanity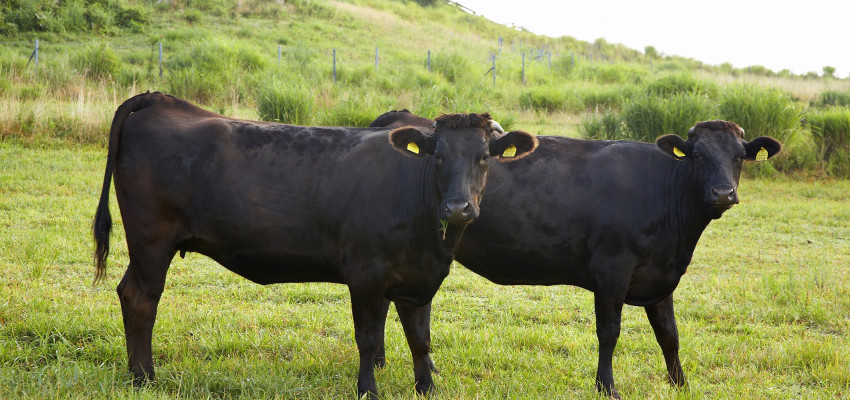 The kids are out of school, summer sports are in full swing and the heat has arrived. For farmers and ranchers, this also means long days, little rest and lots of moving parts. Below I share some tips I use everyday that help me stay focused and healthy during the stressful summer insanity. I also share some of the craziness that happens on our farm this time of year.
We have cows that get rotationally grazed. Rotational grazing means our pastures are divided into sections of grass – some with permanent fencing and some with movable strings and posts. The cows eat the grass in one section, then move to another. This gives the grass time to recover and grow back evenly so the cows can come back again in the season. We can increase the number of cows we put on a piece of land by giving each section a chance to rest after the cows have eaten.
We also mow, rake, bale and sometimes wrap hay. We drill cover crops into the hayfield. This means we plant other crops like, for example, triticale, forage beans and alfalfa to keep the soil healthy. Soil is alive. There are 'bugs' in the soil. Some are big like earthworms and some are only microscopic. Without healthy soil we cannot produce healthy products. We believe having growing roots in the ground as much of the year as possible gives all the 'bugs' a good home. We want those organisms to be happy and healthy.
Another benefit of planting cover crops is the ability to have our cattle graze some of the hay fields later in the fall after re-growth has happened. By planting a variety of plants into the brome, we get a more nutritious option for cattle to eat. Depending on the summer we've had and the amount of rain, sometimes grazing options are limited when we start grazing. Cover crops help us have an extended grazing period.
Scouting our corn and bean crops to make sure they are growing and remaining weed and insect free is another element of farming in the summer. We leave early in the morning and rarely get home before 9 or 10 at night.
There is always something to do year-round, but we feel especially busy in the summer. We're going 1,000 mph and we know you are too. Here are some tricks I use to get through the day without total exhaustion.
Water, water, water, water, water, water.
How many more times can I say it? I bought three water bottles that are leak proof, don't condensate and keep ice for 24 hours so I can carry them in my purse. Every night, I refill those with water and ice and place them in my purse by the door so they're easy to grab. Mornings are rushed enough, so set yourself up for success the night before. The water will remain cold all throughout the next day and your body will thank you for drinking water. The consensus is to drink half your body weight in water per day.
Pack your lunch.
Most of us don't have the luxury of being home for lunch. I take 15-20 minutes the night before and pack my lunch. I leave it in the refrigerator and throw an ice pack in it the next morning. Pack a balanced meal that will fuel your body without weighing you down.
Take time for you.
We all work very long days, but self-care is important. Whether it's walking around the ball field while your child practices, listening to podcasts or scheduling a massage or manicure/pedicure, make time for yourself. The key is to find something you enjoy that is good for you. As parents, I know you want the best for your children and want to be your best for them. You will be the best when you feel good about yourself.
Summer is a time we get to spend more time with family. Be sure you're enjoying that time by taking a few minutes each night to pack a lunch that will fuel you, water to keep your body hydrated and by spending a few minutes each day on something YOU enjoy. The 15 minutes I spend preparing each night let me sleep better knowing I'm prepared for the next day. You'll feel it too!
---