By

Chef Alli

on

February 6, 2018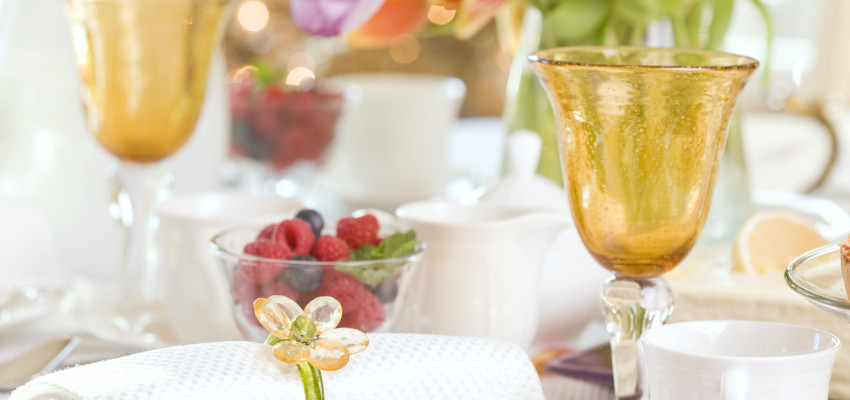 If you're gathering the clan for an Easter celebration, why not consider brunch? I love hosting a late-morning brunch because it gives me more time to prepare before guests arrive. Brunch seems to be a more relaxed setting and that carries over into how I like to serve it — easy peasy . The recipes below can be made in the morning, then baked (three of them at the same temperature) just before your guests arrive. The breakfast meatballs could also be made the day before and reheated.
In thinking through some of the brunch celebrations I've hosted in the past, here are some tips that might help you with planning and setup. I think your family will truly enjoy these recipes and I'd love to hear from you regarding your Easter brunch experiences. 
TRIED AND TRUE TAKES THE CAKE
Brunch doesn't have to be fancy, but it does need to be tasty. Serve the favorites you've made for your family before. Choosing recipes that can be assembled ahead of time and cooked or baked just prior to guests' arrival helps take the pressure off, too.
GO BUFFET-STYLE FOR LESS STRESS AND MESS
Buffet-style is the easiest way to serve a meal to a larger group of people. Mix and match your brunch menu to include both breakfast and lunch favorites, then set them out in an appealing way for guests to serve themselves. Be sure to leave room on the front side of the buffet so guests can set their plates down, if needed, as they are serving themselves.
KEEP IT FLOWING
To make sure you don't bottleneck your guests in a certain area, have your brunch menu spread out. Place main dishes on the kitchen island, beverages on a dining room side table, and desserts in another area. This will help with the flow of your guests as they serve themselves, allowing them to begin in any area they choose.
DIVIDE AND CONQUER
Guests truly enjoy contributingsomething to the meal, whether it's a side dish they bring or assistance they can offer. Assign food to some, and ask others (who aren't bringing food) for specific help, such as setting up the dessert table or cleaning up afterwards. Good guests know this will allow their hostess to visit and enjoy herself more because she's not stuck in the kitchen.
Wishing you and yours a wonderful Easter spent together.
For the Easter recipes you don't want to miss, see below.
---