By

Chef Alli

on

December 15, 2017
How to build a charcuterie board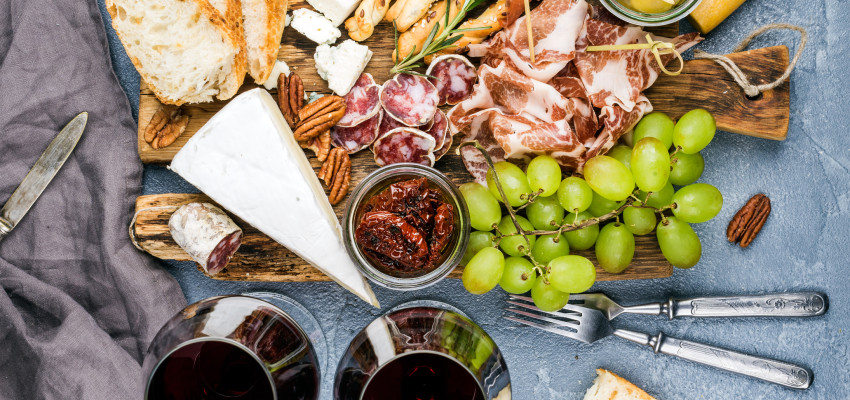 Charcuterie boards are all the rage these days. Charcuterie (shahr-cute-uh-ree) is a French word for any smoked, dry-cured or cooked meat, and they can be a tasty and beautiful addition to any dinner or event.
There are many ways to create a good assortment of tastes and textures, but the most important thing is not to be afraid to throw in something unique here and there. 
Here are my secrets to success for creating crowd-pleasing charcuterie boards.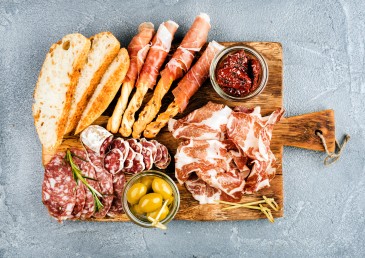 Gather the Goodies
Select a variety of flavors and textures that will offer an appetizing selection, but not an overwhelming abundance. (Remember - more is not better, better is better!) Here are some of my favorites:
Cured or smoked meats such as jerky, salami, sausage, ham, prosciutto or pepperoni
Three to five cheeses of varying types including aged, hard, veined and soft
An assortment of stone-ground mustards
Baguette slices 
Flavored butters
Flavored cream cheese or goat cheese spreads
Interesting crackers and breadsticks
Fruits and dried fruits like sliced apples, pears and berries, fresh figs or dried apricots
Nuts such as smoked almonds, pistachios or glazed pecans
Assorted pickles and okra
Olives, peppadews, chutneys, fruit spreads and jams, marinated artichokes, pestos or capers
Pick a Pretty Foundation
Choose an assortment of pretty marble or slate slabs, or use wooden cutting boards and arrange your elements to create a pleasing layout; I like to place my meats more in the center of my boards, surrounding them with small bowls of the other chosen ingredients that will make interesting flavor combinations.
Don't be afraid to elevate some of your boards to have varying heights of your charcuterie display – just make sure everything is sturdy when guests serve themselves so there are no charcuterie catastrophes. 
Plan Your Portions
In my experience, guests will eat as much as you place out on your boards. As an appetizer, plan on at least two to three ounces of total meat per person and about two ounces of cheese per person.  Planning for these portions will still allow room for later courses at dinner.
If your charcuterie and cheese boards are to be the main course, double the amount to five to six ounces per person.
Serve with Style 
Cheeses and cured meats are at their optimum flavor when served at room temperature so arrange them on your boards about 30 minutes before your guests arrive.
If possible, label the elements included on your boards so guests know what their eating.
To avoid mixing the cheeses and spreads, provide knives and serving utensils for each element and keep extras on hand in the refrigerator so you can replenish the charcuterie.
Don't let your charcuterie and cheese boards stand at room temperature for more than two hours. Using smaller boards will allow you switch to a fresh one as needed after your event gets under way.
You might also enjoy
---