For Luke Paine of Insane Paine Produce, life's challenges are an opportunity to thrive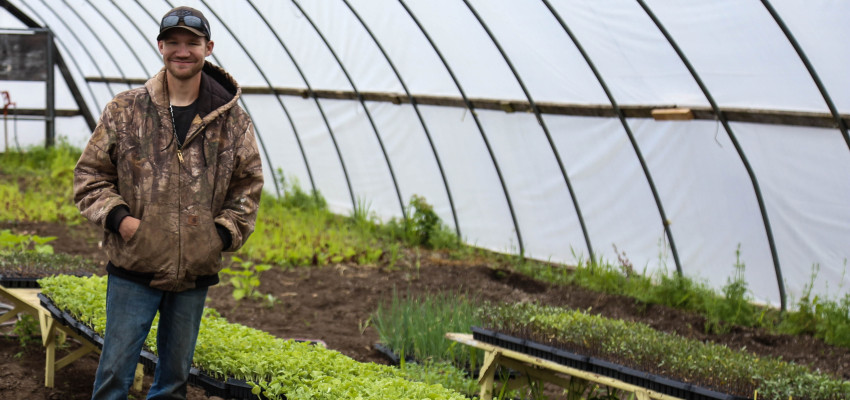 Twenty-four-year-old Luke Paine doesn't always play by the rules. He has defied many odds and, as a result, has a story for the books.  
"It really is a remarkable story," says Mark Paine, Luke's father. "A lot of lung transplant patients are still on oxygen and can't ever return to work."  
The chapters after Luke's double lung transplant (when he was only six) are filled with daring race car driving, long hours in the sun, a new life venture and, most importantly, hope.  
"He had the transplant and they kept saying, 'There are going to be setbacks, there are going to be setbacks', but his [experience] was not that way," Mark says.
But unlike most remarkable stories, Luke doesn't often share this one.  
"I'd rather be known for my produce and not my lung transplant," Luke says.  
QUALITY OVER QUANTITY 
 When Luke was 16 years old, he approached the owner of the land his produce farm now sits on, and signed a lease to rent before even telling his parents.
 "I got home from work one day and Luke was waiting with a new piece of information," Mark says as he laughs a little.  
That was eight years ago. Now, Luke is the full owner of Insane Paine Produce and grows more than 20 acres of produce each year.  
"I'm not about quantity," Luke says. "I'm about quality."  
Each year the farm grows a variety of produce such as watermelon, cantaloupe, pumpkins, tomatoes, zucchini, cucumbers, peppers and winter squash.  
"We grew a little bit of everything the first year," Luke says. "And we still grow a little bit of everything but to a larger scale."  
Luke and Mark might not get home until after 10 most nights of the year, but that is a part of who they are. The produce they raise is sold primarily off the farm, which is in Topeka.    
"I love it out here," Luke says. "It feels like home."  
After seeing other produce farmers, Luke decided it was something he wanted to do. From the beginning, there has always been something new to learn each year. 
"We started watching YouTube videos," Mark says. "We had no idea what we were doing."  
"But now I do," Luke chimes in.   The Paines didn't have a tractor the first year, or really anything for that matter.  
During the first couple of years, they bartered for everything. They worked out a deal with the seed salesman and a local greenhouse that starts the plants, and they gained a lot of information from their friends in an Amish community.  
Mark jokes that the team doesn't farm, they put out fires each day. Each day is new and presents its own challenges, successes and opportunities to learn. 

GROWING A NEW LIFE 
To this day, Luke still doesn't have a definite answer as to what exactly triggered his desire to garden. His grandpa was a row crop farmer nearby, but Luke never had an interest in it growing up.  
"When he was a kid, we always gardened," Mark says. "When he started getting sick, it was really hard to come up with things outside the house that we could do since he was on oxygen."  
Mark did research and decided to grow their first heirloom tomatoes when Luke was eight years old.  
"In fact," Mark recalls, "the year he went in to get his transplant, we had the most heirlooms we had ever had."  
The family walked away from the produce and let friends and family pick what they wanted during their threeand-a-half-month stay in the hospital.  
His doctors don't understand Luke's lifestyle, but with each checkup, they say he must be doing something right.  
Although Luke likes to keep his story quiet, he sees reminders of just how lucky he is all around him. Each year Luke has grown pumpkins, he has always found a set that has grown together and looks just like a set of lungs.  
"It's the craziest thing," Luke says with a laugh.  
Through it all, Luke has never wavered on one thing — he doesn't want people to buy produce because they feel sorry for him. Luke strives to be a normal 24-year-old. For a while, post-transplant, he even raced go-carts with an oxygen tank strapped in next to him.  
"He can stand out in the heat for 14 hours a day, so I should be able to as well," Mark says.  
Luke has inspired many by working hard every day to continually improve his farming practices and provide high-quality produce — all in spite of the challenges that have been thrown his way. Now that's a story for the books.
To learn more and get the latest updates from Luke on his produce, follow Insane Paine Produce on Facebook. 
---