With these 3 homemade sauces (ketchup, ranch and vinaigrette!)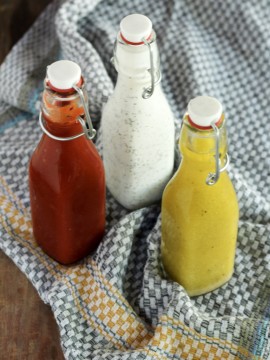 Shake off those grill covers and break out your t(h)ongs. Summer grilling season is upon us at last. From Memorial Day to Labor Day, and any day in between, this lineup of tasty sauces and dressings is sure to please your palate. The best part? All of them are prepared in less than five minutes. You'll spend less time in the kitchen and more time enjoying the season with friends and family.
Need more incentive to whip up your own batch? You're in charge when in comes to flavor, so you can keep a better handle on how much added salt, sugar, or seasonings go into your mix. Customize these recipes to fit your family's tastes with simple ingredients you likely already have in your pantry.
Sweet & Spicy Ketchup
one can (6 ounces) tomato paste
1/4 cup honey
1/4 cup water
1/2 cup white vinegar
2 teaspoon Sriracha
1 teaspoon sea salt
1/2 teaspoon smoked paprika
1/4 teaspoon garlic powder
1/4 teaspoon onion powder
additional water (if needed to reach desired consistency)
In a large mixing bowl, combine all ingredients together. Whisk until well blended, then transfer to a storage container until ready to serve. Store in the refrigerator for seven to 10 days, remixing as needed.
This ketchup takes your favorite grilled items to the next level. Think beyond the basic burger and try this zesty condiment on kabobs or skewers, grilled potatoes or a batch of sweet potato fries. It can even be used in place of barbecue sauce to baste flavor into chicken or pork (try adding slightly more honey to the mix and less water).
Creamy Feta Ranch
1/2 cup feta cheese crumbles
1/2 cup plain kefir
1/2 cup plain Greek yogurt
1 garlic clove, finely minced
1 teaspoon onion powder
1 teaspoon dried oregano
1/2 teaspoon dried dill
Salt to taste
In a large mixing bowl, add the feta cheese crumbles. If needed, break up large pieces with a fork. Add the rest of the ingredients, then whisk together until well blended. Serve immediately, or transfer to a storage container. Store three to five days, remixing as needed.
Ranch dressing is always going to be a favorite, even the dietitian is aware of that. But just because we want to simulate the creamy flavor and texture doesn't mean we need to settle for the basic mix. The feta in this ranch dressing-inspired dip is going to add more depth of flavor, and you can add as much or as little of the dried herbs as you wish. Plus, with the plain kefir and plain Greek yogurt taking center stage, you'll provide a shot of gut-friendly probiotics. Use as a dip for kid (and adult) friendly finger foods like carrots, celery, radishes, cucumbers or bell peppers. Or dress your salads, adding additional kefir if needed to thin the consistency of this dip.
Honey Mustard Vinaigrette
1/2 cup olive oil
1/4 cup white vinegar
2 teaspoons honey
2 teaspoons Dijon mustard
1 to 2 garlic cloves, finely minced
Salt and pepper to taste
Combine all ingredients in a mixing bowl and whisk to combine. Adjust flavor as needed by adding additional honey, Dijon mustard, salt or pepper if desired. Store in an airtight container and shake to recombine as needed. Keep up to seven days.
I saved my favorite for last. I can't get enough of the tangy flavor of this Honey Mustard Vinaigrette. Although a simple mix of 2 parts oil:1-part vinegar is just fine for most nights, a cookout commands a little VIP treatment for the basic mix. Use ingredients you already have in your pantry and fridge to add flavors that complement nearly anything on the grill. From chicken and pork to fish, vegetables and potatoes, this is a workhorse that will likely not last until the seven-day shelf life is up.
Looking for more inspiration to whip up some summer flavor? Check out our latest video:
---